Diary writing is one kind of creative writing, in which you need to reflect your skillset to describe your personal experience and thoughts on specific incidents, celebrations or memorable occurrences. So, you have to adopt the exact format of diary writing to avoid marks deduction. This article represents the proper rules of diary writing through four examples on a specific topic of reopening school after a long vacation. As a reference, the examples will provide you with the best ideas for making diary entries.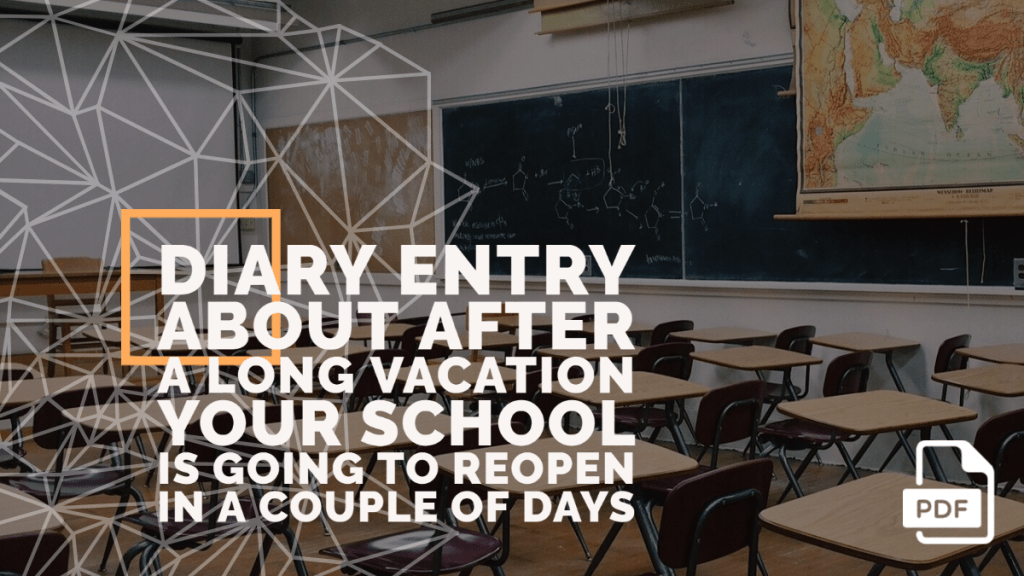 Set 1
Question-1: For a long time you have spent at home due to vacation at school for the terrible pandemic situation. Your school has declared to restart classes like before within a couple of days. Now take a look at the following hints and make an attractive diary entry expressing your feelings about the reopening of your school.
Hints: A great change in gestures – New structure of classrooms – Mandatory precautions – Excited about meeting with classmates – New thrill of old routined classroom
Answer:
Baguihati,
17th March 2021,
Thursday,
Time: 10:30 am.
Dear Diary,
Before a week our school announced to restart class after puja like before the pandemic situation. This news brings a lot of excitement for me like every student, who was busy keeping up with syllabus sitting at home from the time of lockdown. In the present situation, we are expecting lots of changes in gestures of the students and teachers during classes. All of us need to take part in the essential conversion of wearing masks during classes. School authority has informed that the entire structures of classrooms are going to be changed.
All the classrooms will be divided into two segments to avoid a huge number of students in the same arena. Before making entry into each classroom all of us will need to use sanitizer. Despite all the precautions, we all are very excited to get the flavour of an old classroom environment. And along with routine, this time we all will have to be aware about our responsibilities to be safe from Covid -19. So, I am feeling a great thrill to get back to the old days in a new form.
Papiya Sadhukhan
---
Set 2
Question-2: After going through terrible situation of pandemic, finally your school has decided to restart educational sessions along with proper precautions. This announcement makes you excited for getting back to the environment of routined classroom after a long-stagnant period. Now go through the hints and prepare an attractive diary entry about your expectation about the reopening of school.
Hints: Again start a 10 to 5 routined life – Cheerful environment of school bus – Dedication of home tasks – Teacher's affection
Answer:
Lake Town,
17th February, 2021,
Thursday,
Time: 10:30 am.
Dear Diary,
While I got the news of reopening our school, it was a thrilling moment for me. As finally, I am going to keep my steps outside on an everyday basis to attend school. And after spending very boring schedules of online classes at home, finally I am feeling relaxed to get back the reaction of our respected teachers on our performances. As well as I am also looking at the coming days while we all will enjoy the cheerful journey in the school bus. And I am sure that we all can finish the home tasks with more dedication as teachers will be there to control our everyday performances in school.
Though there will be lots of changed protocols, which sometimes will make us irritated, I am ready to get back the pressure of 10-5 routined school life. And I am also excited about the get back affection of our teachers, which we have missed through online classes.
Titli Roy
---
Set 3
Question-3: In a pandemic situation as a student, your life was stuck into the schedule of online classes. Now, as per government's decision, your school has declared about restarting the educational session again. Now, check the following hints and make an attractive diary entry on the excitement of reopening school.
Hints: End of remote learning – Coming back the instruction based learning – Everything is going to change in new session
Answer:
Salt Lake,
5th March, 2021,
Thursday,
Time: 10:30 am,
Dear Diary,
After a long time as a student I am thinking of preparing myself to be a part of old instructions based learning with the declaration of a new session after lockdown. So, the boring experience of remote learning is going to end. As school has decided to reopen, we must be aware about our own safety in school. And the safety protocol is going to be very strict as per school authority.
As we are not out of danger from pandemic threats, we will have to face the hassles of precautions while we all are taking preparations to return to our old instruction based learning system. So, in the coming session, all of us should adopt all the safety parameters along with the scheduled classroom. Among these precautions, the use of masks and sanitizer will be mandatory for all the students and teachers.
Sourish Ghosh
---
Set 4
Question-4: As per the decision of the government, your school authority has declared to reopen to start a new session. So, after the hard and boring experience of remote learning, it's high time for you to cheer up the new session with proper precautions. Now, using the below hints express your thoughts on the reopening of school in a diary entry.
Hints: Thoughts of routined life – Extra hassles of masks and sanitizer – No fun in school bus – Tidy environment of classrooms
Answer:
Salt Lake,
10th February, 2021,
Thursday,
Time: 10:30 am.
Dear Diary,
While I came to know the declaration of school authority about reopening decisions within a few days, I felt awesome. Within a second I started to imagine getting back the routined buy friendly environment of the classroom. But I also realized the obstacles to return to the same learning system. So, I am trying to prepare myself for the present situation and thinking about how efficiently I can manage my study wearing a mask for a long time.
As well as we have to keep several masks ready for school, as we can not use the same mask the next day without washing it. And also we all should remember to sanitize our hand properly before making entry into the classroom. A simultaneous feeling of joy for getting the scope to meet friends face to face and hassles of precautions is overwhelming my mind. Besides, as per the new protocol, all of us have to maintain the practice of social distancing in school buses also. And our parents have sent requests to maintain proper tidiness in the classroom.
Puspita Mukherjee
---
I hope all the thoughts covered in these examples help you to find out the right technique to write an exclusive diary entry. The topic of  reopening of school shows how to write down the thoughts in a creative manner for diary entry. Hope all the examples in this article will be helpful as a reference for diary writing. Let us know your feedback, as well as suggestions through the comment section.