This article will guide you on how to make an attractive diary entry on the nostalgic experiences of the first day of school. You will find this article best with helpful examples.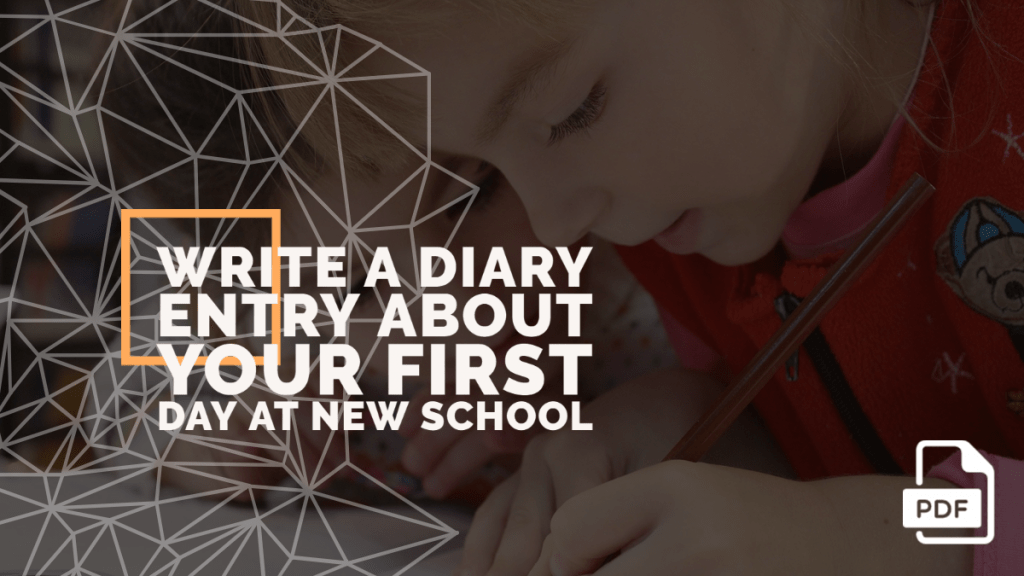 Diary Entry Set 1
Question-1: Every student becomes very excited on their first day of school. They get involved with new circumstances, people and new systems. So, every moment they prepare themselves to adopt anything new on that day. In some cases, they feel proud to face positive things Now, go through the following hints and describe properly the sweet and sour memory of your first day at school.
Hints: Mother called in the morning for being prepared – so many boys and girls like me at school arena – introduction with classmates – got class routine – mother came to pick me – sharing of experience of the day with parents.
Answer:
Saltlake,
11th April 2019,
Thursday
Time: 10:30 am
Dear Diary,
When I was six, my parents admitted me to Carmel school. My first day at school became one of the memorable days of my life. In the morning, my mother called me to be ready for school. After reaching school, my mother took me to the principal's room.
Then the principal said hello to me hello and asked me my name with a sweet smile. When I entered the classroom, I was feeling quite awkward, as all were staring at me. Then my class teacher introduced me to the class. I took my seat on the third bench.
On that day, while I got a class routine, I understood for the first time that from then on I had to stay outside of home for 5 to 6 hours. At the end of classes, my mother came to take me home. And in the evening, I shared my feelings about my first day at school with my parents with great excitement.
Suborna
---
Diary Entry Set 2
Question-2: In your school life, your first day always becomes very special, as you keep your step in the institutional arena for the first time. The first day at school always brings for you some extremely positive moments through which you start to find your identity. So, the first day at school is such a day, which is remembered as a very special one to narrate even after a long time.
Hints: Wake up early morning – packed tiffin – go to school with mother – lots of excitement – feeling of discipline at prayer hall – introduction with class teacher – tiffin share – returned home with mother
Answer:
Durgapur,
11th April 2018,
Wednesday,
Time: 10:30 am.
Dear Diary,
On my first day of school, while I woke up in the early morning with the sound of alarm, a wave of excitement overwhelmed me. I started to prepare for school and my mother packed my tiffin in a hurry. After my first entry in the school compound, I saw so many boys and girls were playing at the school compound.
All of them were full of joy. I was thinking how they can be so happy without their mother. In the prayer hall, I felt an intense mood of concentration, which was needed before joining class. When I got routine for scheduled classes, I understood the importance of disciplined life.
Our principal directed our class teacher to take me to class and guide me to learn the new rules and restrictions of schools. After being introduced to classmates, I started to enjoy the environment of class. At tiffin break, I shared my tiffin with one of my classmates for making friendship with him. At the end of my classes, I returned with my mother.
Roni
---
Diary Entry Set 3
Question-3: Do you remember your first day at school? As a student, you can never forget that innocent excitement at the starting of your academic life. The first school day initiates each student with a sense of discipline, concentration, and friendship. Now follow the hints and prepare an attractive diary entry based on the experience of your first day at school.
Hints: Started to keep steps first outside home – a complete unknown sense about new things – mother's concern – the smell of new books – new friends – learn to share tiffin
Answer:
Durgapur
11th April 2018,
Wednesday,
Time : 10:30 am.
Dear Diary,
On the first day, when I started my academic journey, I learned to rush to reach school by keeping toddling steps outside home. There were so many things, which made me excited for the first time. Among them, I started to like my first dark striped school dress, black and yellow water bottle and Tom-Jerry shaped tiffin-box etc.
My mother was so concerned that I could start crying while she would leave me at school. Besides, what made me so spirited was the smell of new books. When I got books in hand it was a unique feeling, which I never felt. When I entered the class, I understood the value of social interaction for the first time.
My teacher introduced me in front of the entire class. And while I took my seat, I was interested to interact with my classmates, as they looked at me with full curiosity. On my first day of school, I learned to share tiffin and it gave me a different pleasure of friendship.
Amrita
---
Diary Entry Set 4
Question-4: Remembering the beginning day of school life, every student becomes very nostalgic. It's quite natural, as while you recall that day, your mind connects an intense feeling with those things and situations, which you faced on that day with an open mind. Now, look at the following points and make a diary entry describing your feelings and experiences about first meeting with teachers and classmates.
Hints: A different feeling of growing up – first entry into the routined life – mixed feelings of wonder, joy and fear – learning how to present yourself.
Answer:
Jalpaiguri,
21st April 2018,
Wednesday,
Time: 10:30 am.
Dear Diary,
On the first day of school, I was overwhelmed with excitement as I thought, from that day I was told by a student of a Saint Paul school. Becoming a student of that school was a matter of respect for all the students at that time.
While my mother was preparing me for school with proper dressing up and tie and shoes, I understood, I would have to adopt this practice for a long time. And for the first time, I felt the essence of routined life. Entering into the school premises, was a simultaneous feeling of joy and fear. Because, I met a number of new students like me and also the respected teachers, who had the power to scold us as per rules and restrictions.
In my first class, I learned how to present who I am. I had to tell my name, interest, address and about my parents. Thus, I became familiar with my classmates through an introduction.
Rakesh
---
Going through these examples, you will get proper ideas on how to write diary entries about your first day in the new school. Did you found these examples useful enough to make your diary entry more exclusive? Let me know by commenting below.