Diary writing is one kind of creative writing, where you have to represent your authentic skillset. In the examinations, you have to describe your expression about any circumstances, incidents or celebrations in your creative writing test. This article includes four examples on a specific topic to guide how you can make an attractive diary entry on any topic to get the highest marks in the exam. These examples will provide the best idea on how to write diary entries on a lost watch, which was gifted by grandfather. So, you can use the examples as reference to understand the format of diary writing on specific topics.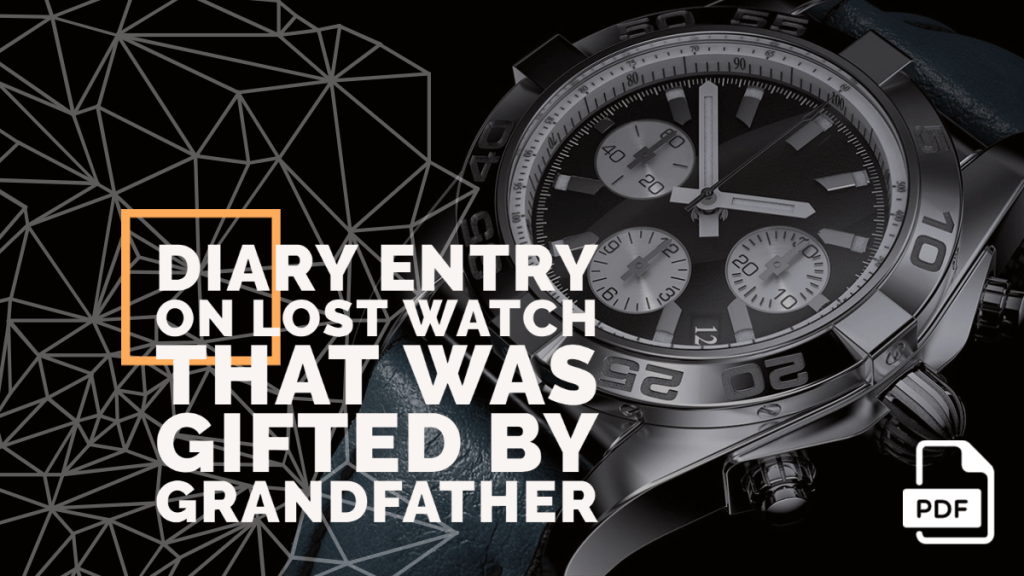 Set 1
Question-1:
Losing any favourite accessory is always an unfortunate incident for you. But sometimes, while you lose the gift, it makes you remorseful, because a gift has an emotional appeal, which reminds the love and affection of that specific person to you. Now, make a diary entry describing your feeling after losing your watch, which you got as a gift from your grandfather.
Hints: Lost wristwatch in new year celebration party – Started the day in a cheerful mind – While returning home my watch was not in my hand – Searched many times next day morning – But getting no trace.
Answer:
Medinipur,
27th December 2021,
Thursday,
Time: 10:30 am.
Dear Diary,
This new year eve brought a remorseful day for me as I lost my most favourite accessory on that day. I participated in a new year celebration party with friends on the ground near my home. I can vividly remember that after reaching the ground, while we started dancing, till then it was in my hand. But there were so many fun arrangements. While the crowd was busy to enjoy the whole function, I had to cross a long waiting line to reach the exit gate. Now, it seems to me that while walking through the crowd, my watch had fallen on the ground.
While I discovered my empty hand after returning home, I became blank. Because my grandfather gave me this watch as a special gift while I got 80% marks in the higher secondary exam. The watch always reminded me of the affection of my grandfather and his pride for my success. After noticing my empty wrist, as soon as possible I called my friends who were at the ground till then and requested them to search my watch. But no one did not get any clue.
Soumya Chowdhury
---
Set 2
Question-2: Losing a birthday gift will always make you sad. Because its special appeal always linked you with the sweet memory of lovely moments. You will miss your gift a lot. Now, look at the following hints and write a diary entry on the situation when you lost your wristwatch, which was gifted by your grandfather.
Hints: Got a gift on my 14th birthday – One of my favourite accessories – I sent a pic to my friends – They admired a lot of its features – Was very lucky for my exam – Wearing it on every special occasion.
Answer:
Darjeeling,
11th February 2021,
Thursday,
Time: 10:30 am.
Dear Diary,
It was a terrible feeling, while I lost my expensive wrist watch, which I got from my grandfather. On my 14th birthday, I got this watch as a lovely gift from him. It was so stylish, I always counted it as a trendy accessory, which complimented my dresses. After getting this watch , I showed it to my childhood friends. Their admiration made me proud about my grandfather's exclusive choice for it's trendy features.
I knew that due to my carelessness I lost it. It gave me lots of good charm during my exams. Yesterday evening, I went to a children's park with my cousins to enjoy the ride. Suddenly, I looked at my wrist to check the time and felt empty. I came back home quickly and started to find my watch. My mother told, it was in my hand while I went to the park. Then I understood, I had lost my precious gift. While I remember, I have lost my grandfather's lovely gift, full of tears makes me sad.
Shantanu Das
---
Set 3
Question-3: A lovely gift always makes you nostalgic. Specifically, while you get any gift from your grandfather it becomes an adorable accessory for you. Now, follow the below hints and make a diary entry describing your feelings about the lost watch gifted by your grandfather.
Hints: Got a wristwatch from my grandfather – It was with me from my first hostel journey – Participated in a school excursion – Lost the watch – Always missed the lovely gift.
Answer:
Dear Diary,
Patna,
15th February 2021,
Thursday,
Time: 10:30 am.
Dear Diary,
While I was crying to leave my home for going to hostel at 10 years old, my grandfather gave me a precious wristwatch and told me never forget the lesson of punctuality. I always used this watch as one and only accessory in my school life for being ready on any special occasions.
It connected me with the lovely memory of my dear one, during staying at a hostel, away from home. But, we came on an excursion to Gangtok yesterday, with our teachers and classmates. While we were visiting Buddhist Pagoda, I was busy taking photos. At that time, somehow my wristwatch fell down from my hand. After I came out from Buddhist temple, I did not find my watch. Losing my special gift from my grandfather, I forgot the joy of excursion. I was so sad, I could not relate myself with the excitement of the excursion any more.
Tanima Halder
---
Set 4
Question-4: While you use a special gift as an accessory from your grandfather, it makes you nostalgic. But if you lose it a sad feeling overwhelms you. Now, using the following hints write a diary entry on the lost watch, which you got on your last birthday from your grandfather.
Hints: Lost lovely wristwatch – Working as a volunteer in school's annual function – tried a lot to find out – Search CCTV footages – Declared at school notice board.
Answer:
Bishnupur,
19th February 2021,
Thursday,
Time: 10:30 am.
Dear Diary,
Yesterday, I had lost my lovely wrist watch, which was a very precious gift for me on my last birthday. In terms of latest features, it was an amazing accessory for any special occasion. I never imagined any special occasion without it. It's voice alarm system made it a trendy timepiece. As well as pressing the specific button , I could hear the current time. Yesterday, in my school annual function I was working as a volunteer. So, many times I had to go on the stage to represent honour to the special guests of the functions.
At the end of the day, while I entered my school canteen, I noticed my watch was not in my hand. I rushed on the empty stage and started to find it all over the places of function premises. But I could not find it. Finally, I was so desperate to find it, that I was checking CCTV footage for getting any trace about it. I also declared about my losing watch, if anyone found it and could return it to me. But there was no clue to get back my lovely watch. It seemed to me that I had lost my grandfather's blessings.
Shatarupa Sanyal
---
All the examples of diary writing attached in this article represent the perfect versions of a diary entry in a creative and unique format. I hope the topic of the description of feelings about a lost watch, which was given by grandfather, have helped you to be familiar with the proper techniques of a diary entry. Please feel free to let us know about your valuable feedback through the comment section.