Diary writing, a must be writing skill to have while considering various examinations and it teaches one about expressing their thoughts by penning them down. The habit of diary writing has been proven to build character and such examples will help you understand various scenarios you can refer to write a diary entry. Whenever asked to write, these examples can come in very helpful. So, let's start.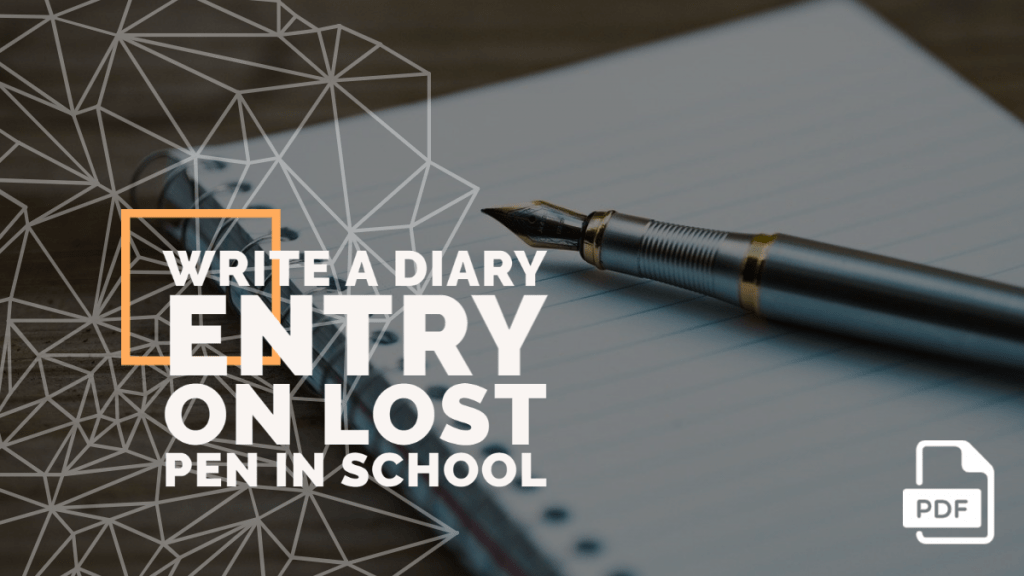 Diary Entry Set 1
Question-1: Write a diary entry, About an apology for the pen you lost in school.
Hints: Whose pen was it? – The reason for you losing it- The lesson learned?
2nd March 2021,
Tuesday,
6:00 pm.
Dear Diary,
My best friend was really disappointed in me today. I lost his favourite pen, it was a gift from his grandfather and it meant a lot to him. I have been trying to apologize and explain to him that my actions were not intentional and that the pen was lost while I was returning from the assembly hall.
I have searched everywhere for the pen, retraced my steps to the assembly hall, gone to the lost and found box to check for it, asked our classmates for any information yet nothing bore results.
There is nothing more for me to do but apologize to my friend till he accepts it and I have learned a lesson from this mistake about being more responsible in the future as I now understand that my actions can hurt someone's feelings even if they are not intentional.
I also learned about admitting my mistake and trying to resolve any future problems that I have. All I can hope is that everything will return to normal tomorrow and that we can be best buddies again.
Alok.
---
Diary Entry Set 2
Question-2: Write a diary entry, About how you lost your prized pen in school.
Hints: Why was the pen valuable to you? – The reason for you losing it- the lesson learned-?
2nd March 2021,
Tuesday,
Time-6:30 pm.
Dear Diary,
I had the most unfortunate day today, my prized pen was missing and I had no idea how I would cope with this event. This pen was a keep safe my sister left me before going abroad to study and it reminded me of all the fun times we had in the past. Always keeping the pen close by helped me go through unfortunate days like today and now I truly regret not being more careful with it.
The pen could have been lost during my lunch break as I forgot to place it in the pen case before going out to lunch, and I have been searching since then. I retraced my steps and checked all nooks and corners where it could have fallen, even asking my friends and classmates about it led to no results.
I will try to search for it again tomorrow and in the meantime will write a letter of apology to my sister asking for her forgiveness for losing her keepsake. I pray for her understanding and hope she forgives me.
Ravi.
---
Diary Entry Set 3
Question-3: Write a diary entry, About consoling your best friend who lost your favourite pen.
Hints: Why was the pen valuable to you? – The reason for your friend losing it- the solution to the problem-?
2nd March 2021,
Tuesday,
6:00 pm.
Dear Diary,
My best friend Ravi lost my favourite pen during the physical training period, the loss of this pen really affected me as it was a reward for winning my first debate competition. The pen was a constant reminder of my hard work paying off, and it helped calm me down during those tough examinations.
We tried searching for it everywhere, asked our classmates about its whereabouts and even troubled the guards to help us find it, but all of it led to no results.
Ravi has been constantly apologising yet it has taken me some time to accept the loss, It is hard to be angry with your best friend and even though that pen meant a lot to me and I will miss it dearly it can never compare to our friendship and thus seeing him so remorseful I will forgive him on account of our long friendship. I can only pray that tomorrow will be a better day for us all and I find a new way to inspire myself.
Ankit.
---
Diary Entry Set 4
Question-4: Write a diary entry,  about how you lost your lucky pen during an examination. 
Hints: Why was the pen valuable to you? – The reason for you losing it- the lesson learned-?
2nd March 2021,
Tuesday,
6:00 pm
Dear Diary,
My mid-term examinations are going on and today I almost ruined my exams due to a sudden panic of not finding my lucky pen with me. This pen has been with me for the last two years and has been my companion throughout all the exams since then.
I always keep it close by during examinations and today was no different however 5 mins before the exams I could not find it no matter where I searched, even my classmates were flustered and helped me look as they knew my attachment for it, but we could not act out for long as the teacher calms us down and instructs us to focus on the exam.
I was filled with anxiety at the loss of my pen but fortunately, my friends lent me one. The exam went on fine and my thorough revision of the subject helped me write well. The loss of my exam buddy has affected me still, it was a pen I was most comfortable with and a present from my mother to write in exams. I believe in hard work and thus I am sure that even in the absence of my lucky pen I will strive for excellence.
Suraj.
---
The examples given here cover different scenarios regarding a diary entry on a lost pen in school, these examples will help you have a better understanding of diary entry structure. Hope you found this session to be helpful. Let us know your valuable opinion as well as suggest anything you want to bring to our notice in the comment section below. Thank you, hope to see you again soon.