In this lesson today, you will learn how to write essays on the train. We will be writing three sets of essays within three different word limits in this session.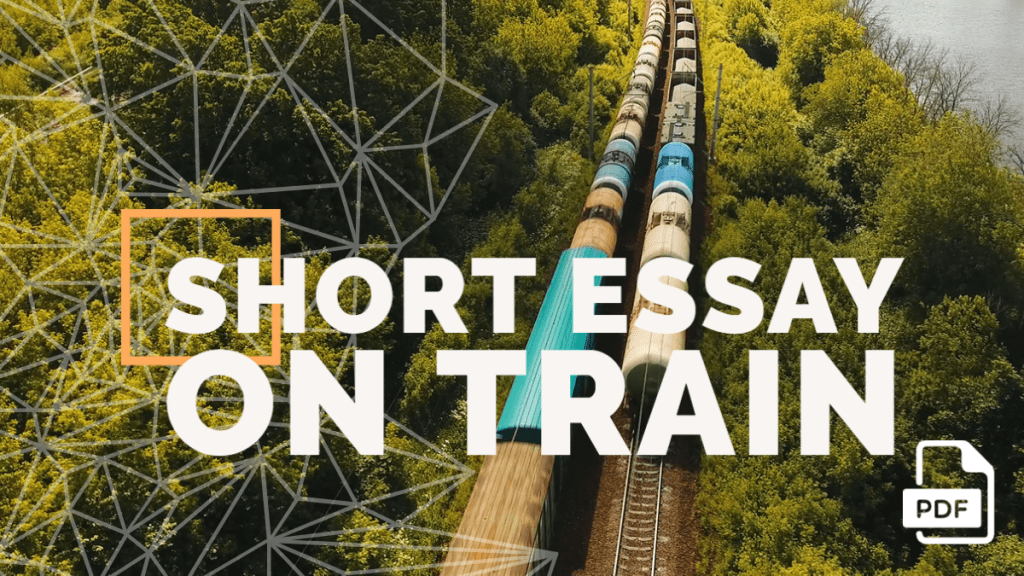 Short Essay on Train in 100 Words
The train is an important vehicle to travel to several places in different parts of the country. It is an important mode of communication. Like buses and cars, trains also help to travel long distances. It takes a lot of time because it has to cover a long distance. But it is a beautiful journey. It is a huge machine that joins many cabins together.
Earlier coal was used to run the trains. But currently trains run more smoothly because of electricity. Trains were first invented by James Watt. The long rail lines connect many states and even countries. Trains are less expensive than planes. That's why anyone can travel using trains.
---
Short Essay on Train in 200 Words
Every country has its own transport system. Otherwise, people will not be able to move from one place to another. So vehicles are very important in this system. A train is a wonderful means to have a short or a long-distance journey. It is one of the greatest inventions that have been ever made.
A train is a large machine that drags many coaches with it. These coaches are connected with each other. Earlier, trains were run on coal. But now electricity has replaced the use of fuel. Trains can now run over long distances without any tension of refuelling. The electricity helps to connect it with many stations and places.
Trains were first invented by a person named James Watt. From that time, it has been gradually developed. At present, the trains are more innovative and scientific than ever before. It has many facilities. There are several types of trains.
One is a passenger train. It only takes people from one place to another. There are also some trains that carry goods. Again there are luxurious trains which are very beautiful and quite expensive. A train is less expensive than a flight. So common people always like to have train journeys. Every day many passengers board a train in India to move to different places.
---
Short Essay on Train in 400 Words
We have several vehicles like cars, trains, busses, cycles, and others to help us in our journeys. Among them, the train is the most important one. This is one of the most popular means of public transport all over the world. For both short and long distances trains are very helpful.
A train journey is the most joyous and beautiful journey in the world. A long journey through a train creates a lot of happy memory for all of us. In our country, trains are often crowded with lots of people. It feels very suffocating to travel then. During those times, a window seat on the train becomes the most precious thing. A train is the most affordable way to travel swiftly and easily. 
Trains were first invented by a person called James Watt. He made a very simple structure of it. But soon this idea was developed. That simple structure was utilized to make a more detailed and bigger structure. After some time, the train was formed in a large vehicle. Now it is capable to travel long distances, and also carrying lots of passengers and goods.
A train is a long vehicle with many coaches. These coaches are connected with each other. So they move like a chain. Long trains move spirally over the rail lines. It then looks like a big snake moving from one place to another. At present, there are several types of trains. There are passenger trains. It only carries people from one station to another.
There are also local and express rails. These are different types of passengers trains. Again there is goods carriage. These trains contain several materials to transport at distant places. Besides these two varieties, there is another form of train. It is a luxurious train. These are different from other trains. It is very well decorated and has lots of facilities. But it is also very expensive.
It cannot be used by everyone. Else a train ticket is never high. Many people use trains as a daily mode of communication. So it is very cheap. A train journey is very easy and also takes minimum time. The passengers do not have to face any traffic jams and can reach their destination within time. Trains are always the most beautiful journeys in our lives. Hence a train is the most reliable vehicle for people.
---
In this lesson today, you have learned to write short and concise essays on train within a recommended word limit. I have tried to discuss the entire context from a very simplistic approach for a better understanding of all kinds of students.
If you still have any doubts regarding this session, post them in the comment section below. Besides, if you want to request any specific topic, mention that too. To go through more such important sessions, keep browsing our website. 
Join our Telegram channel to get the latest updates on our upcoming sessions. Thank you for being with us. All the best for your exam.