In today's session, you will learn to write short essays on the life of the father of our nation, Mahatma Gandhi. I'll try to adopt a very simplistic approach to writing these short essays for a better understanding of all kinds of students.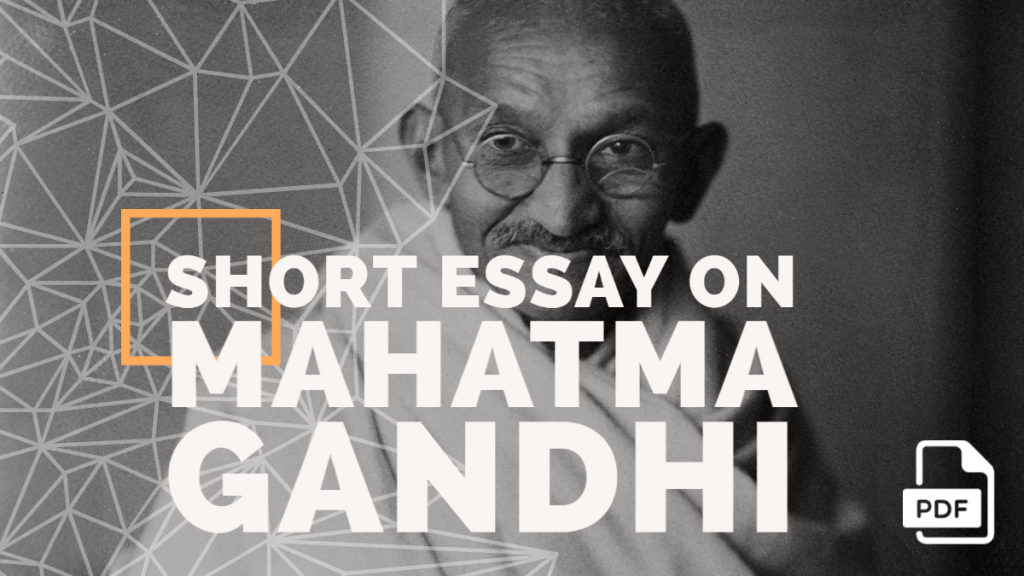 Short Essay on Mahatma Gandhi in 100 Words
Mahatma Gandhi, the father of the Nation, was one of the greatest political leaders of India. His original name is Mohandas Karamchand Gandhi. Gandhiji was born on 2nd October 1869, in Porbandar, in Gujrat. Brought up by Karamchand Gandhi and Putlibai, Mohandas grew up to be quite honest and truthful. His autobiography, My Experiments with Truth gives details of his childhood and adult life.
Gandhiji studied law and went to South Africa as a barrister, where he fought for the independence of Africa. Returning back to India he engaged in its freedom movement against the British and formed The Indian National Congress along with other influential personalities. Gandhi was assassinated on 30th January 1948 during his prayers. 
---
Short Essay on Mahatma Gandhi in 200 Words
Mahatma Gandhi, the Father of the Nation, played a significant role in the Indian freedom movement against the British rule in India that reigned for over 200 years. As one of the greatest leaders of India, he struggled for our freedom, not through bloodshed, but through non-violence or Ahimsa. It was the greatest achievement of Gandhiji to teach the Indians the way to peace and non-violence.
Mohandas Karamchand Gandhi was born on 2nd October 1869 in Porbandar in Gujrat, His parents, Karamchand Gandhi and Putlibai were extremely religious and devoted to family and God. From the very childhood, Gandhi was diligent in his studies and successfully attained his education. During his secondary level, he was married off to Kasturba Gandhi. Gandhiji studied law and went to South Africa as a barrister. But receiving tremendous racial hatred by the British, he decided to fight against this suffering. He fought for its independence and soon returned to India.
He became the leader of the nation by his motives of Ahimsa and Satyagraha. He conducted several movements against the British Raj and formed the Indian National Congress with other leaders. Through non-violence, he achieved India's freedom. However, he could not support the partition. Due to philosophical works, Rabindranath named him the Mahatma. Gandhiji was assassinated by Nathuram Godse during his prayers on 30th January 1948.
---
Short Essay on Mahatma Gandhi in 400 Words
The Bapu of India, whom Tagore conferred the title Mahatma for his deep insights towards life and God, Mahatma Gandhi was one of the greatest leaders of India. Using the ways of Ahimsa or non-violence, he showed how without bloodshed getting freedom is possible, He preached and practised the ways of Satyagraha or embracing nothing but the Truth.
Mohandas Karamchand Gandhi was born on 2nd October 1869 in Porbandar in Gujrat.His father Karamchand Gandhi was a government official, while his mother Putlibai was a religious woman. Gandhiji in his childhood was greatly influenced by his parents. He grew up to be pious and sacred towards all living beings. After shifting to Rajkot with his after, he received his primary education there. During his secondary level, his family settled his marriage with Kasturba.
Mohandas was a diligent student and attained his degrees easily. Even in his school life, he never once took evil means to pass any examination. Once he stole some gold from his brother's bracelet. But later realizing the theft he directly confessed it to his father. The forgiveness of his father changed his soul. All this enabled him to be a better person.
Gandhiji soon became a barrister and went to South Africa to study law. But receiving racial hatred on his way in the train by a British officer, he decided to stay there and fight for human rights. He learned about the ill-treatment of the Africans and Indians and involved himself entirely in it. Giving Africa its independence he returned to India and fought for its independence against British rule. He built the Sabarmati Ashram that soon became the centre of the revolution.
He founded the Ahimsa or non-violence to fight against them. He conducted several movements like the Non-Cooperation movement, The Dandi Salt March, the Civil Disobedience Movement and observed fasts to speed up the national struggle. His ways gave inspiration to all Indians. He was associated with Jawaharlal Nehru, Sarojini Naidu, Vallavbhai Patel in the formation of the Indian National Congress. Gandhiji initiated the boycott of foreign goods and the usage of indigenous products. 
During the Quit India movement, he united all by the slogan Do or Die. Soon India achieved freedom under his leadership. Although he could not accept the partition. On 30th October 1948, during his prayer, he was murdered by Nathuram Godse at gunpoint. Jawaharlal Nehru, upon his death, said, ''The light has gone out of our lives and it is darkness everywhere.''
---
In this session above, I have tried to discuss almost every aspect of Mahatma Gandhi's life within limited words. Hopefully, now you have a holistic idea about writing short essays on his life. If you still have any doubts regarding this session, kindly let me know through the comment section below. Keep browsing our website to read more such short essays on various important topics.
Join us on Telegram to get the latest updates on our upcoming session. Thank you.