Hello Readers, today in this essay presentation we are going to see an essay on Saraswati Puja.
This Essay is Formatted For Class 1 | Class 2 | Class 3 | Class 4| Class 5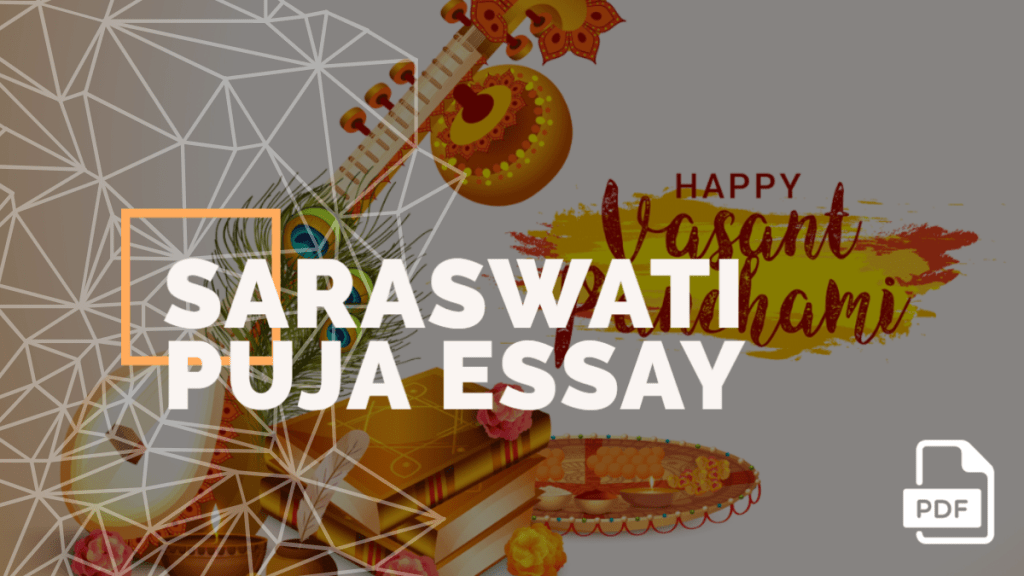 In India there are plenty of occasions celebrated by Hindus, Saraswati Puja is one of them. Not only Hindus but the goddess are also worshipped by some Jain and Buddhist people. The earliest mention of the goddess Saraswati is in "Rigveda" which is from the early Vedic period. As a part of the "Trinity (Tridevi)" along with Laksmi and Parvati, she is the goddess of wisdom, knowledge, music, art, and learning. She is also known as the daughter of Bramha.
In Sanskrit, "Saras" means "speech", "vati" which means "she who possesses" and Saraswati means "she who possesses speech". Some Hindus celebrate this during Navaratri. In Bengali tradition this puja happens at the advent of spring (January-February) with a little chilly weather, It is also called "Basant Panchami", it marks the preliminary preparations for the arrival of spring. And is celebrated all over India in houses, and pandals but in the southern part of India, it is restricted to temples.
In Hindu art, Devi Saraswati is usually depicted as a goddess of gratefulness. She most often wears a white sari which symbolizes purity. The hands hold items with symbolic meaning- a book, a mala, a water pot, and a veena. She holds the veena in her left hand on the upper side and the right on the lower part and the book in her left hand.
Veena represents all creative arts and sciences, and her holdings symbolize the knowledge that creates harmony. The book symbolizes the "Vedas" representing the universal, divine, eternal and true knowledge of learning. She sits on a lotus which signifies she herself rooted in the supreme reality and symbolizes supreme knowledge.
On the day of 'Panchami' from the early morning, students gather in front of the sculpture of Devi Saraswati. Some of these are necessary for the puja like Ghee lamps, mango blossoms, inkstands, marigold flowers, barley sheaves, kool or berries, parched rice, small pieces of sugarcane, betel nut, turmeric, unbroken rice grains, a paste of sandalwood, etc.
Books, pens, pencils, and inkstands of the students and musical instruments are placed beside the feet of Devi. They believe that through this process they can gain or improve their wisdom and secure good marks in the exam. During this puja, some children start their new life of learning by a specific process called "Hate khori" (in Bengali).
During puja, students recite Sanskrit 'mantras' along with the priest. Puja continues with "Shloka" chanting, doing "Aarti", ringing bells, etc. Puja ends with Pushpanjali (offering of flowers to gods). After that, the 'prasad' is distributed among people.
For maintaining the ritual, students who are part of worshipping, should not be allowed to write or read and eat non-veg, on this day.
The next day is called "Sital Shasthi", on this day after prayer "Dadhikarma" is given to Devi. In the evening the sculpture is immersed in nearby ponds or rivers. Thus the process of worshipping is completed.
The worship of this goddess is mandatory in schools and colleges for improving the culture of learning (Bengali tradition). Cultural programs are also organized in schools and institutes on this day.
There is a beautiful side to worshipping the goddess Saraswati. Peoples, especially students learn an important lesson about wisdom, and how to be spiritual, and respectful. she gives happiness, power, and fame to her devotees. This is the purpose of worshipping her.
---
So that's all for today I hope you like our Essay on Saraswati puja, for more freshly written essays keep visiting EnglishCompositions, Thank you!