This article is all about how to write a newspaper report on the recent event that is Chinese App Banned by Government of India.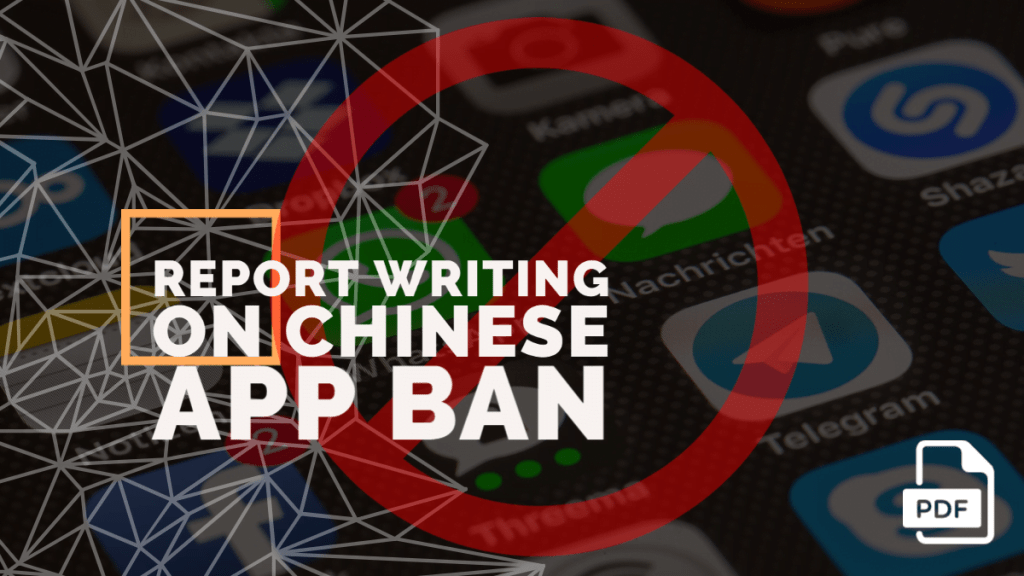 Example 1
How The Ban On Chinese App Affected Life
Reported by: Jisna Nathan, TOI
July 27, 2020; Delhi: India had banned Chinese apps that were removed from being used by the common people. This happened just after the incidents in Ladakh. The government explained that the Chinese could not be trusted and that they might use this to hack into our systems.
It was difficult for common people to understand and accept. There were so many discussions held on the same topic. Later on, the common people started understanding and so they started to cope with the change. That is when in September another number of apps were banned causing a much bigger turmoil.
This time PUBG, a game was also banned. This decision was resented by most of the players since this means no more PUBG. In June 2020, the government banned 59 apps, citing threat to sovereignty and integrity of India including Tik Tok.
The reason why the apps were banned was that it was engaging in activities which were prejudicial to sovereignty and integrity of India also posing threat to the defence of India, the security of the state and public order. They used section 69 A of the information and technology (IT) act.
---
Example 2
 What Led India to Ban Chinese Apps?
Reported by Sasha Mary Tom, ABP News
July 27, 2020; Mumbai: The ban on Chinese Apps was being implemented. The common people wanted to know what were the reasons that led to the ban. The recent incidents between China and India were not a secret. It was clear from their actions that they are not to be trusted.
They deceived our army. This resulted in the loss of life of 20 soldiers at the Galwan River Valley. India took this decision standing in a tense moment with the Chinese soldiers at eastern Ladakh. The death of soldiers aroused the feelings of rage nationwide. The common people wanted to strike back. It led to street protests.
Thus, India decided to payback. By banning the Chinese apps in India, it will cause the rate of usage crashing their economy. Chinese will lose ads from Indian markets, and this will eventually hit their revenue system. This will also help in putting pressure on China.
The ban was also expected to crash big firms. This also triggered Anti- China sentiments. This was an unprecedented step taken by India but was very effective on the economy of China.
---
Example 3
Was the Ban on Chinese Apps a blowback? 
By Geo James
July 27, 2020; Kerala: The tension at the Ladakh border was increasing day after day. After the loss of 20 Indian soldiers, even the common people wanted to strike back. There were massive demonstrations and street protests asking to blowback.
We wanted justice for those who died. They had mercilessly killed them causing an outrage of Anti- China sentiments throughout the nation. India – China border clash also created a rising risk in Beijing's territorial push.
China was on its way to make a headstart in the world's fastest-growing mobile arena, when India's policy jeopardized all those successes in a minute. The blowback which India gifted might cause bigger problems as the US is seeking to rally countries to stop using Huawei Technologies Co. for 5G networks.
India's actions are making other countries rethink whether to weigh the extent to which they let China gain user data affects their defense systems. Hence, one can rightfully say that the ban on the Chinese apps in India was indeed a blowback for the lives they had taken and that this was not the end but just the beginning of what India is capable of doing.
---
Example 4
Ban on Chinese Apps
By Deepa George, Special Correspondent, News18
July 27, 2020; New Delhi: In June 2020, the government banned 59 apps, which were posing a threat to the integrity and sovereignty of the nation. This was because the Chinese could gain information about people and their whereabouts, we might not even know whether they have installed some sort of chips on these things.
Hence for the safety of the nation, 59 apps were banned in June. Later several more apps were banned along with PUBG, a game played by more than 1 million people. This created problems initially but when common people understood the reason behind the ban they were ready to accept the facts.
These apps were found to engage in activities that were prejudicial to sovereignty and integrity of the nation also as a threat to the security of the state and public order under the Information and Technology act. This action will also increase pressure on China, as trade will have a huge setback due to this since trade is a major strength for China.
Conclusion
There you have it: Newspaper Report on Chinese App Ban.
I hope you found this article helpful. Do let me know if you have any other topic ideas that you want me to cover by leaving a quick comment just below the article.