In this article, I'll show you how exactly you can write a report on the inauguration of a hospital. Initially, I would like to mention that all of the following samples are going to be written in the pattern of newspaper reports. So let's get started.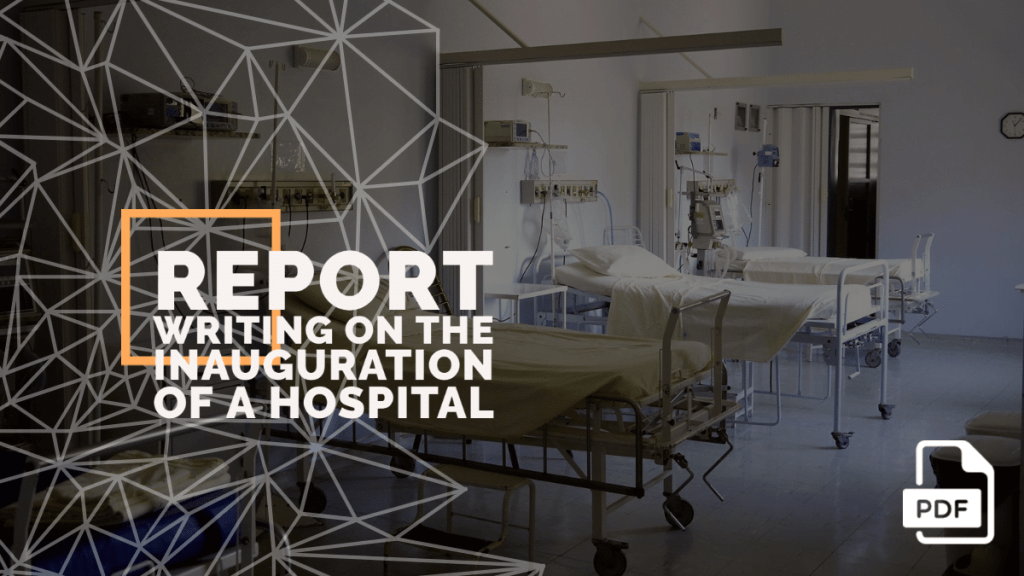 Example 1
INAUGURATION OF R.K. TIWARI MEMORIAL HOSPITAL
Reported by: Ipsita Chatterjee
Kolkata; June 12, 2021: A new hospital containing 250 beds was inaugurated in Ellis Street, Diamond Bazar, Kolkata yesterday at 10:00 hours with a vision to improve the healthcare facilities and services for the general public.
The State Health Commissioner, Shri Prabhudeva Goyal inaugurated the hospital. The Health Secretary, Senior Healthcare Executive and many other officers and authorities were also invited to the Inauguration program of the hospital.
The hospital is built in memory of Late R.K. Tiwari, who was a renowned cardiologist and had served the general public for the last 50 years. Regrettably, he passed away six months ago as he was adversely affected by the deadly Coronavirus.
His only goal in life was to serve the public, the community and eventually the nation as a whole. As per the hospital sources, the hospital would provide some limited treatment to the poor people, who cannot afford hospital facilities and services, free of cost. The hospital has appointed 50 trained doctors having a wide range of fields of specialization and 75 nurses.
---
Example 2
NEW HOSPITAL INAGUGURATED IN VISAKHAPATNAM
Reported by: Staff Reporter
Visakhapatnam, Andhra Pradesh; May 12, 2020: A 200 bedded hospital was inaugurated last Friday in Visakhapatnam. This hospital is the first modern large-scale hospital to have a wide range of advanced and sophisticated facilities and some latest Medicare technologies. The hospital authority has promised to provide world-class treatment and services to the local people at reasonable prices.
The private hospital has a highly skilled infrastructure. It is a ten-storeyed building covering an area of approximately 25 square kilometres. There are three Intensive Care Units (ICUs) and seven individual operation theatres.
The hospital also has an outlet for 24*7 medicines services, fast and efficient ambulance services along with direct consultation from renowned specialists across the nation. Moreover, it is also well equipped with modern testing and diagnostic instruments as well as tool-kits.
The inauguration program was graced by the presence of many dignitaries such as Sri Venkateshwara Reddy, Minister of Health; Shri A.K. Pattani, the local Member of Parliament; Shri Purohit Shree, Secretary of Health Department along with various other officers as well as businessmen of the local area. The Minister of Health addressed the inauguration of the hospital in his motivating speech.
---
Example 3
INAUGURATION OF A SUPER SPECIALITY HOSPITAL
Reported by: S. K. Bhaduria, Staff Reporter, TOI
Ahmedabad; June 12, 2020: A new super-speciality hospital was inaugurated at Hansalpur Becharaji, near the outskirts of Kunupur in Gujarat yesterday at 9:00 hours. Mr Nayeem Abdullah, the president of GMC Hospital started the inaugural ceremony by delivering a short motivational speech.
The Guest of Honour for the event was Shri Rabindra Desai, Principal Secretary of Health. The program was witnessed by many officers, authorities, executives as well as local people.
The main objective of this hospital is to attract the patients who travel abroad to have world-class health and medical care by presenting comparable facilities at their doorsteps. The hospital has been the result of five years of substantial hard work, determination and perseverance, as said by the secretary of the trustee board.
The hospital is spread across nearly one hundred and forty square kilometres. It has an ambulances facility, three hundred beds, thirty ventilators, five Intensive Care units (ICUs) and four separate chambers for operation theatres respectively. The Guest of Honour had a close conversation with the doctors, nurses and staff of GMC Hospital and the fellow board members.
---
Example 4
DRDO's HOSPITAL INAUGURATED AT MUZAFFARPUR
Reported by: Mousumi Ghosh, Staff Reporter
Muzaffarpur; June 12, 2020: A new 1000-bed hospital including 200 ICU beds has been set up by the Defence Research and Development Organisation (DRDO) and was inaugurated at Muzaffarpur. The doctors, nurses and other medical staff were appointed by the Directorate General Armed Forces Medical Services (DGAFMS). 200 doctors, 350 nurses and 100 staff members had been appointed so far.
The hospital is well equipped with all sorts of sophisticated instruments and the latest medical technologies. Many other facilities and services such as CCTV surveillance system, pharmacy and pathology labs, catering services, ambulance services, computerised hospital management system, electrical system, central air conditioning etc are provided on the hospital premises.
The hospital is well maintained with clean premises and green gardens all around the hospital to provide a better environment for the doctors, nurses as well as patients. They also aim to provide consultation services from renowned specialists all across the globe.
The hospital is powered with diesel generator backup, an individual oxygen facility for each bed, lifts and morgues. The Bihar Government has pledged to provide free water and electricity facilities to improve the hospital infrastructure.
---
So there you have it: Report Writing on the Inauguration of Hospital. I hope you liked this initiative. Do let me know if you have any doubts, by leaving a quick comment just below the article.