In this article, I'm going to show you how to write a report on Navratri Celebration in Society or Locality. So let's get started.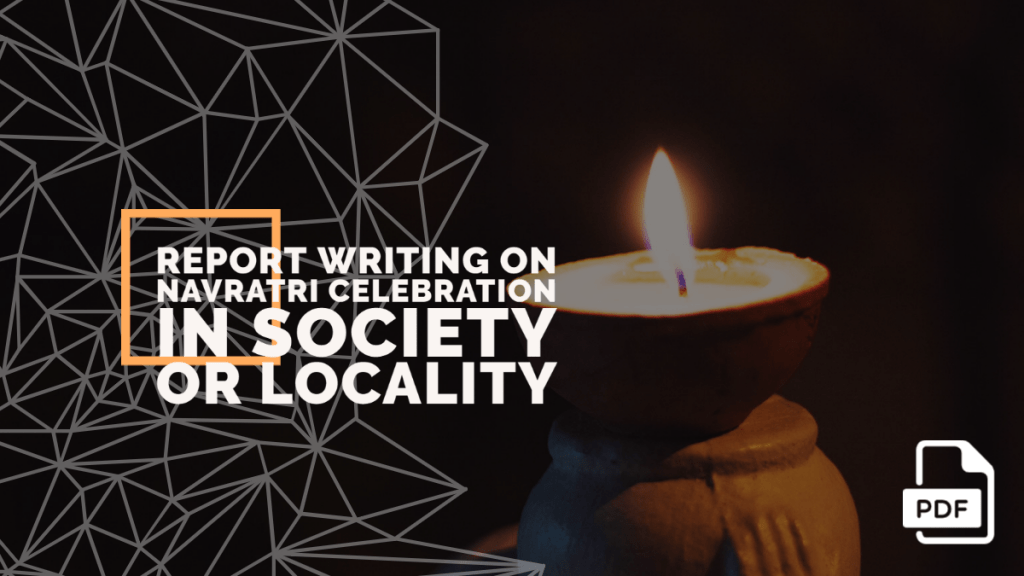 Example 1
Navratri Celebrations at Marwary Dharamshala
By Kriti Aggarwal
February 12, 2020: Marwari Dharamshala, Park Street, Calcutta organised the Navratri Celebration on 27th of October, 2019. The celebration started by offering prayers and chanting bhajans in chorus in front of the idol of Goddess Navdurga. All the members of this association were invited to this event along with their family members.
In the afternoon, they organised a banquet for their members as well as the localities. They even distributed the prasad among the slums located nearby.
Everyone was dressed in traditional dresses and had groomed exquisitely. All the bright coloured fabrics made the event appealing. The Dharamshala was beautifully adorned by flowers, ribbons, lights and lamps. The various bright colours of lamps and fabrics were scintillating to eyes.
This festival bought happiness, faith, devotion and a sense of unity among everyone. The main highlight of the event was the cultural programs organised during this event.
Small kids dressed elegantly in lehengas and kurta-pyjamas, danced on the stage. They even sang melodies. Youngsters were also invited to sing. In the end, everyone was deeply synced with the beats of the music and the steps of Garba.
---
Example 2
Navratri Celebration at Army Staff Quarters
By Sujoy Chand
February 12, 2020; Shirpur: In accordance to the Indian traditions and cultures, Navrotasav was celebrated with great fervour at Army Staff Quarters, Shirpur between 6:00 pm to 10:00 pm. The commemoration began by offering prayers to Goddess Navadurga, followed by lighting lamps. Various rituals like Puspanjali, Nam Karan and Aarti were conducted with great devotion and fidelity.
The event was well attended by people of all age groups. Kids, youngsters, men and women as well as old aged people united together for refreshment, entertainment and fun. The clubhouse of Army Staff Quarters was studded beautifully with colourful, bright lamps, chandlers and candles.
An orchestra was held for the audience, which was greatly loved by the audience. They applauded all the artists for entertaining them. Delicacies and sweets of a wide range were adorned on dining tables to nourish the participants. Men, women and children all participated in various cultural programmes. A rangoli making competition was also organised. A wide variety of magnificent rangolis were made by the participants.
A bonfire was lit in the evening. Everyone danced to the tunes and sang folklores together.
---
Example 3
Navratri Celebration at Shanti Villa
By Isha Thacker
February 12, 2020; Ahmedabad: To mark the auspicious ceremony of Navratri, members and residents of the Shanti Villa conducted a program yesterday. Under the guidance of the Secretary of the Society, Shri Manohar Lal, all the events and functions were celebrated with great pomp and passion.
The program commenced in the morning Goddess Navadurga was offered prayers, followed by traditionally worshipping nine, young girls. Their foreheads were coloured by the holy vermillion of Goddess Nava Durga, and their feet were washed with sandalwood water; were served with a wide variety of fruits and sweets and were gifted new clothes.
Later in the evening, a wide variety of events and competitions were organised for men, women and kids. Rangoli making, thaali decoration, cooking and mehndi designing contests were organised for women. Fancy dress, solo song, solo dance and solo act were organised for kids and youngsters. Many group events were also conducted.
A wide range of sweets, dishes and delicacies were arranged for refreshment of the participants. A photo session was followed. A lot of explosives and crackers were ignited and a bonfire was lit, followed by Garba and Dandiya Raas.
---
Example 4
Navratri Celebration at Retang Colony
By Divya Rani
February 12, 2020; Bhawanipore: A grand program was conducted by the members of the association of Retang Colony yesterday with great devotion and fidelity.
The quarters were decorated by bandhanwars and flower garlands. The commemoration began by offering prayers to Goddess Durga, followed by Puspanjali, Aarti and Nam Karan. The prasad was distributed among all the members.
By evening, the colony was beautifully embellished by rangoli, lights and lamps. Men, women and children were dressed in traditional ethics. A grand table containing delicacies was kept in the hall.
Children performed various cultural programs to entertain everyone. A group sang Durga Stotram in chorus. Another group of kids enacted a brief skit summarising all the ten forms of Goddess Durga, Goddess of Power, Strength and Positivity. Yet another group performed cultural dance programs.
The whole environment was filled with peace and positivity. Men, women and children danced Garba Raas and Dandiya Raas together. The bright fabrics worn by them provided an exquisite pleasure to the viewers. A bonfire was lit followed by a grand community dinner. They sang folklores to mark the Jagran.
Conclusion:
There you have it: Report Writing on Navratri Celebration in Society or Locality.
I hope you found this article helpful.
Do let me know if you have any other topics idea that you want me to cover by leaving a quick comment just below the article.