In this article, you will learn how to write a report on Dengue Awareness Camp. So let's get started.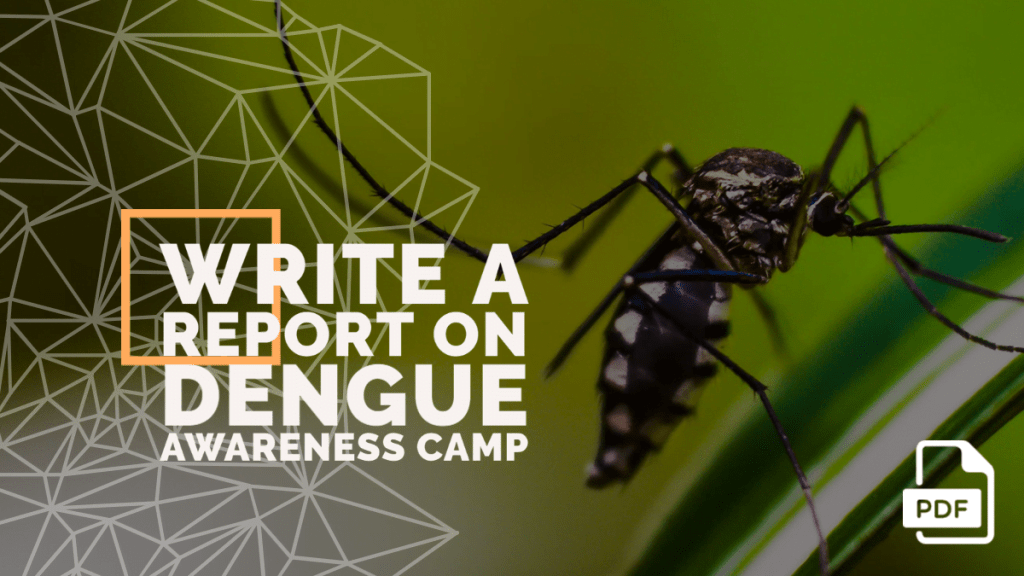 Example 1: Write a Newspaper Report on Dengue Awareness camp.
Dengue Awareness Campaign
Reported by: Lalita Panda, Staff Reporter, TOI
August 12, 2020; Bhubaneswar: The students, teachers and staff of Sai International School, Bhubaneswar participated in a campaign based on spreading awareness about Dengue.
The program was guided by Shri Ratan Paikray, Principal of the school. The campaign was organised from 5th August 2020 to 11th August 2020 in the school premises and the nearby localities respectively.
Approximately 400 students from classes I to XII participated with great enthusiasm to help eliminate dengue and create a better environment. The students were mentored by nearly forty teachers in this event.
Under this campaign, various contests and events were held to encourage more participation. Poster making, slogan writing, banner making competitions were held at school level along with a digital doodling competition. The efforts made by the students were reflected by their performances in all the activities.
The students conducted a rally in which they taught the nearby localities about the perils of Dengue. The students went from locality to locality, and contributed their part by cleaning the environment, disposing wastes and litter properly in closed dustbin and clearing clogged water from pipes and drains respectively. The students were appreciated for their efforts
---
Example 2: Write a report on Dengue Awareness Program organized by Welfare Section South Eastern Railway.
Dengue Awareness Program by Welfare Section
Reported by: Sudheer Parekh
August 12, 2020, Patna: The members and associates of the South Eastern Railway Women Welfare department conducted an awareness program highlighted on Dengue for two weeks from 25th July 2020 to 7th August 2020 respectively in the local area.
The program was induced under the guidance of Miss Malini Singh, Secretary of South Eastern Railway Women Welfare Department combined with the sincere efforts made b y all other members of the association.
A conference was held in which other officers, businessmen as well as students were cordially invited to signify the importance of hygiene in both personal as well as community levels respectively.
The members participated in a rally in which they preached the significance of maintenance of hygiene. They cleaned the nearby surroundings along with the coordinated efforts by the local people.
The Women Welfare department provided mosquito coils, mosquito-repellent creams as well as mosquito nets free of cost among the rural segments of nearby localities.
The program was also associated with the Directorate of National Vector Borne Disease Control Programme.  Frequent check-ups were carried during the campaign to spread awareness among the public.
---
Example 3: Write a report on dengue awareness program arranged by the members of The Municipal Corporation of Coimbatore.
Dengue Awareness Program
By Tarun Sampath, Staff Reporter
August 12, 2020; Coimbatore: Dengue is a mosquito-borne disease which is widespread globally. An awareness program was organised by the members of The Municipal Corporation of Coimbatore on dengue fever among adults residing in the nearby rural slums and shantytowns in Coimbatore.
The basic objective of this campaign was to increase awareness in an effective way among the general public. The campaign was initiated with pre-planned surveys and questionnaires. Approximately two hundred people had participated in these programs. The results were recorded for further use.
Various Health education programs were voluntarily managed by the members of the corporation. The localities were advised to keep their surroundings neat and clean, to manage wastes effectively and to prevent stagnation of water in or near houses. Use of mosquito coils and mosquito nets were appreciated.
A wide range of interactive public events such as debates, conferences and quizzes were held to enhance the participation of localities.
A cross-sectional study was also conducted to calculate the sample size of the data, so as to make logical and statistical inferences. The results were further analysed and interpreted to improve the knowledge and level of awareness among people.
---
Example 4: Suppose your school organized a dengue awareness programme for a day. Now write a report on this for your school Magazine.
Dengue Awareness in School
By Aashirbad Dalia
August 12, 2020; Gandhinagar: The adversely increasing number of cases of Malaria are mainly contributed by limited awareness, lack of attention and irregular health education programmes.
Our school conducted a dengue awareness program to evaluate the existing level of awareness. The students and teachers planned a well-designed and structured dengue awareness program for the same.
We had to take home a self-administered questionnaire to evaluate the present status of knowledge. The next day, the teachers evaluated the answers. After evaluation, all of us were asked to attend a dengue awareness programme at the school auditorium. Nearly five hundred students participated in this program.
We were taught about dengue infection, symptoms, modes of transmission and precautions and modes of treatment as well. Besides that, we were also educated about the importance of solid waste, management and maintenance of personal hygiene.
A group of senior students voluntarily took part in the larval surveillance activities.
We were provided with ample knowledge about this disease as well as its carrier. After the completion of the campaign, a post session survey was conducted. It was assessed that our mean knowledge score about dengue prevention had increased by 34.65% approximately.
Conclusion
There you have it: Report on Dengue Awareness Camp. I hope you found this article interesting. I have already written a lot of articles regarding English Compositions, feel free to check those too.