In this article, I'm going to show you a couple of example reports on Swachh Bharat Abhiyan. So, let's jump in.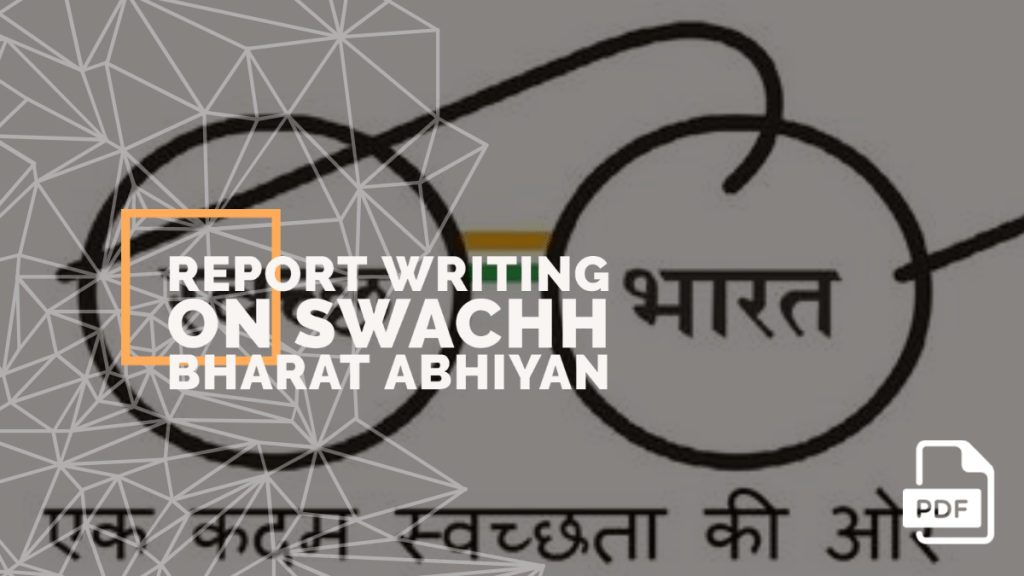 Example 1
Swachh Bharat Abhiyan
By Arnya Saha
Delhi Public School
New Delhi; October 2, 2014: Clean India Mission or commonly known as the Swachh Bharat Abhiyan was a country-wide campaign initiated by the government of India in the year 2014 in order to eliminate the open defecation of garbage and various other pollutants hampering the environment.
The main aim behind the starting of this mission was to achieve an open defecation-free India by 2nd October 2019, the auspicious occasion of the 150th birth anniversary of the father of the nation, Mahatma Gandhi.
The objectives of the first phase of the mission, which lasted till October 2019, was to eradicate manual scavenging, generating awareness and bringing about a change in the mindsets of people regarding sanitation practices.
The second phase of the mission, which was to be started from 2020 to 2021 aimed at sustaining an open defecation free status and to improve the solid and liquid waste management systems.
The "Swachhagrahis" or "Ambassadors of cleanliness," promoted indoor plumbing and community approaches to sanitation in various rural areas. Apart from spreading awareness, the government also provided a subsidy for the construction of nearly 110 million toilets between 2014 and 2019 across India.
---
Example 2
Swachh Bharat Abhiyan
By Sonali Singh
J. N. School
December 1, 2019; Hyderabad: Our school organized the Swachh Bharat Abhiyan program to spread awareness on keeping our India clean on the order of our honourable prime minister Mr Modi who came up with this project. Students from all grades shared their opinions and projected how to recycle materials.
There were also shops with house decors and daily usages made from recycled products by our school students. Our school also invited an honourable GHMC governor to give a speech and hand over prizes to students. Lastly, our principal said a few words on Swachh Bharat.
The day before our program, our school conducted quiz and easy competitions to test students' knowledge on the environment. Many participated and few Selected essays were sent to magazines.
After the program ended, we planted each plant per person on our school grounds. Later on, we went on a rally with banners and slogans to spread awareness about Swachh Bharat. Later that day, our school created a maintenance club for plants. We thank our school for giving us this opportunity to learn. We hope everyone makes our home India clean.
---
Example 3
A Report on Cleanliness Drive Organized by a School in Dadar
By Ayushi Mishra
R. N. Tagore School
November 20, 2020; Kolkata: Our school organised an Online Cleanliness Awareness Campaign under the "SWACHH BHARAT ABHIYAAN" on the occasion of Gandhi Jayanti.
Due to Pandemic, it was impossible for the schools to organise any physically involving programme, so an online programme was held. The school students were told to register in the online programme which had three different segments: Essay writing on "Sanitation and Health"; Drawing Competition on "Cleanliness Imagined and Implied"; Online Debate Competition on cleanliness and COVID-19.
The new-age online programme was a total success. Moreover, as the programme was very engaging, some important aspects like Students' awareness regarding cleanliness and health, their attitude towards the cleaning staff etc. were discussed at large.
The registered students were awarded Participatory Certificates, but the three significant Certificates were given to accomplished students for each section. In the end, the Principle delivered an encouraging speech and thanked the sanitization staff for their selfless work in the frontline during this COVID-19 time. It was overall a unique and different experience for all, which made us aware of the importance of cleanliness and sanitation.
---
Example 4
Cleanliness Drive for Swachh Bharat – Swachhta Pakhwada
By Rimjhim Behera
ST. Xavier's High School
September 16, 2019; Bhubaneswar: Our school celebrated Cleanliness Drive for Swachh Bharat- Swachhata Pakhwada from 1st September to 15th September, 2019.
Recognising the vital role of schools in spreading the awareness about Cleanliness and its implementation across the country, our school contributed by organising many events and programs.
The program began as the Director of Education, Bhubaneswar inaugurated the program by making the Swachhta Shapath.
All the members of our school participated in the Green School Drive. On Personal Hygiene Day , the importance of personal hygiene was emphasized as students, staff and teachers collectively escalated awareness among localities.
An Exhibition was conducted, where students displayed their initiatives towards waste minimization and sustainable development of the nation. Water Harvesting was also practised in the school premises to teach the importance of judicious consumption of water resources.
Essay Writing, Slogan Writing and Poster Making competitions were also held, in which the students joined with vigorous enthusiasm.
The pakhwada was celebrated successfully. The Commissioner was invited for the closing ceremony. Prizes and certificates were awarded to the participants. The Principal concluded by thanking all the coordinators for whom this event was organised smoothly.
There You Have It
So you have seen the example reports on Swachh Bharat Abhiyan, I hope these examples indeed help you.
Do let me know in the comment section if you have any other topic ideas that you want me cover.
Also, feel free to ask your queries in the comment section just below the article.