This article will help you to learn how to write a report on quiz competition which is held in your school.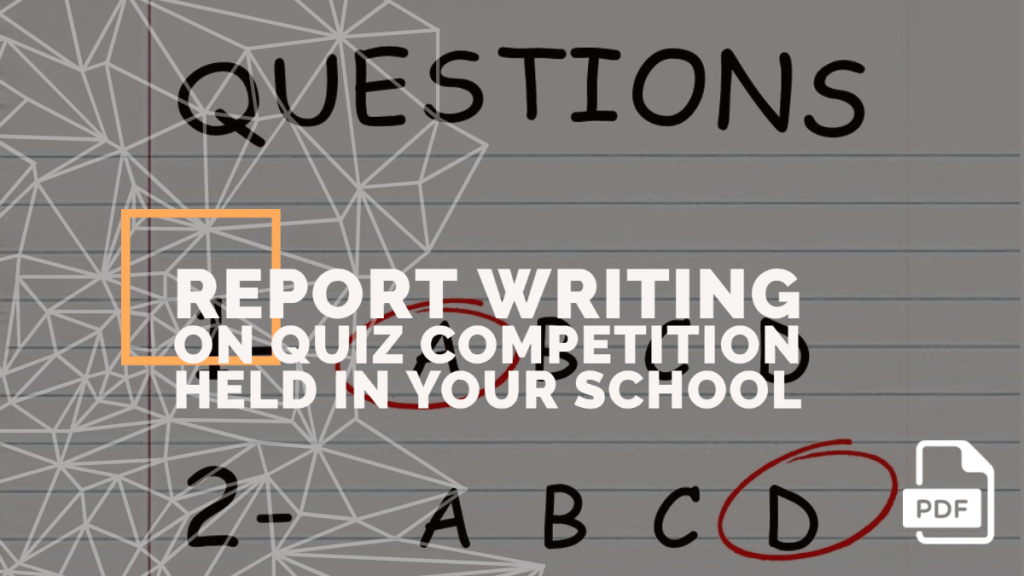 Example 1
Inter House Quiz Competition
By: Suprity Acharyya
An Inter House Quiz Competition was organized by Cathedral Senior Secondary School, Lucknow on 29 August 2019. It was in collaboration with 'The Tribune' and lasted for 6 hours.
It was a 3 stage competition which covered the areas of Science, Maths, Social Science and General Knowledge. There were a total of 4 teams, one from each house.
Every team had 8 members who were from classes 9th to 12th. The participants were asked to report at 8.30 AM. The judging panel consisted of 3 judges. The Deputy CM of Uttar Pradesh, Mr Dinesh Sharma, our Principal Rev. Fr. Ronald D'Souza and Sr. Professor Dr Sharda Goel.
The first round of the competition was supposed to start at 9 AM. In this round, the logical intellect of the participants was debriefed. Every team was given a set of 4 mathematical equations which they had to derive in 30 minutes.
The winner of this round was the Greenhouse which bagged 30 points followed by Red, Blue and Yellow respectively. The second round started at 11 AM. It lasted for 1 hour. In this round, each team was supposed to answer 10 questions 5 from Science and Social Science each.
The Red house won this round by securing 30 points followed by Green, Yellow and Blue. After this round, was the lunch break in which refreshments were distributed to all the participants.
It lasted for more than an hour. The third and the final round started at 1 PM. In this round, the General Knowledge of all the participants was tested.
The winner of this round being the Blue house nabbed 30 points followed by Green, Red and Yellow. This quiz winded up at 2 PM. And results were to be declared at 2.50 PM. Meanwhile, the Deputy CM and our Principal blessed us with their kind words.
The Greenhouse was declared the winner of the quiz competition with 70 out of 90 points and was handed over a trophy with 8 certificates. Overall, the Inter-house Quiz Competition was a huge triumph.
---
Example 2
Inter-School Quiz Competition
By: Suprity Acharyya
City Montessori School (CMS), Lucknow hosted an Inter School Quiz Competition on 30 May 2018. Around 12 schools from all over Lucknow participated in this competition.
It considered both junior and senior level students as participants. The students were divided into groups on the basis of their age. There were a total of 3 groups- Batch A ( age 8-12), Batch B (age 12-16) and Batch C (age 16-18).
For batches A and B the topics of the quiz covered basic Mathematics, Science and Social Science. Whereas for batch C there were 2 categories – Maths & Science, Commerce & Arts. The competition was graced with the presence of Dr. Jagdish Gandhi (founder of CMS) and the Governor of Uttar Pradesh Anandiben Patel.
The competition was held in the Junior Wing Auditorium of the LDA campus. Participants were expected to report at 10 AM. The quiz started with batch A at 10.30 AM. There were further 3 groups of 4 teams each. Every team represented their respective schools.
The winning teams from all the 3 groups were then presented for a face-off. Delhi Public School bagged the first position. At 1 PM, it was time for batch B. The fixtures were similar to the first batch and Christ Church Convent won in the final face-off.
The last round of the competition that was of batch C started at 3 PM. First to commence was the Maths & Science category in which students from Cathedral Senior Secondary School topped the charts followed by the Commerce & Arts category in which Delhi Public School topped for the second time.
Dr. Jagdish Gandhi and Anandiben Patel then honoured the winners with cash prizes and certificates followed by their heartwarming speeches and the competition was winded up by 5 PM with the National Anthem.
Now I Want to Hear from You
So there you have it: Report writing on quiz competition held in your school.
I hope now you have the idea of how to write this type of report writing, from my above-given examples.
So did you find this article helpful?
Do let me know if you have any doubts.
Either way, do let me know your thoughts in the comment section below.
I want to see you in any other articles too.