In this report writing example, I'm going to show you a couple of example reports on the Mid Day Meal programme of your school. So let's get started. The following samples will be written solely in the pattern of newspaper report writing.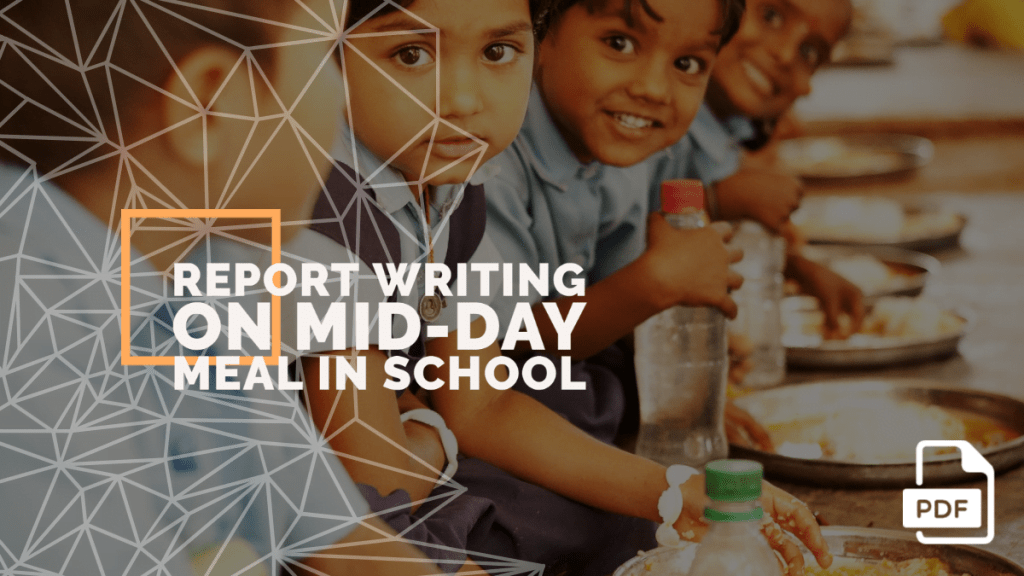 Example 1
MID DAY MEAL SCHEME IN NDRC SCHOOL, BHUBANESWAR
BY NIDHI BHANUSALI
Bhubaneswar; February 12, 2020: NDRC High School, recently set up near the rural slums under Khurda district has introduced the Mid-day meal scheme today.
The Principal of the school, Shri A.K. Patra invited District officials and Railway authorities to his school to bless the children of his school and launched the initiative to provide mid-day meals to the underprivileged children of the area.
This program was first introduced by The Akshaya Patra Foundation under the Karnataka Government in 2001. This scheme has impacted a lot of rural children' lives since then.
The main objectives behind this initiative were to increase school enrolment in Khurda, improve socialisation among the backward castes and bring unity among people. It also considers eliminating child malnutrition.
The children from classes one to five were given a full meal of rice and Dalma. Dalma is traditionally made using vegetables and lentils which provides a considerable portion of nutrition.
According to the Principal, the students of his school will also be served eggs one day a week on Wednesdays. They will be served soybean and pickle as well on alternative days.
---
Example 2
INTRODUCING THE MID DAY MEAL SCHEME, U.G.E. GOVERNMENT SCHOOL
By Manika Behera
Balasore; February 12, 2020: The Utkal Gopabandhu Government School decided to implement the mid-day meal scheme for children aged from 6 to 14 years in the school premises as per the directives issued by the government.
"Our menu revolves around a suitable and feasible range of spices, vegetables, condiments and staple foods", said Mr Dayanand Saraswati, the Headmaster of the school.
He continued stating that the result of introducing this scheme had been tremendously positive. The rate of school enrolment has grown by 12% as compared to that of last year. The attendance statistics depict a considerable increase in the attendance of students as well. The academic performance of the school has been improved by 4.8% since last year.
For more effective implementation of this scheme and to encourage more children to enrol and receive a quality education, the Principal is looking forward to tieing up with Private institutions to raise more funds for the schools as well as to receive financial assistance, if needed.
His vision is to emphasize the significance of education in everyday life and contribute his part to make this world a better place.
---
Example 3
YEARS OF INTRODUCING MIDDAY MEAL SCHEME IN LITTLE FLORA HIGH SCHOOL
By Buddheswar Dandapat
Kolkata; February 12, 2020: Little Flora School, located in the outskirts of rural Ballygunge, had been implementing Mid Day Meal Scheme for the last few years.
Mrs Asha Dutta, Principal of the school felt quite graced to share her experience signifying the impact of introducing the Mid-day meal scheme in her school. Because of this scheme, she has provided employment to many underprivileged, rural women. The women receive economic as well as social support from this scheme.
The number of admissions has been increasing every year as a result. The primary students (classes I to V) are provided with mid-day meals five weeks a day. Rice, chapati, cereals, lentils, greenies and vegetables, soybeans and eggs are served among the children. The average performance of all the students, in both academics as well as sports had been improving consistently due to this approach.
The students of the school had won the Inter-school sports competition last year. The principal aims to provide many other basic necessaries and supplies such as books, pencils, chalks, stationeries and supplies to the children to encourage them more to explore their lives by pushing the limitations and barriers life had offered them.
---
Example 4
MID DAY MEAL AT BGES CENTRAL SCHOOL
By Arpita Mangaraj
Kundipur; 12th February 2020: Following the Mid Day Meal Scheme, 2001, introduced by the Karnataka Government, The Bhawanipatna Gangadhar Education Society school has implemented the same on Monday.
As per the school records, this year saw a rise in the number of enrolments every year. This initiative was carried forward by the principal of this school, Mr Ajay Srivastava to provide equal opportunities to the poor underprivileged children.
Along with a sufficient balanced diet containing staple foods, vegetables and eggs, the students are provided with clean, potable water to ensure good health and hygiene of students and eliminate malnutrition.
Students are very cooperative with the teachers as well as staff, as said by the principal. They maintain discipline in school premises. Their parents too encourage them to go to school as it reduces their plight of arrangement of food and adds value to their children's lives.
The children had been actively participating in all the events and programs organised by the school, the cultural secretary has let us know. He also added that they are consistently developing skills along with values and ethics that a person needs to excel and grow in life.
---
There you have it: Report Writing on Mid-Day Meal in School. I hope this article helps you. Do let me know if you have any other topic ideas that you want me to cover by leaving a quick comment just below the article.