This report writing example is on Janmashtami Celebration. So without any delay let's jump in to the article.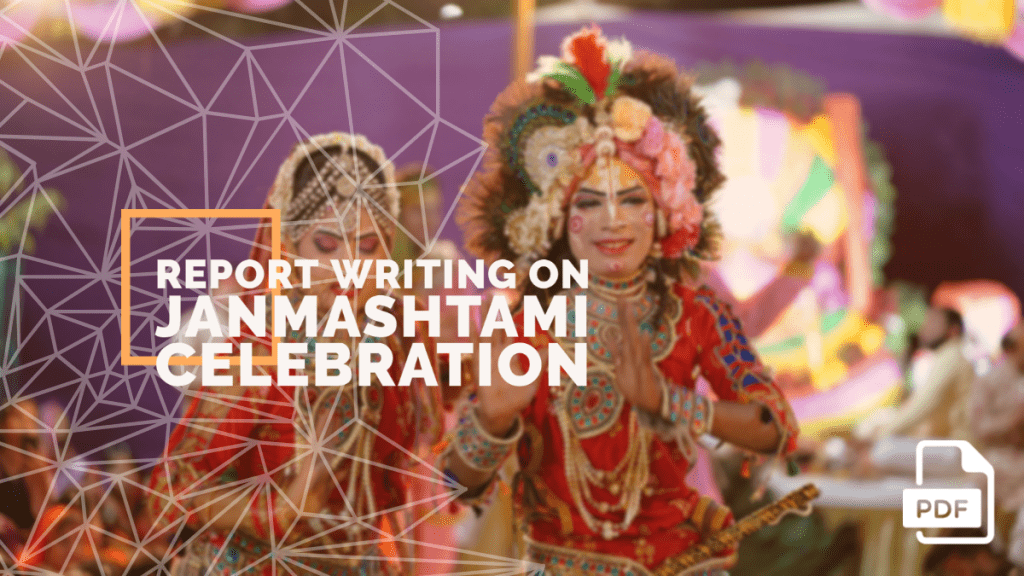 Example 1
JANMASHTAMI CELEBRATION IN SRIJAN-KUNJ, EAST COAST RAILWAY
By Sudeepta Pati
12th February 2020, Bhubaneswar: The birthday of Lord Krishna was celebrated with great devotion and enthusiasm on 11th February.
This commemoration was organised by the Women Welfare Department, East Coast Railway, Bhubaneswar Division. All the Railway staff and their families were cordially invited to join this program. The program was addressed with a warm welcome given by Secretary of Women Welfare Department, Smt. Sameeksha Kumari.
The idol of Lord Krishna was worshipped by everyone with prodigious devotion.
The wards of the staff were beautifully dressed as Krishna, Sudama and Radha. Drawing and Painting competition and Essay writing competition were held for the children. Rangoli making competition and Sweet-making competition were held for the women.
The kids performed various cultural programmes on the stage and added dazzle to this celebration. A Dahi Handi competition was organised for men. Everyone participated with great enthusiasm and radiance. The whole Clubhouse was beautifully decorated with banana plants, mango leaves and flower garlands.
Bright lamps, lights, chandlers and aromatic candles filled the environment with spiritual positivity and fidelity. This holy occasion brings people together, signifying unity and faith.
---
Example 2
JANMASHTAMI CELEBRATIONS IN GOKULDHAM SOCIETY
By Aprativirya Seshan
12th February 2020, Pune:  Shree Krishna Janmotsav was celebrated by the members of Gokuldham society with great solemnity. This celebration brought devotion, recreation, entertainment and fun all together. The event was managed by Mr Aatmaram Thackeray, Secretary of Gokuldham society and coordinated by many other members.
The commemoration began when members along with their families worshipped the idol of Lord Krishna. The homage was offered with devotion and dedication to Lord Krishna through Aarti. The whole society compound was embellished with flowers, mango leaves as well as bright lights and lamps.
A lot of events were held for both adults and children. "Dahi Handi" competition was the main highlight of this event. Payal"s group won the competition and was awarded a cheque of fifty thousand rupees. Many other events such as "Rangoli making ", " Cooking", "Fancy dress" and "Dancing" were also held.
In the evening, a community fest was organised in which a wide variety of dishes and sweets were served and savoured by the members. A bonfire was lit around which they sang bhajans and concluded this program to an end.
---
Example 3
JANMASHTAMI CELEBRATION IN SUNSHINE PRESCHOOL
By Ritisma Patra
12th February 2020, Kolkata: Students of Sunshine Preschool celebrated Krishna Janmashtami, an annual celebration of Hindu deity Krishna yesterday.
Students from classes Pre-nursery to UKG were dressed up as Krishna and Radha. The walls of the school were beautifully decorated with paintings of Krishna made by little hands of the little kids. The school was embellished with bright lights as well as vibrant flowers and leaves.
Fragrance of flowers, aroma of igniting camphor and tinkle of bells ameliorated the school environment. Parents of the students were cordially invited to attend the celebration. A small skit was organised by the students and teachers revolving around the life of Lord Krishna.
Principal Smaranika Bal addressed a warm welcome by signifying various aspects of Krishna, A small Dahi Handi Competition was held for the students. Followed by a Dance competition in which the tiny tots showcased their talents and passion.
Abhinav Shukla and Mariam Datta were the winners of the dance competition. Aravali House won the Dahi Handi competition. Various prizes, awards and certificates were distributed by the principal to encourage the students to participate next time with more vigour and enthusiasm.
---
Example 4
JANMASHTAMI CELEBRATION IN MADHUBALA OLD AGE HOME
By Swastik Chatterjee
12th February 2020, Howrah: Members of Madhubala Old Age Home celebrated the annual birth celebration of Lord Krishna yesterday with great devotion and fidelity.
The program was associated with Asharam Playschool. The manager of Madhubala Old Age Home, Shri Balakrishna and the Teacher coordinator, Minakshi Chaturvedi made great efforts to bring unity and faith together in this celebration.
A fancy dress contest was organised in which the boys and girls were decked as Krishnas and Radhas. They were judged by the members of the old age home on the basis of their make-up, costume-design and expressions. The students brought the stage to life by their scintillating dance performances to refresh the lives of the old people living in the old age home.
The old men and women then went up to the stage to narrate stories about Krishna's life. They enchanted bhajans in the chorus for Lord Krishna. Many prizes and awards were felicitated to the young, bright minds. This celebration was a great success as it filled everyone's hearts with joy, happiness and contentment. The program was brought to an end by a grand community feast and a bonfire.
That's It
So there you have it: Report Writing on Janmashtami Celebration.
I hope you found this article helpful.
Feel free to let me know your thoughts by putting a quick comment just below the article.