In this article, I am going to show you some sample report writings on Building Collapse. All the samples will be written particularly in the newspaper reporting pattern. So let's get started.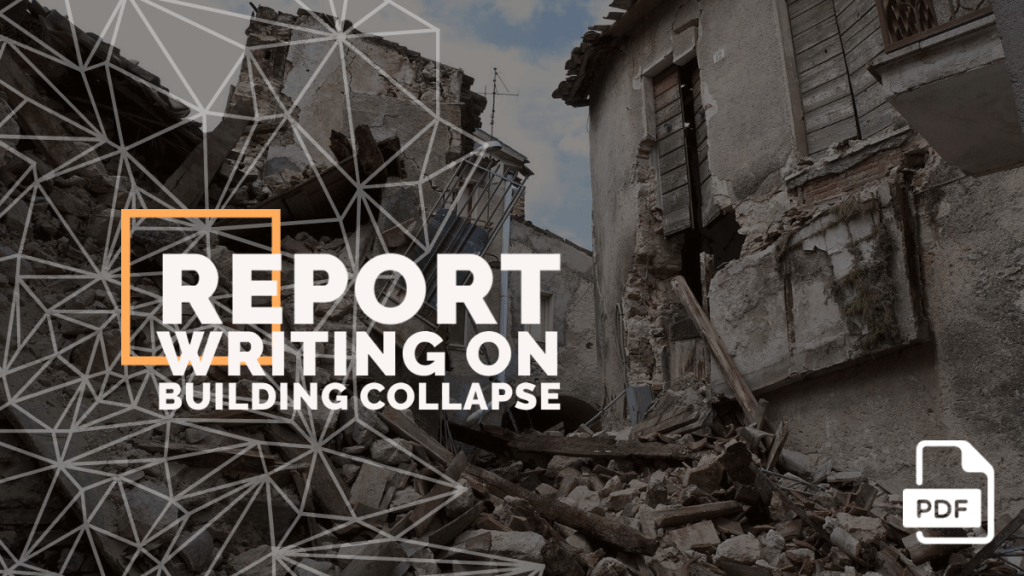 Example 1: You are a staff reporter Hindustan Times. Write a report on an incident where a Building is collapsed due to an earthquake in Visakhapatnam within 200 words.
BUILDING COLLAPSED: HUNDREDS INJURED, 56 DEAD
Reported by: Kajol Naik, Staff Reporter, H.T.
Visakhapatnam; February 12, 2020: The southern part of India was hit by an earthquake yesterday at nearly 17:00 hours.
According to Statistical reports, the Richter scale showed a magnitude of 4.5. Many buildings, flats, and huts had experienced this earthquake.
As recently reported, a multi-storeyed building had collapsed and sided over a slum consisting of nearly hundreds of livelihoods near Gajapati Nagar, Visakhapatnam. All the emergency services and rescue operations teams such as the fire brigade, disaster management team as well as ambulances approached the affected area immediately.
The multi-storeyed building trembled and started falling down upon the slums. A massive fire erupted during the collision. The Fire Department successfully extinguished the fire with their expertise. Hundreds of people had sustained injuries. Many people are still missing and have not been found yet.
So far, the rescue operation teams had found 156 persons, out of which 56 are dead. All the casualties were admitted to Vijayrao Government hospital, 9 km away from the spot. As per medical records, the majority of the patients are in critical condition.
---
Example 2: You are a staff reporter Hindustan Times. Write a newspaper report on the based of the following points: Building Collapse- February 12- Rescue and disaster management team arrives- 6hrs of the rescue operation- 134 rescued people- 32 deceased- Police are investigating.
BUILDING COLLAPSED IN MUMBAI; 32 DIED
Reported by: Nirmal Ranjan, Staff Reporter, H.T.
Mumbai; February 12, 2020: A 12-storeyed flat collapsed in Dharavi on Wednesday. Many people are missing. All the rescue and disaster management teams were called upon. However, due to the critical location of the building surrounded by narrow lanes, it was difficult for the teams to reach the accident spot and execute operations easily. The volunteers carried ropes and ladders to carry the people trapped inside the debris.
The operation took nearly six hours. As per statistics, it has been estimated that so far 134 people have been rescued. Of those rescued people, 32 people are deceased, including 12 women and 16 children aged between 6 to 15 years respectively.
It is said that the flat is primitively old, constructed nearly seventy years ago. The residents of the flat had recruited a builder to reconstruct and develop the property. However, when asked upon, the builder's team claimed that there were some legal complications regarding the reconstruction.
Police Department, Mumbai reached the spot to supervise and investigate the mishap, covering more details and aspects of this case. They had been trying to reveal the reason behind the delayed reconstruction of this flat.
---
Example 3: An accident took place in Kolkata, where a building was collapsed. You are a staff reporter, ABP news, write a report on this incident within 200 words.
CENTURY OLD BUILDING COLLAPSED IN KOLKATA
Reported by: Oindrila Saraf, Staff Reporter, ABP News
Kolkata; February 12, 2020: As per estimated statements by local residents, a 100-year old building collapsed in Kolkata on Friday night at around 3:00 am.
Three people were killed and two were injured as a dilapidated building collapsed due to heavy monsoon rains. The continuous rainfall along with heavy thunderstorms since the last two days had caused cracks and crevices in the building corners and had made it weak and fragile enough to get collapsed.
Two months ago, the building was declared as a 'Dangerous Building' by the Kolkata Municipal Corporation (KMC). The Police Department arrived along with a team of Disaster Management and fire brigades to conduct the rescue operation.
The deceased have been identified as Nirmal Jena, Srustidhar Shroff and Shruti Bheniwal aged thirty-three, forty-two and fifty respectively who were trapped inside the debris for nearly four to five hours.
Two people named Arjun Jha and Nimit Shah were critically injured and provided with first-aid before they were admitted to the nearby hospital. The local residents were in panic and distress. Few people living in the neighbourhood witnessed the collapse but had been fortunately unharmed.
The District Police Commissioner, Kolkata, reported that the situation has been controlled.
---
Example 4: Suppose you're a correspondent from Times of India, was asked to submit a report on a Bhawanipur Building Collapsed. Write a report on the incident in 120-150 words.
12 KILLED IN BHAWANIPUR BUILDING COLLAPSE
Reported by: Shristi Safar, Staff Reporter, T.O.I
Bhawanipur; February 12, 2020: At least 12 people were deceased and as many as twenty were injured when a portion of an old four-storeyed building collapsed in Bhawanipur in Kolkata in the early morning yesterday.
The incident occurred nearly at 1:00 am. This collapse was witnessed by a neighbour who was talking over the phone. According to him, he heard loud, unusual noises and when he followed them, he saw the huge building collapsing with a loud thud. Fire brigades, rescue teams and disaster management teams were called upon immediately.
The teams coordinated to save as many lives as possible. Of the survivors, the ones who were severely injured were provided first-aid and then shifted to Safar Medical College and Hospital, 3 km away from that spot. Expert architects and engineers visited the location and concluded that the building collapsed due to structural errors in the building architecture.
Upon more detailed investigation, it was claimed that the building has been made on illegal grounds. Police have not yet arrested anyone in this connection.
---
There you have it: report writing on building collapse. I hope you learned how to write a newspaper report on this topic. Do let me know if you have any other topic ideas which you want me to cover by leaving a quick comment just below the article.