This example report writing is on heavy rainfall in your city.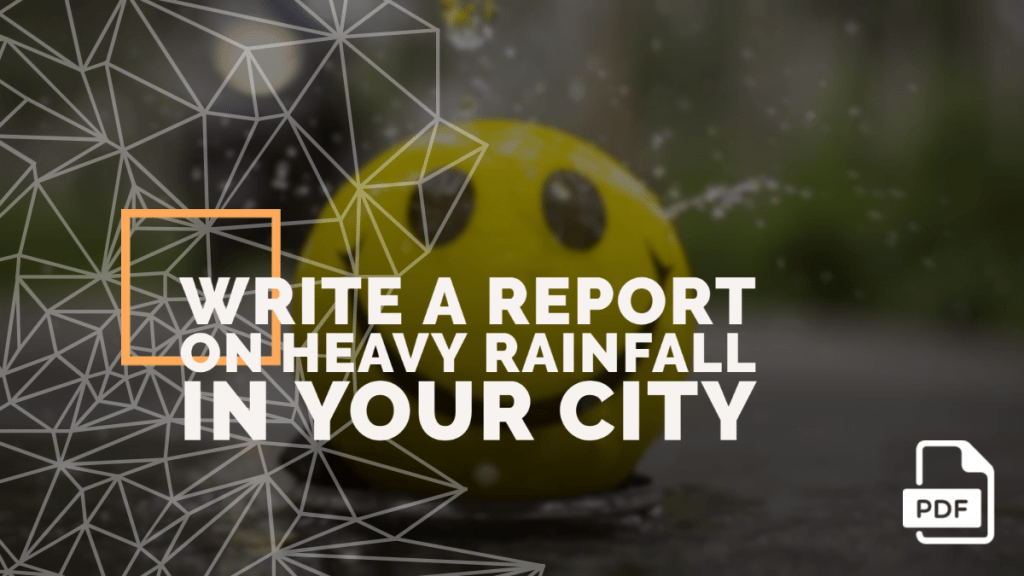 Example 1
HEAVY RAINFALL CAUSES DISRUPTION IN MUMBAI
After it rained simultaneously for 48 hours, Mumbaikars are now facing trouble.
By: Suprity Acharyya
02 July, 2020 4.30 pm IST, Mumbai: Heavy rains and gusty winds for 2 days straight brought the normal life of the busy city to a halt. Not only Mumbai but also the adjoining districts were severely affected by the floods triggered by this heavy rainfall.
According to the Indian Meteorological Department's Santa Cruz observatory, the city received approximately 200 mm of rain in the last 48 hours. This is said to be the heaviest shower received by the city this year.
Several suburbs and parts of the city have reported flooding, property damage, and waterlogging. The water level rose above 4 feet in some areas causing severe damage.
The central part of Mumbai was the worst affected. The electric poles in many residential areas fell down which led to a blackout and posed as a death threat to a number of citizens. All the means of public transport were cancelled resulting in monetary losses and heavy inconvenience.
North Konkan is very likely to receive heavy rainfall at isolated places for the next 24 hours. The intensity of the fall is expected to reduce later.
Official sources said that several cheques were received as donations and contributions from all over the country were added to the State Relief Fund. More and more people were triggered to pour in donations observing the drastic agricultural losses.
It will take about 2 weeks to go back to normal as heavy rainfall can be expected the following week and readers are requested to avoid stepping out unnecessarily. For any queries feel free to ping the state helpline number 1098.
---
Example 2
DEADLIEST FLOOD IN THE HISTORY OF INDIA
After almost a month of heavy rainfall, Karnataka was struck by a deadly flood.
By: Suprity Acharyya
29 August, 2019 7.00 pm IST, Karnataka: During the first week of August, torrential rainfall in monsoon caused heavy floods that affected the southern Indian state of Karnataka severely.
The Indian Meteorological Department issued a red alert to several coastal and malnad regions of the state as a security measure. It also informs that approximately 150 mm of rainfall is recorded daily. The state noticed heavy flooding from the start of the month which worsened with time.
According to official sources, 61 casualties have been reported so far. 15 citizens have been reported missing. The animal death count has risen to 859. Around 1150 relief camps have been opened. 5500+ houses have reported collateral damage, which forced thousands of people to move to relief camps.
The total property damage till now is estimated to be of Rs. 35,160 crores ($4.95 billion USD). Several districts including Belagavi, Bagalkot, Chikkamagaluru, Kodagu, Haveri, etc. have been affected. A total of 22 districts have been affected out of which the worst damage has been caused to the Belagavi district.
The National Disaster Response Force (NDRF) is handling evacuations and rescues. So far, around 6.73 lakh people have been evacuated. This flood is considered to be one of the deadliest floods in the history of India.
Following the series of unfortunate events, Chief Minister BS Yediyurappa announced a compensation of Rs. 5 lakhs for the family members of those who died. Fishermen, Indian Air Force, Karnataka police along with the Karnataka State Disaster Management are actively taking part in the rescue operations.
Donations are pouring in the State Disaster Response Fund. The government is facing heavy losses and is requesting citizens from all over the country to donate. Log on to www.ksndmc.org to help Karnataka.
Let me Know Your Thoughts
There you have your example report on Heavy Rainfall in Your City.
I hope you enjoyed reading this example, and find this stuff helpful. Right?
Do you have any specific topics that you want me to cover?
Either way, do let me know by leaving a quick comment below.