In this article, I will show you how to write a report on Ganesh Chaturthi Celebration. So let's get started.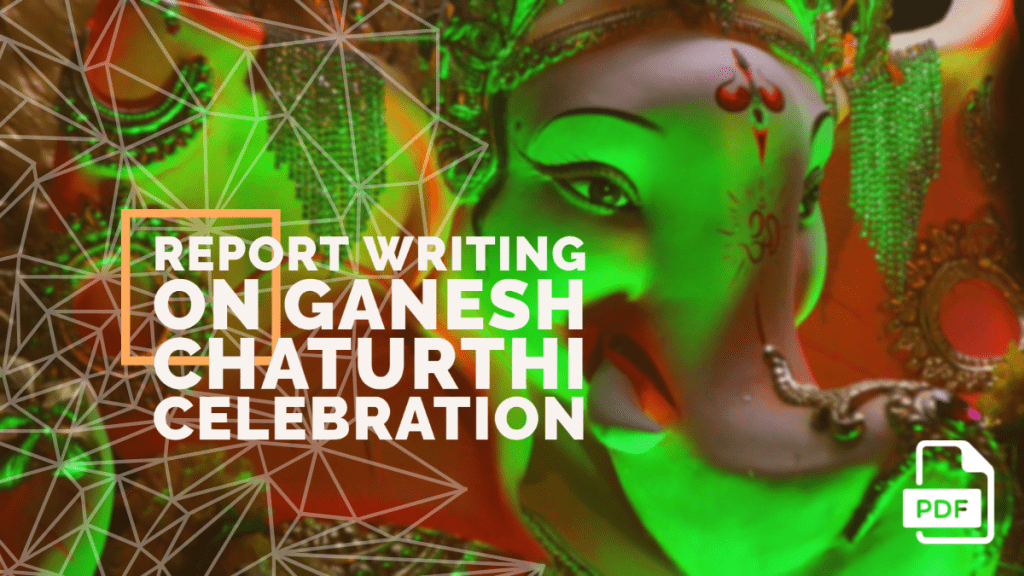 Example 1
Celebration of Ganesh Chaturthi, Mukund Cooperative Society
Reported by Ritin Jha, Special Correspondent, Republic Media
12 February 2020, Mumbai: The members and associates of Mukund Cooperative Society marked Ganesh Chaturthi in the society compound with great fervour and fidelity yesterday. Every year, this festival is celebrated with great passion and devotion.
Mukund Cooperative Society is famous in its locality for celebrating this annual festival with vigorous passion and devotion. Men, women, children as well as old people participate in this event to bring happiness, contentment, positivity, entertainment, refreshment and fun all together by uniting among themselves.
This event was successful because of the efforts made by Mr Gopaldas Sikhar, the Manager of the cooperative society. The whole stage was beautifully aligned with bright lamps and lights along with magnificent flowers. The aroma of the flowers along with the fragrance of the incense sticks filled the environment with peace and positivity.
The commemoration began at 9:00 when the idol of Lord Ganesha was venerated by all the members. The Lord was offered prayers and invocations by everyone., followed by Aartis as well as distribution of Prasad among the members. The arrival of Lord Ganesha was welcomed by the tunes of "Dhol" and "Tasha".
---
Example 2
Ganesh Chaturthi Celebration at ST. Xavier's School
By Aarti Agarwal, Cultural Secretary
On 5th September 2019, on the occasion of 'Ganesh Chaturthi', the students, teachers and the staff of our School welcomed Lord Ganesha by installing an idol of Lord Ganesha in our school premises.
Our principle Dr. A. K. Pradhan said, he always organises such functions and events in our school so as to preserve Indian traditions, cultures and values among the youth. The festival was celebrated for seven days. The arrangement of Puja and decoration of our school was well managed by the Student council. Our school was lavishly ornamented using fragrant candles and vibrant flowers.
The event began on 5th September as the principal illuminated the lamps; students sang Ganesh Vandana while all the members offered their prayers to the Lord. A Havan was conducted followed by a grand Aarti and Puspanjali respectively.
The Prasad was distributed among members. A table was set up in the hall to serve and people with a considerable variety of sweets, confectionaries and dishes. The program was concluded as the students performed various cultural programs to refresh and entertain everybody.
---
Example 3
Ganesh Chaturthi Celebration in School
By Ayesha Siddiqui
Vinayaka Chavithi, also referred to as Ganesh Chaturthi is dedicated to the Lord of New beginnings, Lord Ganesha every year.
Like every year, this year also, our school celebrated this festival with utmost fervour. All the students from classes 1 to 12, teachers, staff and guardians were cordially invited to be a part of this program.
The student council took the responsibilities to embellish the school with colour papers, flowers, leaves, candles, lights and lamps. The stage was ornamented beautifully to welcome Lord Ganesha.
All the participants offered their prayers with great devotion, believing the Lord will bestow his presence to remove all the obstacles and troubles of the people's lives. Prasad was distributed among all.
A community bhoj was organised in which various traditional foods and beverages were served to the people. A brief cultural program was organised by the students of the school. The students performed various dance performances wearing bright, colourful costumes.
They enacted a small skit. An orchestra was also conducted. This event brought a sense of unity among all the participants and gave a set of unforgettable memories to those who had witnessed this event.
---
Ganesh Chaturthi Amidst Covid-19
Reported by Pragati Kayal, Staff Reporter
12 February 2020, Guwahati: After nearly seven months since the deadly virus, COVID-19 has pervaded our nation, people across the country have been trying to adapt themselves with respect to the changing environment. Schools, offices and various institutions are hampered and disclosed since then.
Thousands of people had lost their lives, some had lost their jobs whereas some had lost their families. These tough times had tweaked the traditional ethics and festivities keeping the festive temper intact. Stringent lockdowns and social distancing norms had restricted people from celebrating. The theme of this year revolved around the deadly virus.
Local artisans and sculptors made various innovative idols and statues of Lord Ganesha. This year, in Guwahati, limiting visits to pandals and confinement of celebrations to one's home, people stepped aside their homes taking all precautionary measures of wearing face masks and using sanitizers, and brought home idols of Ganesha.
Lord Ganesha, Lord of new beginnings was worshipped with great fervour amidst this pandemic. People decorated their homes and embellished them with flowers, lights and lamps and celebrated with their families, spending considerable time with them. Various sweets and dishes were prepared among families.
That's It
So that's it for today: Report Writing on Ganesh Chaturthi Celebration.
I hope this writing helps you. Please let me know if you have any queries regarding this report by leaving a quick comment just below the article.
I will get back to you with in 24 hours.