Today in this article I'm going to show you four report writing examples on Daylight Robbery in House. So without much delay let's jump into the article.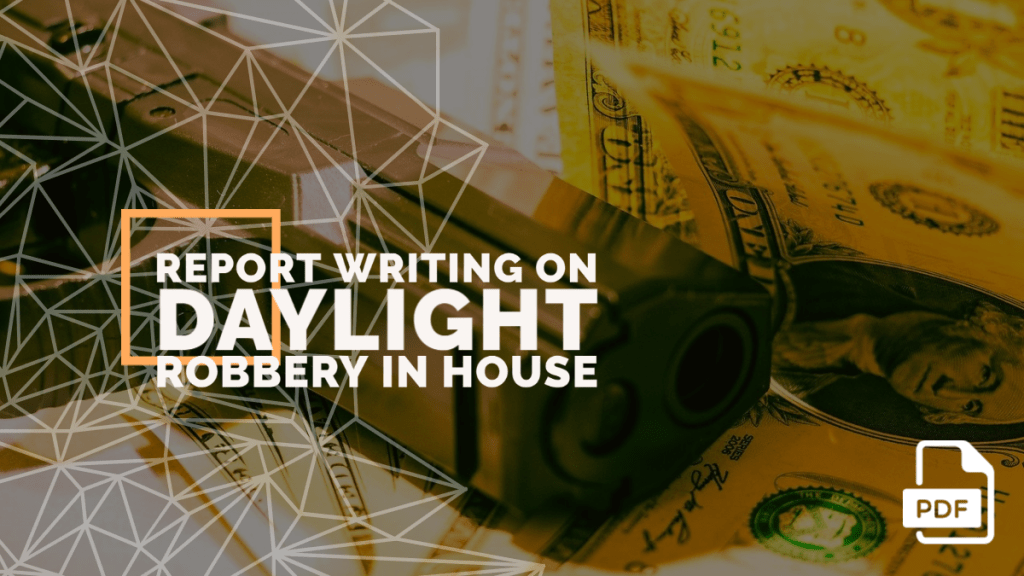 Example 1
Daylight Robbery in House
By Arnya Saha, [Designation If Available]
Organization if Mentioned
February 12, 2020; Park Street, Kolkata: Two people allegedly robbed a chief officer of a  foreign firm near Central Mall, Park Street, Kolkata on the evening of Saturday.
Around 12:00 pm, Mr Chaturvedi left his office and was returning back to his home. On his way back to home, two strangers were following his car and they attacked him when he was just about to enter his apartment. One of them took out a gun and the other sprayed chilli pepper powder on him.
Struggling to breathe or to even see, Mr Chaturvedi grew unconscious. Taking advantage of his helpless situation, the robbers took away his bag from him. They even snatched his car keys and ransacked from that place with his car, within 10 minutes of the incident.
Mr Chaturvedi was carrying a lot of significant documents, a bunch of cheques, cards and foreign currencies of seven different countries. His purse contained his passport.
After gaining his conscience, Mr Chaturvedi filed a report at the Police Station, Park Street and informed his officers as well. The Police Department had taken Mr Chaturvedi for questioning and further investigation into this case.
---
Example 2
Daylight Robbery in House
By Arnya Saha, [Designation If Available]
Organization if Mentioned
February 12, 2020; Delhi: A businessman's house in ChandraVihar of West Delhi was robbed in broad daylight on Wednesday afternoon. Two unidentified men, wearing face masks and black clothes, looted the building after abducting Neha, daughter of Mr Ashok Aggarwal, one of the richest businessmen of the city.
The net worth of valuables looted by the thieves are not known yet. According to their family, friends and relatives, the businessman's family had gone to Switzerland for a vacation while Neha was home as she was preparing for her exams.
Around 2 pm on Wednesday afternoon, Neha came downstairs to have her lunch. She went to the kitchen and heard lots of noises from the basement. She went towards the basement and to her surprise, they pulled her inside and tied her hands with a curtain and threatened her to keep quiet.
They looted all the valuables and despoiled all jewellery, clocks, gems, showpieces, mobile phones and other goods. After collecting and gathering all valuables, they ravaged the lavished home and vandalised the gates. They escaped with their loot swiftly within minutes of that incident.
---
Example 3
Daylight Robbery in House
By Arnya Saha, [Designation If Available]
Organization if Mentioned
February 12, 2020; Kharagpur: Two robbers accoutred with knives and guns pervaded a house in Shanti Nagar, Kharagpur, on Saturday at around 1 pm. The accused had thrashed the inmates and had absconded with jewellery, gems, mobile phones and cash having a net worth of approximately 20 lakhs.
Indrajit Sharma was taking a nap after having his lunch on Saturday afternoon with his wife, Amrita Sharma, when the robbers jostled in, flaunted their knives and swished their guns and blackmailed them to submit all their valuable properties and surrender to them.
The robbers started beating up Indrajit and plundered all of their valuable possessions- jewellery, gems, mobile phones and cash balances. They even snatched his ATM card and threatened him with death if he did not share his password with them. When his angry wife, Amrita Sharma shouted and refused, they hit her head with a glass bottle and ransacked the house hurriedly.
Police had been unable to track them yet. However, the face of one of the robbers has been recorded on a CCTV camera in a nearby house. Police are investigating further to track them.
---
Example 4
Daylight Robbery in House
By Arnya Saha, [Designation If Available]
Organization if Mentioned
February 12, 2020; Dehradun: An advocate's house in Damru Nagar of Dehradun was ransacked in broad daylight on Monday afternoon. Three unidentified men cracked the locks of his building and plundered the whole building when nobody was home. All sorts of valuables- jewelleries, royal showpieces, currency notes and bank cards and property documents have been reported missing.
When Rohanlal came to know about this loot, he lodged a complaint at a nearby police station. The police started their investigations immediately after lodging a complaint. Rashid Jhawar, SHO, Dehradun is suspecting the role of an insider behind this plundering case as the robbers were fully aware of the fact that the building was empty and nobody was home.
The police however found a CCTV footage from a mall opposite to Rohanlal's building but has been unable to track the accused yet. The police department questioned a lot of localities including the guards as well as street vendors.
One of them remarked that he had eye-witnessed the daylight robbery. As per the police department, they considered him for questioning and are trying to prepare a computerised sketch of the accused.
That's All
So there you have it: Report Writing on Daylight Robbery in House.
I hope this article was helpful.
If you have any other topic ideas, feel free to put those in the comment section just below the article.
Also, we have covered lots of writing example on our website, do check out all of those, it definitely helps you to improve your writing skills.