Today in this article, I'm going to show you how to write a newspaper report on bike accidents. All the sample reports are going to be in the pattern of newspaper reporting. So, let's get started.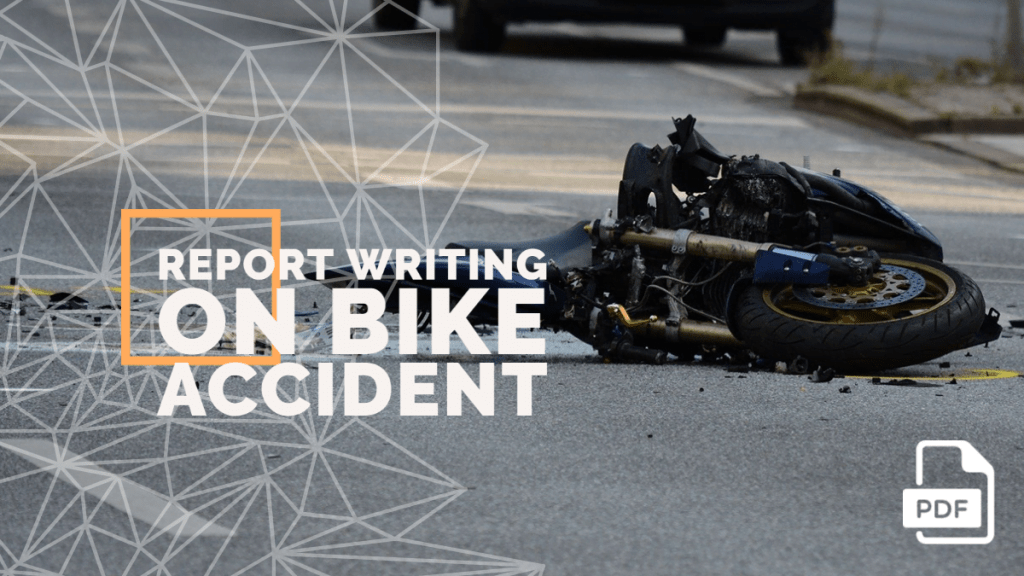 Example 1: You are a staff reporter of Hindustan Times, who witnessed a collision between a bike and a bus, write a report in not more than 200 words.
BIKE CARRRYING THREE MINORS COLLIDED WITH A BUS IN MUMBAI
Reported by: Ritika Aggarwal, Staff Reporter, H.T.
Mumbai; February 12, 2020:  A R15 bike carrying 3 riders collided with a passenger bus going near Champs Road, Gurgaon, Mumbai on Saturday at nearly 16:00 hours.
An eye witness said that the R15 was recklessly driven by a group of three teenagers who accidentally pervaded in a herd of cows trespassing the road. At that moment they lost control and crashed into the bus coming from the opposite side.
The bikers had been identified by the Police as Ankit Jain (17), Hriday Sheth (17) and Shivun Prasad (16) respectively. All of them are minors and were driving the motorbike without any driving license.
Ankit was driving when the mishap occurred. The bus has sustained damages and scratches on its rear surface while all the 43 passengers are safe. But the bike has been completely damaged and the police sized both the vehicle for investigation.
The bike shoved into a nearby ditch and the drivers fell off. Ankit's case is very critical while the other two sustained many injuries all over the body. They had been admitted to Safdarjung Hospital, 6 km from the accident spot.  Police will take further action after treatment of the victims.
---
Example 2: You witnessed a road accident, where a bike and ferry truck was involved. Write a report for Times of India, in 150-200 words.
A NINETEE-YEAR OLD DIES AFTER BIKE HIT TRUCK, PEOPLE PROTEST IN KOZHIKODE
Reported by: Ritika Aggarwal, Staff Reporter, H.T.
Kozhikode; February 12, 2020: Agitation prevailed near Ekkamara Highway road as the local residents protested against ferry trucks after a nineteen-year-old boy got killed in an accident hit by a truck.
According to the District Police Commissioner, A.M. Padhi, the deceased, had been identified as Sanjay Kumar, 19 years old living in Kozhikode. He was going to his college on that Tuesday morning when the mishap occurred.
His bike was shattered into pieces and he was thrown off. Passers-by who witnessed the accident rushed to his aid and took him to the Shazid Medical College and Hospital, 5 km away from the accident. Sanjay's parents and acquaintances were urgently informed about the incident and they immediately came to the hospital. Sanjay was declared dead after a few minutes of being admitted to the hospital.
The Kozhikode traffic investigation department took immediate action and caught the escaping truck driver and registered a case against him. Police arrested him under the act of involuntary murder.
Several residents protested and demanded immediate steps to eliminate rash driving on the highway.
---
Example 3: You are working as a staff reporter at Hindustan Times. Yesterday you witnessed a bike accident. Write a report for publication in the newspaper, not more than 120-200 words.
CAR CRASHED INTO A BIKE IN PARK STREET; TWO DEAD
Reported by: Ritika Aggarwal, Staff Reporter, H.T.
Kolkata; February 12, 2020: The city of joy again witnessed a deadly road accident in which two engineers died as their bike was hit from behind by an SUV near Park Street on Saturday around 20:00 hours.
According to eye-witnesses passing nearby, the car's driver was driving haphazardly when he crashed his SUV into the bike of the engineers. The deceased engineers, who were travelling to their workplace had been identified as Arun Kumar Singh and Dipak Jana aged forty-two and thirty-eight years respectively.
Their bike had turned upside down in a nearby road ditch, as the riders were thrown away from the bike. Their families were informed about this accident. They were immediately admitted to the nearest hospital but declared dead.
Police are further investigating the accident. The driver has been identified as Gopinath Trilochan Sahoo, Son of District Mayor. The police department took immediate action by registering a case of involuntary murder against him and arrested him.
---
Example 4: You are a staff reporter at the Times of India, you have witnessed a bike accident. Write a report including the details of the accident, i.e. number of people injured, name of the riders, and extent of damage caused to the motorbike in between 120-200 words.
SLIPPERY ROAD CAUSED BIKE ACCIDENT; THREE INJURED
Reported by: Jain Aggarwal, Staff Reporter, TOI
Hyderabad; February 12, 2020: Three people suffered injuries as their bike collided with another due to excessive slippery roads during the monsoons.  The accident happened on the outskirts of Chandana village on Friday near Vajiram Chowk, Hyderabad at nearly seven o'clock in the evening.
Ronit Reddy (25), was driving his bike in a rush as he had to attend an urgent office meeting as reported by his family. From the opposite side, Siddhu Bhargav and Lalith Kumar were driving their scooter in a hurry as reported by the eyewitnesses.
The vigorous rain made it difficult to focus while driving and made the roads slippery as well. Lightning, as well as thunder, also accompanied the rains. Meanwhile, both the bikes collided with each other and caused a mishap. All of the three passengers were blown off from their bikes. The friction caused between the bikes led to a fire.
A local fellow informed an ambulance and police about the incident. Within few minutes, all the rescue operations were carried out. The casualties were given preliminary aid and then shifted to the nearby hospital.
---
There you have it: Newspaper Report Writing on Bike Accident. I hope you found these examples helpful. Do let me know if you want me to cover any specific topic by leaving a comment below.