In this article, I will show you how you can write a report on the Art and Craft Workshop. So without further delay let dive into the article.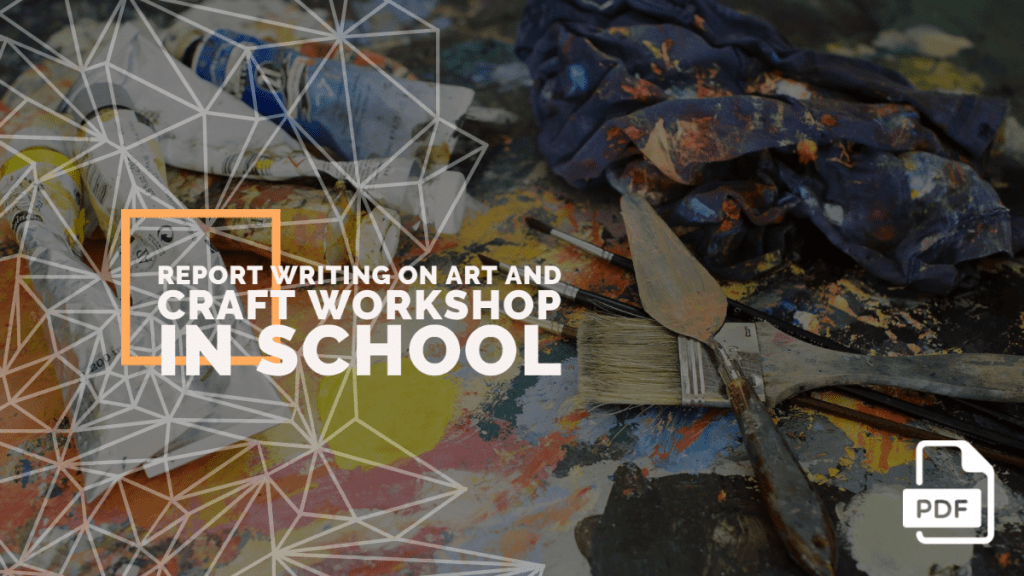 Example 1
Art and Craft Workshop in Mission School
By Aashirbad Satpathy
February 12, 2022; Bhawanipur: An Art and Craft workshop was organised by Principal D.K. Mishra to provide limitless opportunities for the creative minds.
Ms Swapna Singh (freelancer/graphic designer/artist) was the Chief Guest and Primary mentor for this workshop.23 other teachers, artisans and freelancers were also involved in this program. The number of participants was considerable as students from every class were actively involved in this workshop.
From making jewellery, dolls, flowers to dying and tying fabrics and making own designs on cups and ceramics; from pencil shading, glass painting, stitching and embroidery to tile painting and block designing, this workshop was filled with energy and passion.
Students painted Mural paintings and stencil patterns on the walls of the school. They made miniature figurines out of clay, vibrant dream-catchers and wall-hangings to embellish the school premises.
With the recent advances in the field of technology, Ms Swapna emphasized the importance of digital art and technical freelancing in the present era among the students. She also taught them the basics of freelancing, graphic designing and blogging. The students were highly motivated to learn, explore and grow.
---
Example 2
Art and Craft Workshop in Kendriya Vidyalaya Khurda Road
By Harsdeep Suksma
February 12, 2022; Khurda: An Art and Craft Workshop was conducted by the Art Department of our school from 5th February to 11th February for six days respectively.
This initiative was taken by The District Institute Of Education to help promote art, craft and culture among the Youth. The programme was designed with the objectives to teach various forms of performing art and craft so as to develop aesthetic values and appreciate the beauty of nature.
Students from classes I to XII took part in this workshop. Various artists and craftsmen had joined to share their insights and experiences and exchange ideas to develop their skills as well as their lives.
Both the teachers as well as the students took an active part in the workshop. They were filled with curiosity and enthusiasm. They actively responded to the teachers in every activity. The cooperation, discipline and punctuality reflected between the students and mentors made this workshop a great success.
Skills ranging from Drawing, Sketching, Stencils to performing traditional musical instruments, from folk dances to Recycling of wastes, this workshop gave a lifetime experience for students and teachers.
---
Example 3
Art and Craft Workshop in Sai International School
By Pragyan Bidhar
February 22, 2022; Kerala: A one-week art and craft workshop was conducted in our school which gave hands-on experience to the students to go beyond their horizons to explore and to create something new.
The main objective of this workshop was to cherish and value the local art form and cultural tradition. Students from classes I to XII had taken part with great passion and vigour to learn skills, gain insights and experiences to help them grow and excel in their lives.
Students were taught a wide range of skills- pencil shading, canvas painting, pot making, statue making, stencil cutting, block-printing, making dreamcatchers and a lot many others. They were taught about sustainable environments and how waste can be used to create something useful.
Many innovations were contributed by the students. They were divided into small groups. Many competitions were organised to motivate the students to contract their limitations and expand their capabilities.
On the last day, all the works and performances were displayed in an Art and Craft Exhibition which was visited by localities. Prizes and certificates were honoured to the students by the Principal.
---
Example 4
Art and Craft Workshop, ST. Thomas High School
By Shristi Jha
May 12, 2020; Bangalore: The global pandemic COVID-19 had contrived the whole world. Global mental health has been adversely affected in these times.
Our school decided to conduct a virtual art and craft workshop for three days to help students express their thoughts, emotions and desires. The main aim of this workshop was to empower students to attain mental wellness in such tough times and share their experience to the world.
Renowned artists and craftsmen were invited as resource persons for this workshop. Primary classes were taught how to make toys out of waste materials. The kids displayed their works which were compiled by their fostered creativity and enhanced skills. An online drawing competition was held in which children portrayed their self -expression using colours and papers.
Senior students were taught poster making, glass painting, fabric designing along with freelancing and graphic designing. Various webinars were conducted across virtual platforms.
This workshop brought recreation, entertainment and fun all together. A lot of ideas, initiatives and experiences were mutually shared. Despite living in distant, different places, we all were united via this workshop.
Conclusion
I hope you find these examples helpful and learned something new from it.
Now I'd love to hear what you have to say?
Feel free to put your thoughts or topic ideas by leaving a quick comment just below the article.