In this article, I'm going to give some example of newspaper reports on eye camp. So without much delay let's jump into the context.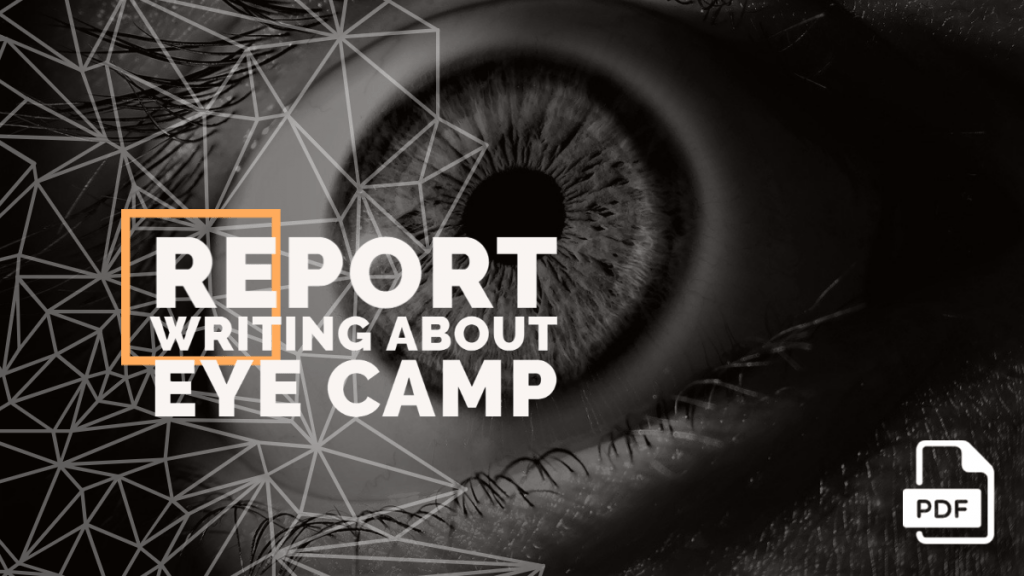 Example 1
Panihati Mahajati Club Organised Free Eye Check-Up Camp
By Suprity Acharyya
Agarpara; January 27: The Mahajati club of Panihati area organised a free eye check-up camp yesterday celebrating the occasion of Republic Day. It was the Mahajati club working committee who decided to organise such a welfare camp for the people of the local area.
Though many people who live outside Panihati came for their eye check-up as well. On the very day of 26th of January morning, after the flag upliftment ceremony, the eye camp started its work.
There were 11 eye specialists and 15 ophthalmologists gave their service to this noble cause. The eye camp was well equipped with all the necessary gears for examining the patients' eyes.
Moreover, a set up for minor EYE operations was also arranged in a sanitized room. The chairman of the club working committee let us know that the camp handled a total number of 216 patients yesterday at free of cost.
Besides, The eye specialists performed 11 operations successfully in the operation chamber. The charge for the operations was very minimal compared to the hospitals.
Some local spectacle shops came up with their stalls for providing spectacles to the patients who required at a very nominal cost. The local MLA Sudhin Roy visited the camp and assured them with any assistance from him if required.
---
Example 2
Eye Camp Organised by Vision Eye Care
By Suprity Acharyya
Belgharia; December 9: The renowned eye hospital vision eye care organised an eye check-up camp on the opening ceremony of their new branch in Belgharia Rathtala.
The camp was set up on the Belghoria playing ground and with accommodation of handling 1000 patients at a time. Many people from remote corners of the district enlisted their name for an eye checkup.
Thus a huge crowd gathered around the Belgharia ground and traffic police had to intervene in the situation for crowd management. The vision eye care came up with multiple offers in eye checkup, spectacles and eye operation for the entire month through this camp.
They also arranged for major and minor eye operations in their newly founded clinic nearby at a discounted charge. For those patients who were supposed to be operated on, the vision eye care arranged multiple ambulances for them as well.
The chief executive officer of the hospital let us know that they performed 34 successful operations yesterday and many others are scheduled for the next few days. Total 17 renowned eye specialists and 25 ophthalmologists took part in the camp and diagnosed a total number of 487 patients yesterday as reported.
---
Example 3
World-Class Eye Check-Up Camp Organised by Lenskart
By Suprity Acharyya
Bagbazar; June 23: The very famous spectacle company Lenskart organised an eye check-up camp in collaboration with Shankar Netralaya at Bagbazar Jagat Mukherjee Park.
As per the MD of LensKart, it was basically a welfare camp arranged for people who can hardly afford a world-class treatment for their eyes. "Common people usually neglect the problems with their eyes but it is the most important organ of the human body and shouldn't ever be neglected.
That should be realised with all means" told Sunil Chaudhari the program in charge from Shankar Netralaya. That is why the eye camp was promoting awareness about common eye problems and its property treatment.
At about 9:00 in the morning, the eye camp was inaugurated by renowned heart specialist Dr Devi Shetty via video conference. Besides, the world-famous eye specialist and surgeon Dr Neeraj Pandey took part voluntarily in the eye camp.
The charge for the eye checkup was very minimal compared to other famous hospitals. People facing major eye problems and needing to be operated were referred to Shankar Netralaya for further consultation. 15 doctors checked up a total of 234 patients and world-class quality spectacles were provided by the Lenskart.
---
Example 4
Khardah Municipality Organised Free Eye Checkup Camp for Poor People
By Suprity Acharyya
Khardah; January 24: The people of Khardah witnessed a generous initiative by the municipality of Khardah yesterday. 23rd January, on the occasion of Netaji's birthday the Khardah municipality organised a free eye check-up camp in the Jagadish College campus.
The playground of the college was chosen as the venue for the program. Total 21 eye specialists and ophthalmologists were invited to take part in this public welfare program. Among them, 17 doctors were present in the camp.
The chairman of Khardah municipality Mr Vidhan Biswas let us know that every year on the occasion of Netaji's birthday Khardah municipality organises some welfare programme for people.
Following that legacy this year too the municipality board agreed on organising this eye camp specifically for poor people. The people of Sharjah municipality area who hold BPL cards issued by the government were eligible for a completely free eye checkup in that camp, medicines and spectacles as well as any operations if required.
A certificate was issued to the people who needed major or minor operations with their eyes. The local councillor Samiran Biswas told us that those people are being referred to the Balram eye hospital for the operations.
I would Love to Know your Thoughts
So there you have it: Newspaper report writing about eye camp.
I hope these examples are helpful to you, do let me know if you have any doubts or queries by leaving a quick comment just below the article.
Else if you have some interesting topic ideas that you want me to cover feel free to share those in the comment section as well.