Though the relevance of personal letters has significantly decreased with the emergence of modern telecommunication, it is still relevant for students from an examination point of view. Educational institutions have nowadays become the only custodian of conversing the traditional culture of personal letter writing.
In today's session, you are going to learn how to write letters to your friend describing your ancestral house. Hopefully, you will find this session relevant for your next English comprehension test. So, without further introduction, let's get started.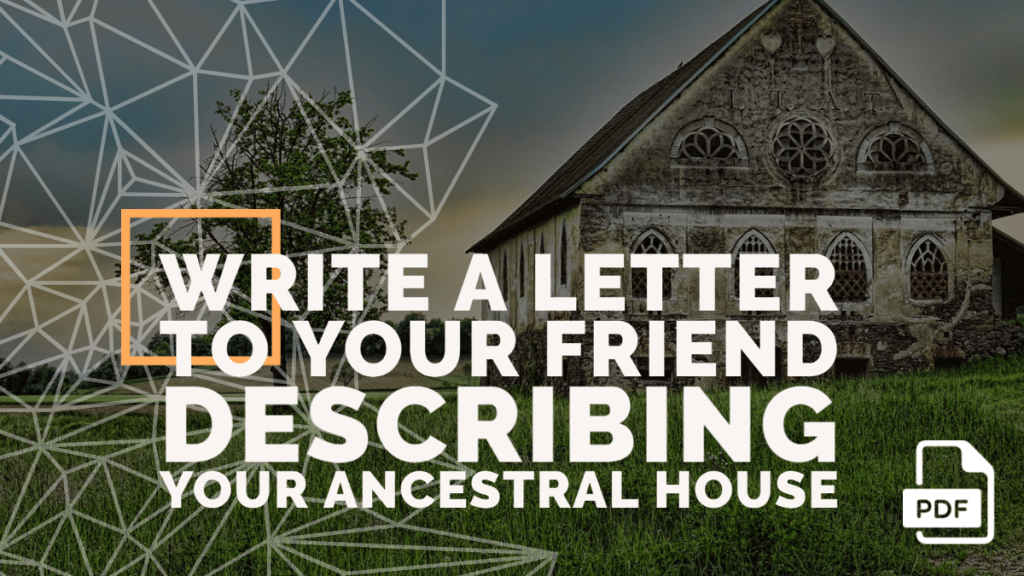 Example 1
Question: You have recently traveled to your ancestral house. Write a letter to your friend describing your experience in that ancestral house.
Hints: First time visited- In a village- heard stories- Centuries-old house- Very beautiful and big- Many relatives still live- Dependent on Agriculture- Had a warm welcome and good foods- Returned with memories- Conclusion
Biman Mitra Street, Mollapara
Kolkata: 700058
July 22, 2020
Dear Nikhilesh,
It's been a long time I haven't received a letter from you. How are you doing? I have recently traveled to my ancestral house in East Midnapur. In this letter, I want to share the experience of that visit with you.
This was my first visit to my ancestral house. I always used to hear stories about this house from my grandfather as well as my father. This summer vacation my father planned a visit to this ancestral house. You know, my experience was amazing. It was much more beautiful than it seemed to be even in stories. It is an around 150 years old house located in the village of Champadanga of East Midnapur district. The house was so big that our entire home can fit here at least 50 times. Still many of our relatives live there. Most of them are dependent on agriculture as their profession. I had a warm welcome there with amazing village foods.
After spending around 10 days in the house, we returned home with a bag full of memories. What's about your ancestral house? Let me know in your next letter.
Your dear friend,
Tarun
---
Example 2
Question: You are going to celebrate this year's puja vacation in your ancestral house. Write a letter to your friend describing your ancestral house and invite him to spend this vacation with you.
Hints: Puja in the ancestral house- Former landlords- 250 years old house- Large area- Gardens, Ponds and Buildings- Some relatives still live- Invitation to the friend- Conclusion
2/61 Bakebagan Road, Anadapalit
Kolkata: 700028
August 23, 2021
Dear Nandita,
I have just finished reading the last letter you wrote to me. There you've asked me about my plan for the upcoming puja vacation this year. I am going to spend this year's puja vacation in my ancestral house.
Our puja vacation is going to come within just a month. Like all other years, I am going to spend this year's puja vacation in my ancestral house in Burdwan. I heard that the ancestors of our family used to be the landlord of a large area of the Burdwan district and our ancestral house is as old as 250 years. We all still gather in the house to celebrate Durga Puja every year. We even have some unique family rituals specifically for puja. The house is located within a large area containing two ponds, 3-4 gardens, and two buildings. Some of our relatives still live in that house.
Why don't you also come with us to celebrate this year's puja? We can have so much fun. Please try to convince your parents and come along with them. Please let me know soon in your next letter.
Your loving friend
Ronny
---
Example 3
Question: You had your ancestral house in Bangladesh. Write a letter to your friend describing that ancestral house with the knowledge you acquired from the stories by the seniors of your family.
Hints: Ancestral house in Bangladesh- Village near Barisal District- Heard stories from the grandmother- Had gardens and ponds- Plenty of lands- Came after the partition of 1947- No longer have access
11 PC Barua Road, Uttarpally
Bankura
February 13, 2021
Dear Arfa,
In the last letter, you wrote about your ancestral house and wanted to know about mine. I am writing this letter today to let you know about my ancestral house that I no longer have access to.
You might be wondering why I no longer have access to my ancestral house. I would like to tell you that my ancestral house used to be in Bangladesh, aka former East Bengal. I have never visited the house but heard so many stories about it from my father and grandmother. I heard that our house was located in a village near Barisal District. We used to have an ample amount of land and formerly we used to depend on agriculture. We had ponds in our house premises along with two gardens.
All my ancestors came to India vacating the house after the 1947 partition. It is such a sad memory to all of us because no one can now go back to the ancestral house.
Your best friend,
Shiben Parbat
---
Example 4
Question: Your ancestral house has recently been affected by a natural disaster. Write a letter to your friend describing your ancestral house with the recent effect of the natural disaster.
Hints: Ancestral house in Sundarban- Hit by the cyclone- Flooded by rivers' water- 100 years old house- Fragile condition- 1 relative missing- Uncertainty about the recovery and reconstruction- Conclusion
88/7, North Station Road,
Titagarh
Kolkata: 700289
December 11, 2020
Dear Adrish,
In your last letter, you have let me know that in the last cyclone your house was severely affected. The condition is quite the same for us too in our ancestral house.
Our ancestral house is located in Jayanagar near Sundarban. As the last cyclone hit Sunderban severely, our house has also been affected. A large part of the house has been completely destroyed and most importantly water from the river flooded our entire house. It was a 100-years old house and that's why the condition was quite fragile too. Some of our relatives who still live there have also been affected by this natural disaster. 1 of them is even missing since the cyclone.
We are extremely worried about him. Now we even don't know when we could recover and reconstruct our ancestral house. This house means a lot to all of us. Let's hope for the best for both you and me. Take care.
Best wishes,
Your friend Sagnik
---
That was all about our presentation on writing letters to your friend describing your ancestral house. In this session above, I have tried to discuss the context from four different aspects through different examples.
Hopefully, all your doubts regarding the topic have been resolved. If you still have any doubts, let me know in the comment section below. I will try to attend to your doubt as soon as possible. Besides, if you want me to cover any specific topic of English comprehension, mention that too. To read more such sessions, take a tour of our website. 
Thank you for being with us. See you again, soon.