Yummy! Is not it? Today I'll show you the example of an essay on Pizza.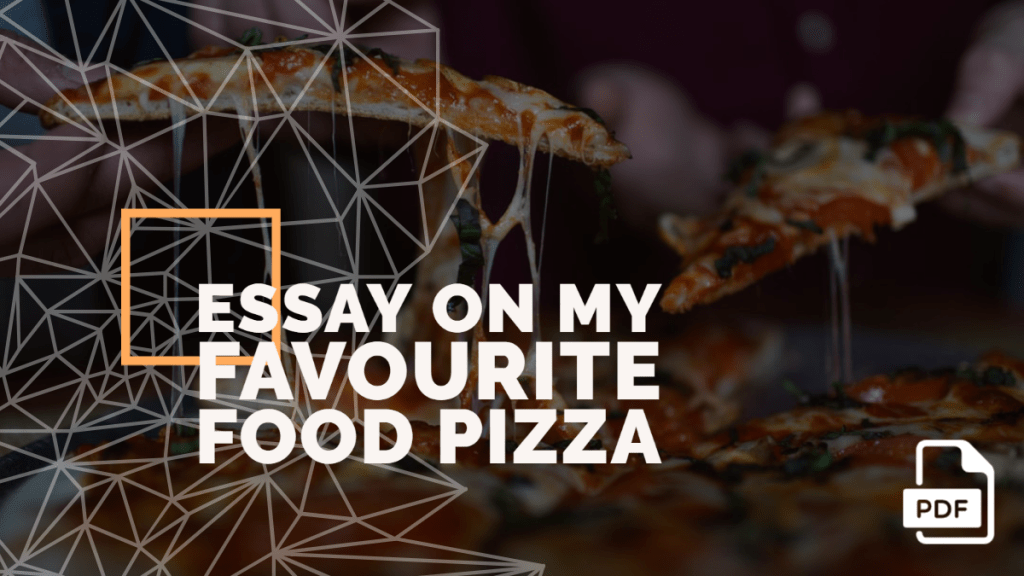 Pizza is an Italian dish with a round in shape made with a base of wheat dough on which, the toppings of tomato, onion, capsicum, corn, cheese, and chicken is put with contents of spices then baked in the oven at high-temperature and lastly served with chili flakes and oregano or seasonings.
It has a soft crust after it is baked with cheese and has mouth-watering taste savoring your tongue with spongy and different toppings on it. Pizzas are the best to have for lunch or dinner. It is easily available at affordable rates in many of the restaurants and cafes too.
The Italian dish, Pizza became my favorite when for the first time I had a margarita cheese pizza with extra cheese on it. It was a medium-sized pizza with servings for six people each or three people if they ate in pairs. The Pizza was hot and spongy to touch.
Its top layer was swollen and round shaped. I sprinkled chili flakes and oregano for great taste, and after this when I took a slice of pizza, the cheese was melting and gave yummy taste my tongue. With packed Pizza, inside it also had sachets of tomato sauce that I also tried on another slice of Pizza that I took.
Pizza is an easy dish to make at homes too. I had seen many videos on YouTube telling different ways to make Pizza, in which they had toppings of vegetables and corn too. People who are not having oven for baking, use a pressure cooker or a pan for baking their Pizza using various seasonings.
It could be easily ordered in any size like large for a group of friends or family, medium-sized for a small group and small-sized for an individual. They are made either in fresh pan or hand-tossed, whichever way we want we can have it.
There are up to more than 15 varieties of Pizza's made to serve. There are three variations of Pizza that are Stromboli, panzerotti, and calzone.
Dominos and Pizza hut are the two main largest selling pizza restaurants with multiple varieties for vegetarians and non-vegetarians too. They are available in pizza mania with four slices. Side beverages are also available that could be ordered with pizza-like garlic bread, cold drinks or chocolate brownie.
Portions of pasta are also available in both the restaurants. However, they both have variations in price range's as in Dominos you could get Pizza at reasonable rates but Pizza Hut might be a little bit costly for you to have your favorite Pizza or try new ones.
In today's time being in every city, we have both these restaurants in every city or every area. With the commencement of these restaurants, they were not having online orderings before but with the advancement of technology they had made available online orderings and delivery services at your doorstep in just 30 minutes.
Not only these both restaurants but also various other restaurants are also opened servings different varieties of Pizza at affordable rates or sometimes high rates too.
Since Pizza is one of my favorite dishes that I love to eat so I must also keep in mind the contents and other fats present in it to prevent myself from harming my body as it could also lead to negative health effects causing digestive tract cancer or cardiovascular problems.
However, lycopene content is present in Pizza that provides a shield or protection from both these critical issues.
Pizzas are made with mouth-savoring taste and soft crush but could cause harm to your health if consumed excessively. Eating Pizza every day could damage your internal organs' liver or could cause you digestive problems like stomach pain too.
It could create serious health problems and easily to children it could deteriorate their health, and to women, it could cause pregnancy issues creating too many hectic problems regarding their health status.
Pizza contains a high quantity of calories, and so it could cause severe damage to your body. So, a person should consume a pizza once or twice a month, only to remain healthy. It would save him or her from a high amount of fat and salt ingredient present in it.
Now I would Like to Hear from You
There you have it: essay on pizza.
Now here are my few questions:
How was the essay on pizza?
Did you find this helpful?
Or maybe you want to share your thoughts.
Either way, let me know by leaving a quick comment below.
UMMM!
I am pretty sure that now you are hungry to eat a pizza right? So what now! Just order a Pizza! AND if you liked this essay please mention in the comment section, also do not forget to share it on your favourite social handles.
Oh, by the way, do you need help writing a descriptive essay on pizza? You have a great opportunity to get custom essays written by academic experts.