Hello Readers, today in this article, we will going to see an essay on My Most Memorable Day of Life, so without wasting more your time, let's dive into it.
This Essay is Formatted For Class 5 | Class 6 | Class 7 | Class 8 | Class 9 | Class 10 | Class 11 | Class 12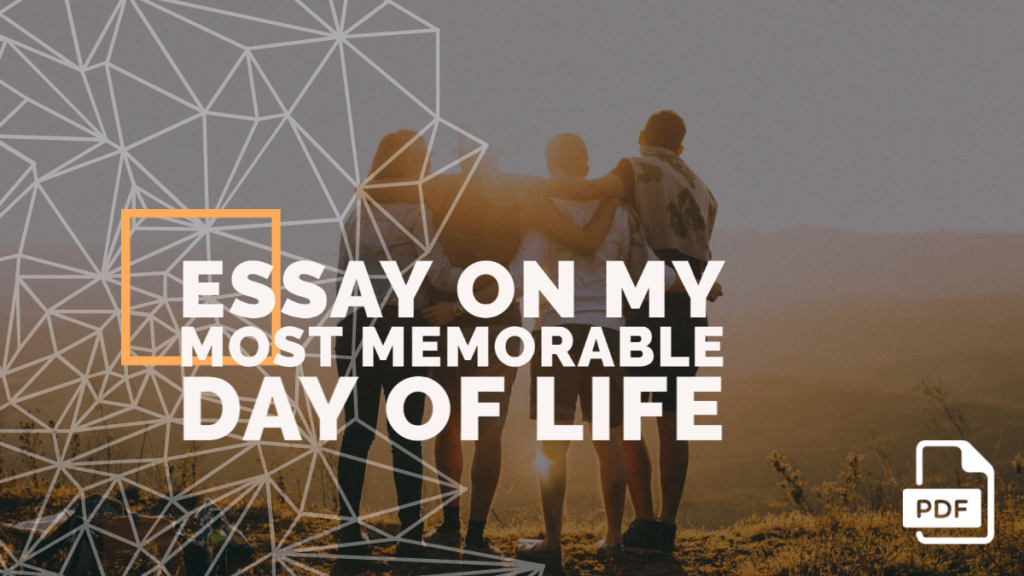 I remember it very clearly. I was in the third standard and my school was holding a Christmas celebration just before the winter break started. It was morning time and I was going to school with my father.
My father used to drop me to school every day before going to his office. He is an accountant. My mother is a police officer and she would come late at night so my father and I would make breakfast for her every day while she slept. For the Christmas holidays, we were planning to go to Goa for vacations. I was very happy and excited. We were going out after so long.
For the Christmas celebration, our school hosted a huge program because it was a boys-only convent school. We always had a skit performance about how Jesus Christ was born and a huge choir group used to sing.
After the principal's long speech, we always have a feast and at the end, they used to give us a chocolate cake with rum. That day was no different. My father dropped me to school and I rushed inside to meet my friends. Thereafter we attended the morning assembly as usual.
The Christmas celebration started and I took part in card making competition. I had prepared a lot for this competition. I even went to my grandmother's house yesterday so she could give me some ideas.
My grandmother was very good at drawing and so she drew a light outline of a Christmas tree and Santa Claus on a sheet of paper for me. The plan was that I would draw over the lines and colour the figures and blow some glitter over the card.
I took out all my supplies like fevicol, scissors, my favourite set of wax crayons that my cousin sister gifted me on my last birthday and set to work.
I was almost halfway done when the teacher approached my desk. I could never understand why the teachers took so much interest and roamed the class to spy over their students' work.
When the teacher reached my table, I got so nervous that I knocked over my pencil box and everything fell on the floor. Everything littered on the floor-my pencils, sharpener, eraser.
I bent to pick up everything and by the time I assembled everything back to place, the teacher had seen my card. I was terrified because I thought that he would see the outline of the figures my grandmother made to help me but the teacher, Mr. Rao, smiled at me appreciatively and walked ahead.
I was shocked but quickly got back to complete my work because the time was running out. The designated time for the competition got over and we all moved to the auditorium to attend the skit performance.
I remember laughing till my stomach ached because the boy who was playing Virgin Mary's character had a lot of trouble with his costume. I remember groaning together with the rest of the boys as the Principal walked on the stage to make one of his long long speeches.
He started and I tuned out though I remember him saying something about integrity and honour and the joy of festivals. Then he wished us all a very Merry Christmas and allowed the great feast to finally commence.
We all eagerly rushed to the Main Area for the feast and had delicious Paneer tikka and Chicken curry. I remember watching the boy sitting beside me, Arun, vomit everything out and I remember thinking that maybe I should slow down and actually chew my food before swallowing.
One of the teachers helped the poor boy off his chair and to the sick room. I remember gobbling down his share of the special Christmas cake with rum.
Then it was finally time for the announcement of winners from the Christmas card making competition. My breath hitched and clutched my hands together to stop them from shaking.
The teacher who was announcing, Mrs. Kothari, took a long time before she reached my class. And suddenly I could hear my name booming in her voice.
I had won the second prize in the Christmas card making competition! I was elated. I rushed to the stage and accepted the certificate for a runner up with shaking hands from my Principal. I was grinning so wide I thought my face would split into two.
Afterwards, when I reached home from the daycare in the evening with my father, I saw my mother opening the front door for us. But how? She was supposed to be at work.
She engulfed me in a hug and I told her everything, not missing even a single detail. After washing up, I called my grandmother and told her that I won the second prize.
She let out a whoop and congratulated me and said that she is so proud of me. It was the first time anyone had told me that. It was truly a very good, happy and memorable day!
---
So how was this essay on the most memorable day of my life? I hope you liked it, if so then don't forget to share this with your friends and social handles. And enjoy the rest of your day. Bye!