English literature is quite popular among the students these days, they love to read, learn, and enhance their knowledge in English. So today we will show you an example essay on my favourite subject English.
This Essay is Formatted For Class 4 | Class 5 | Class 6 | Class 7 | Class 8 | Class 9 | Class 10 | Class 11 | Class 12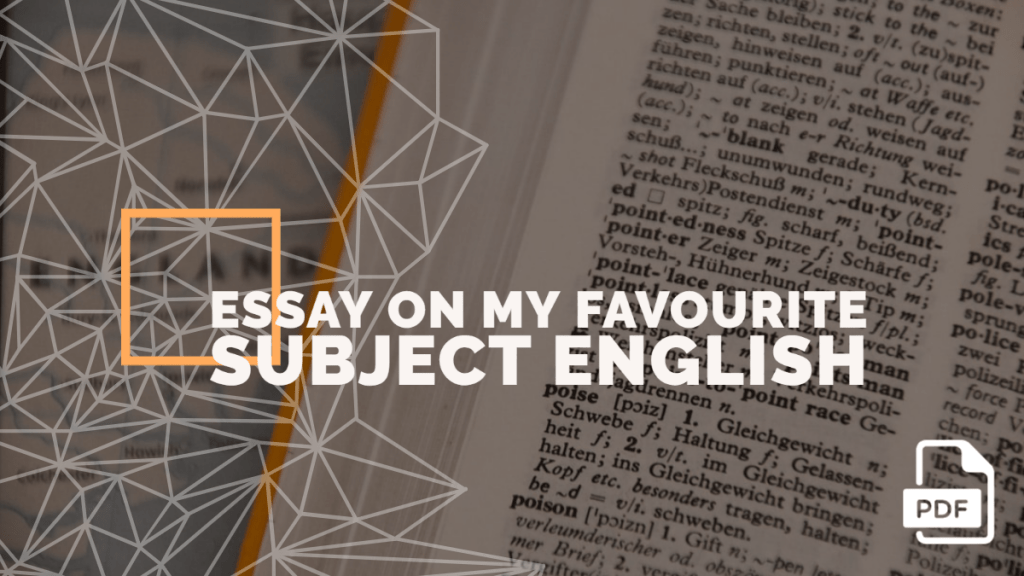 English is a language spoken by a large number of people in today's life after Hindi. It has become the most prominent language to be well-spoken by most of the people for communication.
The English language has always been one of my most favorite subjects, since my childhood due to its purity and creativity. I used to love this subject not only because I attained the highest marks in the whole class but also due to the manner or way in which I spoke in order to communicate with others. It is an interesting subject to know more about it. It is a pleasant subject for studying.
Due to being my favorite subject, I love to read books and write poems and poetries too. This helps me with exploring my skills to write and communicate by learning new words every day. It comes with the benefit of the advancement of vocabulary and grammatical errors with the daily habit of writing.
Sometimes, I face spelling mistakes of some hard words that are difficult to pronunciation, so in that case, I try to recall the spelling of that word into my mind and write it numerous times on a page without seeing it. It provides me with a good formation of sentences in proper form that makes sense when a reader reads it.
English subject is a boon of getting an opportunity in expressing my perceptions and thoughts regarding a particular topic so that I could elaborate in my words using simpler sentences. On a personal note, English is my favorite subject as I can understand it and learn with fewer efforts.
There are a variety of other reasons I have due to which, English has always been my most loved subject as it helps me in improving my reading skills so that I could concentrate on whatever I read. For this, a person needs to polish his or her English as it would help them in grasping the concepts in a much clearer way.
Also, with the help of an English subject, I have built up my flair writing skills as I have adopted the capacity of writing articles and essays.
This is the only thing due to which, I have the dexterity of framing well-liked and good answers with proper grammar and quality words to be used in the construction of the sentences whether I am writing or conveying my message in a much better way.
English teachers are always attempting tasks to help the students in improving their English skills so that they could enhance their usage of words and formation of sentences.
It is a highly scoring subject that even an average student will somehow manage to gain proper marks in it. In comparing other subjects from English, we can rely on it for increasing our percentage.
English is a game of playing with words that gives an opportunity to the students for using various synonyms or replacing the same kind of word in place of the previous word to make the sentence more logical, which tells that it does not really ask for the words to answer.
English subject makes us driven in mind speaking to frame out different sentences composed of your intelligence and understanding. Fiction has always been my favorite genre in English and which is another good reason for English to be my favorite subject.
Every mistake I commit teaches me some important points or lessons that I should keep in mind while I read or write English. Fictional stories are close to my heart as I can frame them easily on my own with delivering quality content for every story.
It is applicable in real life, too in the situations of taking rational decisions. The novels in English have come in various genres written by prominent writers starting from the 18th century and many categories of plays and dramas that bring the sense of entertainment when in reading and advances the mentality thinking with good power to think and imagine things according to whatever you are reading.
Hence, in no doubt, I love English subjects as it an opportunity for me to outshine without trying too much compulsion in using the words to elaborate my thoughts and express them in my interpretations for getting the liberty of creativity in comparison to other subjects.
---
Now I want to hear from you, how was this essay My Favourite Subject English? Please share your thoughts on the comment section.
Read More

Essay on My Favourite Subject History