Today in this essay presentation I'll show you an example essay on My Birthday cake.
This Essay is Formatted For Class 5 | Class 6 | Class 7 | Class 8 | Class 9 | Class 10 | Class 11 | Class 12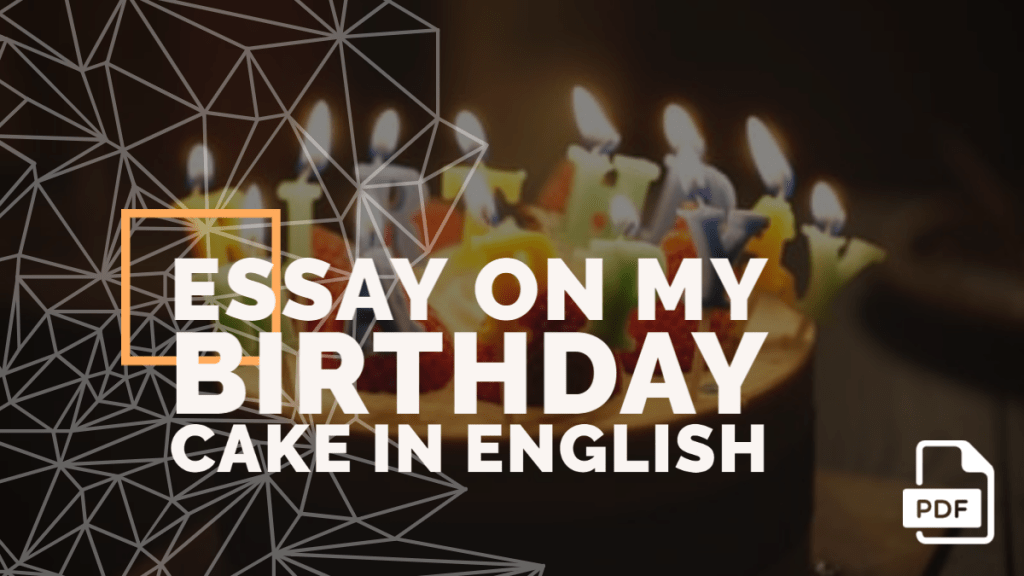 What is sweeter than desserts when you have cake then it is the king of competition. I love cakes a lot and the best is my Birthday cake. I have celebrated my birthday last week on Friday.
I was very really excited for my birthday and so for the cake. I love the chocolate flavor the most. Also, I like it in some places only. My mom and dad brought the cake from my favorite baker.
And the birthday is just like a festival for me. And it is also celebrated the same way. I really love my birthday cake. My birthday cake was ordered from the "Cake Spot" bakery.
They bake great cakes and they do their job really nicely. The birthday cake my parents brought was completely chocolate dipped with vanilla frost icing. I loved the cake a lot.
My father has also asked me to put my name on the cake. They wrote my name beautifully I loved their writing. The cake was having vanilla icing in the shape of a doll.
My birthday cake was delivered by the famous shop in the city. The birthday is the most awaited event for anyone. And for me, my birthday is the best day.
Every time my birthday is celebrated with great excitement. The cake of that bakery is ordered in a lot of quantity. On my birthday my dad always brings cakes from the same place. My birthday cake was really big with a doll over its top.
The birthday cake my dad brought has to have very soft bread and that the cream was fresh and tasty. Even such a delightful cake was really liked by my family members and relatives.
My friends also praised my birthday cake at the party. My birthday cake was the show stealer as everyone asked for the same. The cake for my birthday was spongy and fresh.
My dad specifically ordered the cake juts for my birthday. He also knows that I love cakes a lot. My birthday cake was also made by my mother due to this lockdown we made a cake at home. This cake was of mango flavor and my mother made it with a lot of love and hard work.
The best part of the birthday is these two cakes that both of them were special. My birthday cake is a chocolate truffle and a mango cake. The chocolate cake had a lot of choco chips in it and gems sprinkled on the doll's dress.
I chose my birthday cake and my father ordered the same for me. My birthday cake was really beautifully escorted and came with sparkled candles too. And my birthday party was full of fun all my dear ones enjoyed a lot and they blessed me a lot on my special day.
I helped my mother for making the cake. I helped her in baking too as mango is my favorite fruit my mom baked it for me. The way she baked it I loved seeing her love towards me.
I helped her by mixing the ingredients well. Also, I helped her in baking the cake as she took it out from the oven. I also helped my mother in garnishing the cake with jam and chocolate syrup.
The birthday cake by my mother had my name over it. She wrote my hero as she calls me with that name. My parents have done a lot for making my birthday very special for me.
So my 7th birthday was special to me as it brings everyone so close and we really enjoy ourselves a lot. I blew candles on the cake and then cut the cake.
The birthday cake is a really necessary part of my birthday. My birthday cake was eye candy and the taste of it was so fresh and creamy and texture. And a birthday party without the cake is not successful.
Also, the fact that my birthday cake was delicious the cake made by my mother was the first that I had cut. My birthday cake was chocolate and what my mother made was a mango that gave me a real feeling of delight.
I loved my mother's effort as she loves me a lot and my father who ordered the cake for me even in this strict lockdown. My birthday cake is an opportunity not for me but also for my sister to have something tasty as she also likes all of this.
The birthday party with tasty cakes is always a big hit. But if you don't get those it's really sad.
I am very blessed to have such parents who offer me such beautiful presents and cakes. I really love parties with cakes but my birthday party and the cakes will be always on top for me.
---
I hope you liked this essay on My Birthday Cake. Let me know your thoughts in the comment section, and for more this type of content keep surfing Your Essay Club.