Hello Readers, a pleasure to e-meet you. This is Suprity from Your Essay lub. Today we are going to show you the example of an essay composition on Value of Friendship. So let's get started.
This Essay is Formatted For Class 5 | Class 6 | Class 7 | Class 8 | Class 9 | Class 10 | Class 11 | Class 12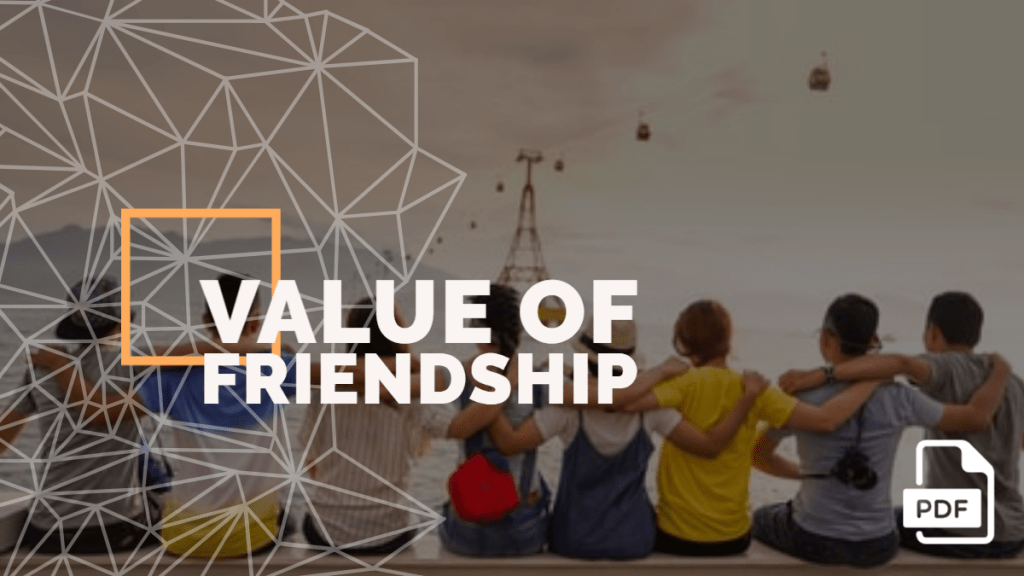 It has been rightly said that "A friend in need, is a friend indeed". A friend is a person with whom you can share your thoughts. A friend helps you in every problem and gives a solution to it. He or she roams with you everywhere.
You need to go out of the class to drink water or eat food from the canteen, they are always with you. They sit with you on your seat together and share the lunch filled with healthy food. We should not choose our friends based on what others say but they become on their own.
I am Shanaya Singh, from Dehradoon School. I go to school daily. I do not have many friends there. But, I have made one my friend. Her name is Ayushi. She is a very kind-hearted person. She speaks gently. She sits with me in the class every day.
She lives next to my house and we go together to school daily. Our school van comes and we sit together inside it. We talk too much and enjoy our companionship. We reach the school after the driver of the van picks all the children. He drops us to the school.
After reaching the school, we hold our hands together and move towards our class. We keep our bags together and go out for assembly. We stand in a line and Ayushi is a prefect of our school. We both are the monitors of our class. Ayushi is a topper and she is good in studies too.
My parents like her behavior and they encourage me to go with her. We do our studies together. I am a weak student in Maths and Ayushi helps me in solving my questions. She is very good at explaining and tells everything very nicely. She has always clear concepts of every topic or subject.
We go to the staff room together when our teacher calls us to pick the copies of our class and distribute them back to our classmates. On our birthdays, we both take each other to distribute candies to every teacher. Some times, our teacher gives us candies and chocolates in return as a gift.
During lunch, we do our prayers and thank god for everything and after that, we sit with each other and invite classmates to have lunch with us. All of our classmates share their lunch with each other. We had great fun and laugh at the jokes told by them.
After having lunch, we got near the water tank with our bottles in hand and fill them. We wash our hands and wipe it with our hankies. Then, we come back to our class and take our seats. Then, the classes continue after the bell rings.
The teacher comes into the class. She takes us to the computer lab and ask us to sit in a group on a single computer. Ayushi likes to sit with me always. After heading back to the class, the teacher asks us what we have learned today. The next teacher comes and after an hour the bell rungs and our school gets over.
Our van comes and we go inside to sit. He drops us to home. We say our byes to each other and make plans to play in the evening. We get inside our home and have lunch.
We also take rest for some time. Ayushi is a good girl. She is nice and a helping girl. Her father is a branch manager in the bank and her mother is a doctor. She comes from a rich family. She is having a sibling too. She eats food properly and never throws out of her plate.
In the evening, Ayushi comes to my place and we complete our homework together. We discuss what our teacher taught us in the class. We prepare well for our tests and examinations too.
After completing our homework, we go out to play with our other friends. We play daily for two hours and it keeps us fit and healthy. Then, we go back to our homes and have dinners. The next morning again, we go to school together and have fun. Ayushi is my best friend.
---
So how was this essay? Please share your thoughts on the comment section. And don't forget to share this on your favorite social platform.
Read More

An Essay on Friendship
An Essay on My Best Friend