Hello Readers, Today in this essay presentation we are going to see how I help my mother in the kitchen, so I hope you enjoy this writing. So let's dive into it!
This Essay is Formatted For Class 4 | Class 5 | Class 6 | Class 7 | Class 8 | Class 9 | Class 10 | Class 11 | Class 12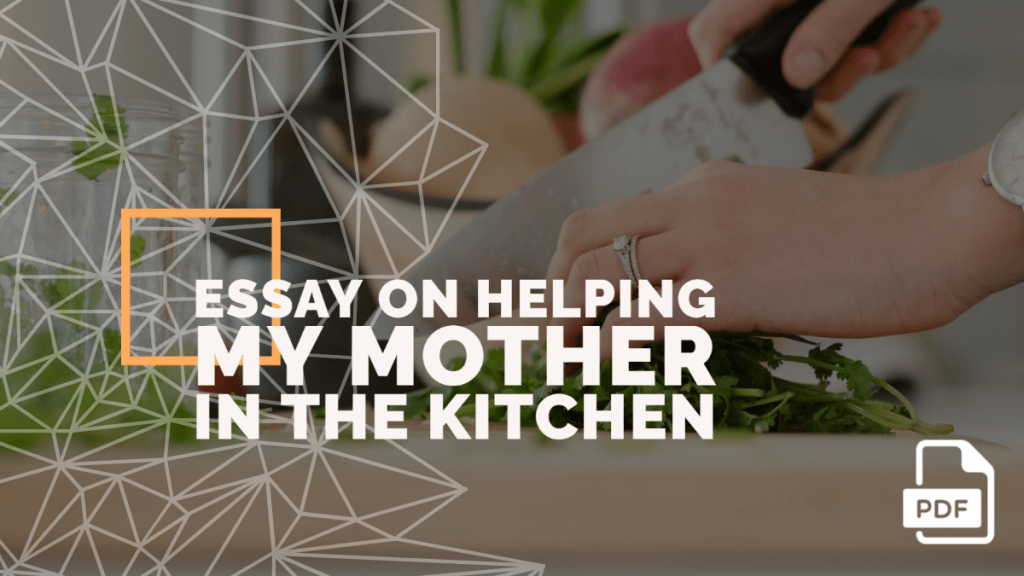 In today's age and generation girls and boys must work with their mother in daily house chores. It is very important to know at this time of lockdown it has become really difficult to do all the housework alone and feed, dust, clean, and several other works.
I know exactly what does my mother goes through the whole day. Hence it is my foremost responsibility to help her in the kitchen. To help my mother in the kitchen I do the very simple things like, I keep the washed utensils at their desired place.
I also make sure the utensils are wiped by the dry cloth before they are kept in the rack. I also solely check that the slab is cleaned or not. Due to the scorching heat, it has become very problematic as we feel thirsty now and then. And the bottles get empty so fast.
I make sure that the bottles are filled and kept in the refrigerator. I make it my sole responsibility to keep the ice tray in the freezer so that no ice is wasted. It is also necessary for the mother to take some rest. As in the house generally, it is the mother who gets up early in the morning.
Working up for the whole day also makes her restless and if in such a case the family helps in small little work she will be having a huge thing done. I also make sure that whosoever eats the used utensils are turned to the basin or sink.
I also help my mother in the kitchen by making tea to my father when he is back from work. But nowadays as it is the lockdown hence it is impossible for the mother to also get up for everything. It gets tiresome.
My mother cooks fresh meals so whatever she needs for the kitchen from the market I get it for her so that she doesn't have to work a lot. I also keep the thing in mind that all the vegetables in the fridge is fine or not. It is great if you help your mother in the kitchen.
She also requires rest. As in this lockdown, we all are set free from our educational institutions and are at home. And on the other hand, I can see my mother with so many works piled up on her head.
She actually needs some rest too and who can be more worthy and fast to her than her kids. We must take the pain on her part too as the one who stands in the heat and cooks meals for us while we sit in our air-conditioned rooms makes it inappreciable of her serving us.
Hence I always serve my mother while she is eating. I also make sure that once she is done with the kitchen chores I clean the kitchen. Keep all the material at its places. I also help my mother in disposing of the waste to the main dustbin.
She keeps the biodegradable waste in a different dustbin so I dispose of the waste in that and do the necessary. The basic help that everyone can do to their mothers is helping them know what to cook otherwise there is another debate on the topic.
My mother feels really comfortable in making food if she knows what we want to eat. I also help her in a basic way by telling everybody to be on time and dine together. This way, my mother can cook for everybody at the same time and serve.
She can also cook for herself at that time so that; firstly, we sit together at the dinner table for a meal. Secondly, even mom can sit and have her meal at that time this makes her more comforting and helping her clear all her chores.
If I can help my mother in this way you can also help her in the same manner. As mothers never complain about the deeds they do what actually don't give an appreciation in return. All they want is love but sometimes it's also important to say that to her.
So make it simple to opt-in some simple ways to help your mother in the kitchen or any other area. This will make her happy and you too, to see your mother stress free. I do it to her and in turn, she is able to spend some time with me.
What more I need form her is the love I crave for. Filling the water bottles, disposing of the waste, keeping the utensils at the places, dining together, telling her what to cook and what not to can help her to a great extent.
I am really privileged of the things my mother provides to me and in turn if I can help her to get some rest it would be undoubtedly the best help. I would say all to help your mothers too.
---
So I hope you liked the essay on Helping My Mother in the Kitchen, if so then do not forget to share this stuff with your friends and you social profile, and keep visiting Your Essay Club for more English Writing related content. See you soon!