Life is precious. In this lesson, you will learn to write essays in two different sets on life as a gift. It will help you in articulating your thoughts in the upcoming exams.
Table of Contents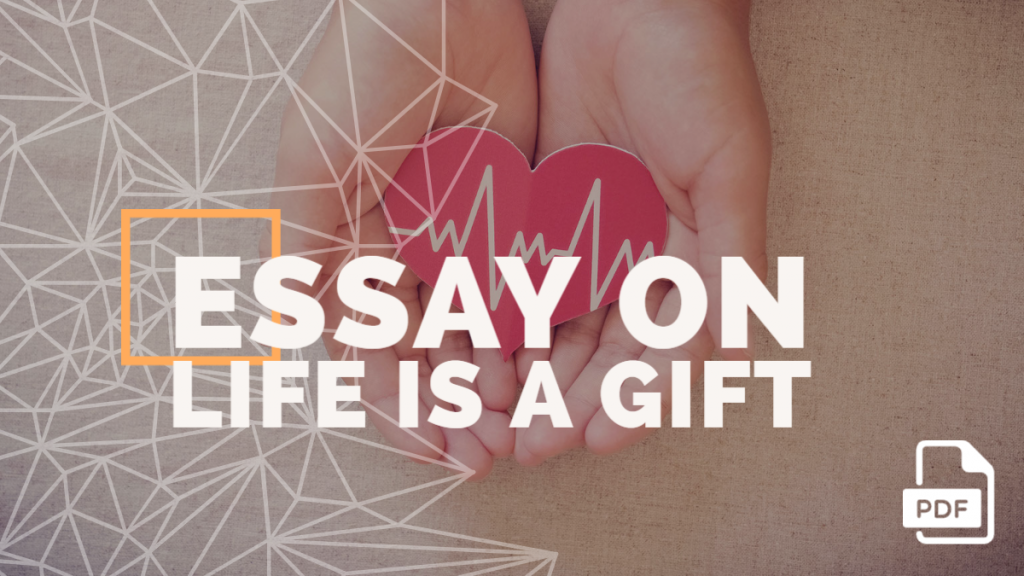 Essay on Life is a Gift in 200 words
A gift is viewed as something unique, valuable, and mysterious. Life is the most priceless and precious gift our parents have bestowed upon us. It's a fascinating journey full of adventures with unknown and unexpected elements. It can fill us with love, happiness, and a feeling of purpose.
Life is an art for some, which they wish to paint in vibrant colours, while it is a science for others, which must be mastered with discipline and punctuality. While some people squander their life on worthless pursuits, others find meaning in the most insignificant objects and circumstances. We are gifted with the five senses to experience life sensuously.
We must recognise its significance and strive to develop ourselves daily. Our activities, as is commonly stated, purify our souls. Some of us devote our lives to doing good things, while others squander them in the hope of greater results. While some have good intentions, others are out to harm. Life is full of both good and painful experiences. We must not give up if we have had an unpleasant or unpalatable experience in life. It's important to remember that it's just transitory and that with perseverance, it can be conquered.
---
Essay on Life is a Gift in 500 words
A gift is regarded as special, valuable, and mysterious. Life is the most precious gift that our parents have given us. It is a delightful journey packed with adventures containing unknown and unanticipated elements. It has the tremendous potential to provide us with love, happiness, and a sense of meaning. For some, life is an art they want to paint in wonderful colours, while for others, life is a science that must be mastered with discipline and punctuality.
While there are people who waste their lives in meaningless endeavours, there are others who fetch meaning from the most futile objects and situations. We are gifted with the five senses to experience life sensuously. We must understand its importance and work hard to improve ourselves every day. It is often said that our actions purify our souls. Some of us dedicate our lives to performing good deeds, whereas others spoil it in the hope of getting better results. While some have ethical intentions, others have evil objectives. Every day is a gift to learn new things and enjoy the new experience.
We must embed our lives with the people we love. We must preach kindness. If we are kind to one another and respect humanity, life will be kind to us and appreciate our existence. We all should have a motto that shall help us make this earth a better place. We must work on the legacy we wish to leave behind us. It must be something that would be cherished by the ones who know the ones who are strangers to us and us.
Living life is not easy. Some days are tough and demanding, and it takes courage to sail through them. On such days, remembering the struggles of people who had come before us and did not give up in the face of hardships will encourage us. Life almost always offers us a wide range of options. However, we must make our choices wisely.
We must be guided by reason, and we should be passionate about all the activities we indulge in. Our sheer determination can make the impossible possible. We must have faith and promise to give our best in all situations. We should also allow ourselves leisure to take vacations, practice sport, work on our hobbies, read and write. As William Henry Davies puts it in the poem Leisure,
"What is this life, full of care? We have no time to stand and stare." We must never limit ourselves in our scope of doing something.
After all, life is not a bed full of roses, but it gives occasional prickly thorns in our pathway, which we must tread carefully. We can take the flower lily as an inspiration. Although it lasts for a brief period, its aroma creates a freshening and beautiful environment. Living life honourably is the duty of every human being. We must spend our life inspiring others with thoughts that stir ecstasy. We must apprehend that life is a gift and not a burden.
---
Hopefully, after going through this lesson, you have a holistic idea of the value of life and the ideal way of living it. I have tried to cover every aspect of the topic briefly and in an expanded form. If you still have any doubts regarding this session, kindly let me know through the comment section below. To read more such essays on many important topics, keep browsing our website.
Join us on Telegram to get the latest updates on our upcoming sessions. Thank you, see you again soon.