We write a diary in a highly personalised way to share our day to day life and experience. Diary writing is introduced at the school level to nourish the creative and imaginative skill of the student. Thus to help you to score the best we have provided a detailed Diary Entry Format.
Ensure your diary entry has all the following points:
Place- Date-Time- Salutation- Content- Signature.
Below are few samples of writing a diary.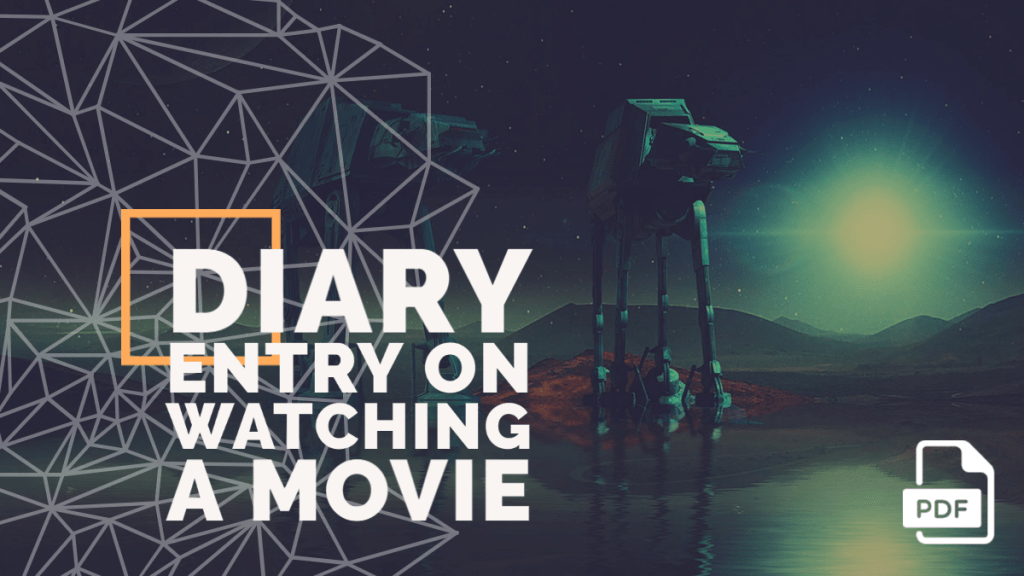 Set 1
Question-1: You have watched a film recently that touched your heart. Make a diary entry on watching the movie.
Hints: What film you have watched- Share the detail of the film- Name the star cast- If anyone accompanied you- why you like the film- what you have learnt from it.
Raipur,
October 21, 2021,
Sunday 3.00 PM,
Dear Diary,
Today, I am going to share with you my experience about the ultimate underdog story Rocky. Rocky a 1976 sports drama directed by John G. Avildsen and starring Sylvester Stallone as Rocky Balboa. I hadn't got to do anything in the afternoon so decided to watch this movie at my friend's recommendation. Rocky celebrates the underdog battling to defeat odds. Seeing a movie like Rocky is both a cinematic and a sacred experience. Stallone's electrifying screenplay kept me hooked to the screen for 122 minutes.
The storyline takes place in Philadelphia where the protagonist Rocky Balboa was struggling to meet his living as a small-time boxer until one day a sudden opportunity is handed to Rocky to compete for the World Heavy- Weight Title against the champion, Apollo Creed a flamboyant fighter. It is a movie that glorifies the unbreakable human spirit, determination and the will to " go the distance. Rocky to me is an everyday fellow who gives his everything when given an amazing chance. I am all more pumped to watch all the following series of Rocky.
Aishi
---
Set 2
Question-2: Your exams are over and study pressure is less so have watched a movie after a long time. Make a diary entry on watching a movie.
Hints: Which film you have watched? Share the details of the film- What you like most about the film- who accompanied you- Did the film live up to your expectation
Jodhpur,
July 14, 2021,
Monday 7.00 PM.
Dear Diary,
Finally, my exams are over and I have now enough time in my hands to indulge in my favourite hobbies. My love for cinemas and books is known to everyone. I had decided beforehand to watch Avengers: Endgame once my exam got over. Yesterday night, I had the pleasure to watch it with my brother. Avengers: Endgame is a film based on the Marvel Comics superhero team Avengers. The devastating events of Avengers: Infinity War 2018 put the world in ruins due to the efforts of the Mad Titan, Thanos. In this series, Avengers united once more to undo Thanos action and make peace in the universe at any cost.
Every scene of the movie was a reward for our love, patience and undying admiration for MCU. Avengers endgame was a satisfying end of blockbuster. We were thrilled how the iconic heroes were elevated to legendary status. Chris Evan and Robert Downey Jr. have turned Captain America and Iron Man into something larger than life. Like thousands of others, my brother and I also enjoyed each moment of the movie. Avengers: Endgame is an ode to the entire Marvel Cinematic Universe. It was a well night spent with my brother watching our favourite movie.
Akash
---
Set 3
Question-3: Your mother has allowed you to watch television and you found one of your favourite cinema being telecasted. Make a diary entry on watching your favourite movie.
Hints: Name the cinema you watched- Share detail about the film- Why you love the film- Do you resonate the film with your life- How you enjoyed the movie
Kolkata,
October 12, 2021,
Saturday 6.00 PM,
Dear Diary,
Do you know my mother has allowed me to watch television after a long time? I did a happy dance receiving the opportunity and decided to use the most of it. After finishing my lunch, I locked myself in the room and was surfing through t.v channels when the movie The Karate Kid captured my attention. I have watched this movie several times but still never miss watching if I got a chance.
I can also resonate with Daniel. Like Danial, I also have struggled to fit in the new world when our family shifted from Dublin to India. The real reason for watching the movie is Jackie Chan who never disappoints with his mentor role. The director Harald Zwart has been one of my favourites for his handsome and absorbing movies. How lovely afternoon it was! A good cinema followed by a good nap is a lovely combination that I experienced after a prolonged time.
Reshma
---
Set 4
Question-4: Your best friend has come over to your house with a DVD of a film. Make a diary entry on watching a movie with your best friend.
Hints: What film have you watched-Who are the star cast- Storyline- What message the film conveyed- What you like about the film- How was your experience of watching a film with your best friend
Siliguri,
December 23, 2021,
Sunday 5.00 PM,
Dear Diary
I was taking a nap when mI heard the doorbell ringing. I dragged my unwilling body out of the bed to open the door. What a pleasant surprise! It was my friend Atul who gave me a surprise visit. As I opened the door he rushed with a heavy packet in his hand. He had brought a large pizza and DVD of the movie" Pursuit of Happyness" starring our favourite hero Will Smith. It is heart-wrenching to see when Will Smith as a father trying his best to protect his son from their circumstances of becoming homeless at the same time working as an unpaid trainee in the competitive world of stocks.
The movie inspired us to follow dreams and family is the deepest theme of the movie. I love the screen presence of Jaden Smith as the preschool-aged kid. The story is very heartwarming. While watching Atul and I both realised how much parents struggle to provide for our family and tries to keep life fun as much as they can. The film is as great as meeting your best friend after a long time.
Dev
---
Readers, you have all the resources required to make an impressive diary entry. Next time when you will be asked to make a diary entry keep all the points you learnt today in mind. I am sure your English teacher will be impressed. If you have any recommendations for us, write them in the comment section. We are all yours