Joining online classes is a trendy option for students to get proper guidance on every subject. With the best samples of how to write diary entries on the experience of the online classes, this article is going to be useful for you.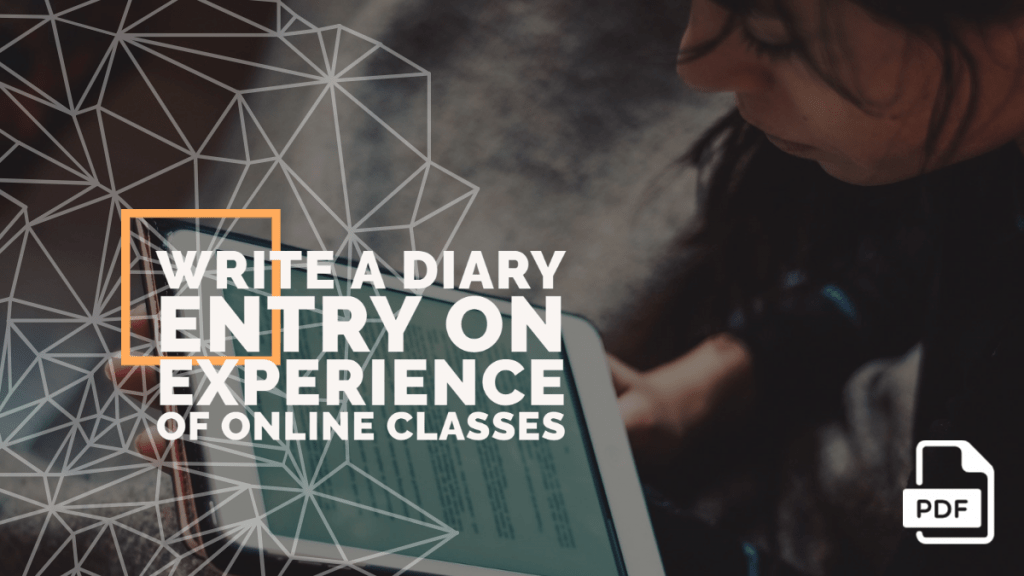 Diary Entry Set 1
Question -1: Online classes help each distance learner to gain essential knowledge on specific subjects. Learners find it one of the most convenient options to get in- depth knowledge from experts from anywhere. Without any setup of a traditional classroom, learners get excellent facility to grab the great opportunity of one-to-one scheduled class. Now, make a diary entry describing the valuable experience of online classes.
Hints: Out-of-the-box flexibility rather than traditional classroom – competitive progress in academic career – strong online potentials – interactive sessions – live mock exams
Answer:
Chandigarh,
09 th February, 2020,
Tuesday,
Time: 9:30 am.
Dear Diary,
After joining online coaching classes, I understood the value of time and how to utilize time to grab the best opportunities to perform better. Experience of online coaching classes was far better than traditional classes as I got unlimited scopes to present my queries through chatting. In the fast and competitive arena of education, online coaching classes helped me a lot to achieve academic milestones.
Effective instructions with clarity provided me with perfect navigation on how to ease the subject matter. Flawless connectivity with instructors ensured the benefits of highly interactive sessions on each subject. Live mock exams made me flexible to take the stress of real exams.
While I appeared in these live mock exams, I improved my technical skills step by step. As the instructors provided best eBooks, and helped to join in discussion forums we got a great scope to boost the knowledge on every subject. Besides, live Q&A sessions resolve many doubts and queries quickly.
Payel Ghoshal
---
Diary Entry Set 2
Question-2: Online coaching classes is one of the most trendy alternatives to the students of 5 to 10 for boosting their depth on different subjects. Virtual classrooms make them engaged in the free time after school to gain extraordinary knowledge on each subject. And the authentic type of assessment helps them to utilize their talent in a proper way. Now make a diary entry using the following hints.
Hints: Simplified way of learning – adaptive module for each subject – availability of efficient instructor – flawless guidance at your fingertip – flexible time slots.
Answer:
Delhi,
11th  January 2021,
Monday,
Time: 10:30 am.
Dear Diary
Even after being a student of a reputed school, joining online coaching classes taught me a lot of things. Chatting with our virtual faculties provided me with the most simplified way to analyze the subject matters. Joining in online coaching classes presented a great scope to get the facility of individual featured modules based on each subject.
All these modules were very essential to build clear concepts on the specific subjects. One of the most particular facilities of my online classes was getting the proper guidance of efficient teachers. All my instructors were too cooperative to make me skilled in my subjects. Their responsibility made me aware about my faults.
Every latest and convenient facility of e-learning brought useful guidance to solve every doubt through online classes. Availability of lecture CD notes with proper explanation, flawless chatting options provided me with everything at my fingertip to gain depth knowledge on each subject.
Deepak
---
Diary Entry Set 3
Question-3: Before the state board exam, each student plans for serious development in each subject. So, they join the reputed online coaching center for getting the best guidance for a bright future. Along with the guidance of school teachers, students need special guidance of coaching classes on their weak field of every individual subject. Look at the hints and make a useful diary entry on the importance of online classes.
Hints: Importance of state board exam – experienced faculty – brilliant learning environment – frequent tests for skill development – accessibility of recorded lectures – overall improvement checking
Answer:
Siliguri,
15th January 2021,
Monday,
Time: 10:30 am.
Dear Diary,
I joined online coaching classes to prepare myself at the best level before my board exam. I knew the pattern of the board exam would be different from school exams. So, I decided to join online coaching classes for each subject. I got all the advantages to solve my queries on all subjects from experienced faculties of my coaching center.
Flawless internet connection, use of microphone, group in social media all these aspects made my online coaching classes so punctual. And the awesome connectivity made the entire learning environment excellent. I got the benefits of frequent live tests on all subjects. It helped me to gain depth knowledge on every subject.
My instructor in online coaching classes provided a CD of recorded lectures, if I missed any class accidentally. With the help of recorded lectures, I used to solve all my doubts on any difficulties. Through online classes, the unlimited accessibility of notes and lectures CD I improvised my depth of knowledge before the exam.
Swagata
---
Diary Entry Set 4
Question-4: Afterschool, joining online coaching classes students utilizes their time to be engaged in an in-depth study. So, online classes provide plenty of opportunity to the students for being engaged in practice or researching anything new as per their own skillset. The overall technical support of online classes makes the study time of the students very useful. Now, look at the following hints and make diary entries based on the advantages of online classes.
Hints: A package of flexibility – entire low cost – convenient environment for learning – improvement of technical skillset
Answers:
Kolkata,
15th January 2021,
Monday,
Time: 3.55 pm.
Dear Diary,
While I joined online coaching classes for best preparation before my state board exam, it provided plenty of flexible time slots to manage my own preparation after school classes. The experience of online classes taught me how to get the best benefits of online classes.
It reduced my transportation cost for going to coaching classes, as I was able to get valuable lectures and suggestions through excellent audio-visual aptitude-based on specific subjects. It helped me to understand the primary, as well as advanced aptitudes of each subject.
All the technological advancements of online coaching classes provided me with an excellent learning environment to clear all queries and get convenient solutions. And above all being a part of online group activities, I learned different kinds of technological skill sets after joining online coaching classes, which was very beneficial for me.
Rooplekha
Conclusion:
So here all the examples show how to write the experiences of online classes in a diary entry. Do you think this article helps you to make your diary entry more attractive? Please feel free to share your thoughts in the comment section.