Diary entry is the art of penning down thoughts in a diary. There is always a high chance that you will encounter such a question during exams and these examples will help you get an accurate idea about diary entry format. Once you learn the correct structure you will be able to avoid the deduction of marks. There are 4 sets of examples on the topic- Visit to a blind school and this will better prepare you to tackle such questions during exams.
Whenever asked to write, these examples can come in very helpful. So, let's start.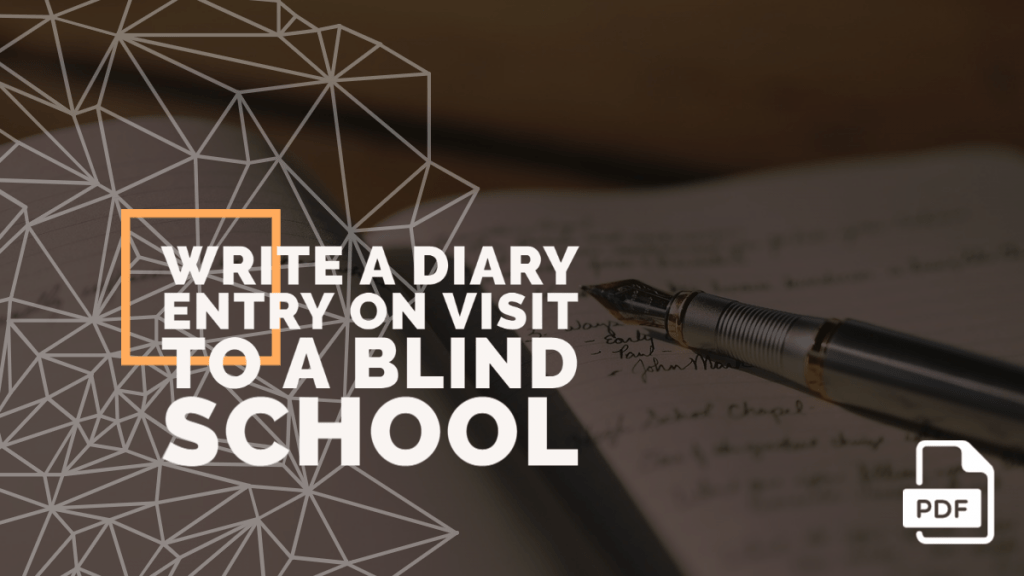 Diary Entry Set 1
Question-1: Write a diary entry, About a visit to a blind school due to a social charity event you participated in.
Hints: What was the social cause- Describe how you helped these blind kids?-What inspired you or the lessons you learned.
27th January 2021,
Tuesday,
8:00 pm.
Dear Diary,
My brother is a member of the Rotaract club of their college and they had organised a charity event. I was very excited to participate in the event as helping others is a good habit to follow. The event organised was to spend a day in a school for the visually impaired. We reached there and were led to our respective classes to interact with the kids. I was assigned 5th standard and the kids were really happy to see us.
We paid them individual attention and heard their stories. Kapil, a student of the school stood out in reading braille and described to us all how a braille manuscript is read. I am very thankful for my healthy sight but interacting with these kids taught me that life is a gift and we must enjoy and live it fully despite the difficulties we face.
Anwar.
---
Diary Entry Set 2
Question-2: Write a diary entry, About celebrating your birthday with kids in a blind school.
Hints: Why did you decide to spend your birthday there- Describe how you spend your birthday?- Describe events there which may inspire others to do the same.
09th March 2021.,
Tuesday,
6:00 pm.
Dear Diary,
I decided to celebrate my birthday with kids in a blind school. My uncle is the headmaster and he advised me to spend my birthday this year in this way. We got in touch with the relevant authorities and I was allowed to interact with these kids that day. The class I chose to spend my birthday with were 3rd standard students who all received me very kindly. I told them about my birthday and they all sang for me.
The cake was brought in by my uncle and we all spent some time singing and laughing around. Mahesh, a kid from school was a mimicry expert and entertained all of us. My birthday came to an end with a small lunch banquet for these kids, and to see so many smiling and laughing faces made my birthday special and I hope to do the same next year.
Akash.
---
Diary Entry Set 3
Question-3: Write a diary entry, About a visit to a blind school for an event organised by your school.
Hints: Describe your feelings for the activity- Describe how you spend the day?- Describe events there which may inspire others to do the same.
30th January 2021,
Thursday,
7:00 pm.
Dear Diary,
My school organized a joint classroom exercise with students from a visually impaired institution. I was really happy to know that we will get to spend time with them and learn from each other. The visit happened last Tuesday and all of us reached their campus by 9 am. The headmaster welcomed us all and introduced us to the class. Mr. Roy then helped us all get along with each other and we went on to perform fun exercises about team building.
The most fun task was to talk to the person sitting beside you about yourself and vice versa and then each recalling what the other told. This helped us to get to know these kids better as well as it trained our listening ability. There were many tasks that I enjoyed with my new friends there and I hope to visit them again soon.
Manish.
---
Diary Entry Set 4
Question-4: Write a diary entry, About visit to a blind school for a Braille learning seminar.
Hints: Why do you want to learn Braille- Describe your experience learning there?- Describe events there which may inspire others to do the same.
10th March 2021,
Wednesday,
5:00 pm.
Dear Diary,
I was always interested in learning new languages so when my cousin suggested that I go for a Braille seminar I was very interested. I reached the school on time and was led to the seminar hall. This was a 4 hour long seminar. Mr. Pradhan, the headmaster began the session with a brief history on the language and then a student was called on stage for live demonstration.
This language is made of rectangular scripts on which there are tiny dots which can be felt by fingertips. A combination of these dots form letters and we were explained how such combinations work. The seminar had each of us participants pair up with their students who guided us across exercises to understand better. Each of us wrote a passage in Braille. In mine, I wrote how I loved the language and will continue learning it in the future.
Shankar.
---
Diary entry structure has been aptly described in these four examples on the topic visit to a blind school. Hope you found this session to be helpful. Let us know your valuable opinion as well as suggest anything you want to bring to our notice in the comment section below. Thank you, hope to see you again soon.