With useful examples, this article describes how to write a diary entry on Diwali celebrations. The points of each example will make you familiar with the tricks of making diary entry more attractive on Diwali celebrations.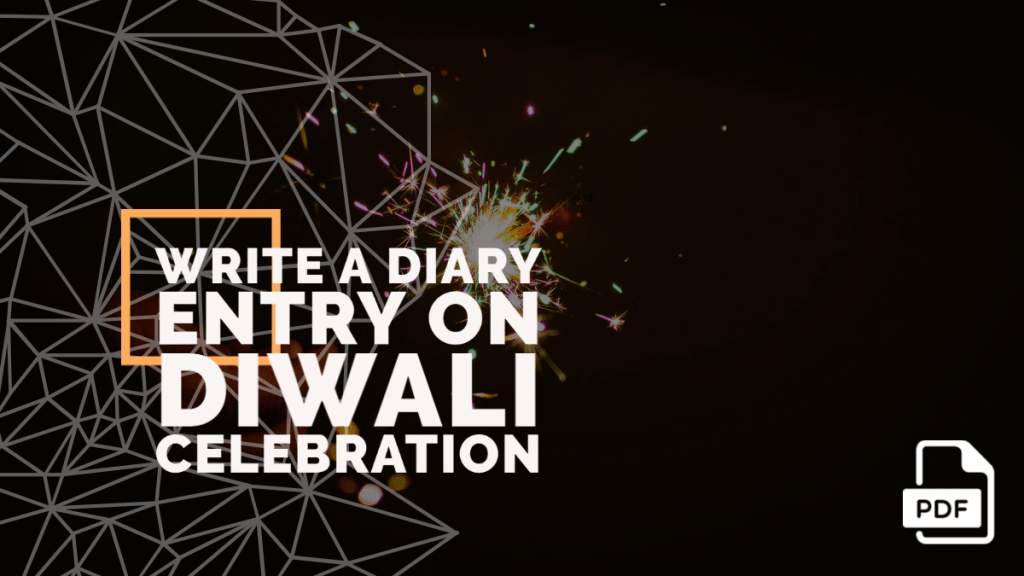 Diary Entry Set 1
Question-1: Enjoyments in Diwali always give you an auspicious memory with lights. You must love to memorize the joyful memories of Diwali, which you celebrate with beautiful lights and candle decorations. In every Diwali celebration, the adorable memories with your family members will make you nostalgic after a couple of years. Now, follow the hints and make a diary entry on the Diwali celebration.
Hints: Excitement about Diwali shopping – Mother brought different shaped lamps and candles – Quality time with family – Delicious dinner.
Lake Town,
15th January 2019,
Friday,
Time: 10:30 am.
Dear Diary,
Today I want to pen down some of my happiest moments with you.
This Diwali, I was very excited as I went for Diwali shopping with my cousins. In the morning after breakfast, we made a list for the Diwali celebration. The list included bursting crackers, colourful fireworks etc. My mother also went to the market with some of our neighbours to buy the earthen lamps and candles, glittering lights for house decoration and in the evening, my mother decorated our balcony and terrace with those earthen oil lamps.
Different shapes of earthen oil lamps created a very aesthetic environment with lamps. Then we also accompanied her to decorate the entire house with the chain of glittering lights. While we completed the entire house decoration, we all gathered on the terrace of our building and started to lit different types of crackers and fireworks. After three hours of enjoyment on the terrace, mother called us for dinner. And with delicious mutton biriyani, we all enjoyed a very joyful family get together at Diwali.
Dipanwita Roy
---
Diary Entry Set 2
Question-2: Diwali is such an auspicious occasion to worship Devi Laxmi by the Hindu merchants for getting prosperity, wealth and success. On this holy occasion,  you must love to be with family to enjoy the festive essence. Furthermore, your participation in light decoration in the entire house nourishes the sweet bond with your family members during the festival of light. Now look at the hints and make a diary entry on Diwali celebration.
Hints: Cleaning household – Decoration with clay lamps – Rangoli designs – Artificial leaves and flowers decoration – Enjoyment with bursting crackers and fireworks
Shyambazar,
21st December 2019,
Friday,
Time: 10:30 am.
Dear Diary,
On the holy occasion of Diwali, I helped my mother in household cleaning, as we made all the arrangements for Laxmi puja. The next vital responsibility was decoration to bring a holy, as well festive mood at home. This Diwali, we wanted to add organic things to make the festival of light traditional. So, we brought clay lamps from the market from poor roadside vendors.
I also suggested my friends buy clay diyas from roadside vendors. My intention was to make the poor people in the festive season. My sister made an aesthetic rangoli design in front of the goddess. On the terrace, we also made beautiful rangolis. We kept clay diyas on the decorative balcony hanging. For living room decoration, we used artificial chains made with flowers and leaves. After decoration at the entire house, we all gathered on the terrace and participated in the family get-together with bursting crackers and fireworks.
Suravi.
---
Diary Entry Set 2
Question-3: For Indians, Diwali is a grand festival of lights. This festival gives you valuable moments of reunion with family and friends. The auspicious celebration with light brings lots of joy and excitement. But reckless bursting of crackers raises breathing problems. And the loud sound of crackers forces street dogs to run and hide. Now, keep your eye on the following hints and make a diary entry on Diwali celebrations.
Hints: Decoration with traditional diyas – Another aesthetic decoration with Rangoli – Some exclusive creativity
Answer
Barasat,
15th December 2020,
Tuesday,
Time: 10:30 am.
Dear Diary,
Last Diwali celebration was quite different from other years. Our teacher advised us to help local roadside hawkers who sell clay diyas to buy things for Diwali celebrations. So, I brought clay lamps from the hawkers to bring a smile on their face in the grand festive season. I requested my friends to do the same to make this festival grand for all.
I bought organic coloured powder from florists to create pretty rangoli designs. While I completed my rangoli designs on the stairs, in front of god and also in the entrance of our house, it brings a grand festive mood.
Last Diwali, my creative mind steered me to do something for exclusive Diwali special decoration. I sew old designer sarees to make attractive pillow covers for sofa pillows. And my mother was so proud of me for this pretty idea. Last Diwali, I kept an iceberg on the terrace for an emergency during the enjoyment of bursting crackers.
Tiyasa Dutta.
---
Question-4: Diwali is always a favourite Indian festival for all. Because, on this auspicious occasion, family members and friends return from their workplaces for a couple of days. So, everyone can participate in family get-togethers. Not only in the family but also in neighbourhood a festive vibe of togetherness creates a joyful environment. Now follow the hints and make a diary entry on the Diwali celebration.
Hints: Excitement of shopping decorative things – Reunion with relatives after a long time – Commitment to celebrate a safe Diwali for all – Sweet preparation.
Dumdum,
19th December 2020,
Sunday,
Time: 10:30 am.
Dear Diary,
I celebrated this Diwali with plenty of joyful moments. All the enjoyments started with Diwali special shopping with mother and cousins. We bought colourful painted diyas from roadside poor hawkers. It not only made the entire decoration of our living space more traditional but also it was a little contribution to make happy those poor people, who depend on the sale of clay diyas to celebrate this grand festival.
During Diwali, my cousins also participated in rangoli decoration with full zeal with me. There was a competition among our siblings with prettiest rangoli decoration. And it made the grand reunion of cousins in Diwali after a long time. We all took oath for a safe Diwali celebration. So, we were walking through the road and sending street dogs and cats to the safe place from bursting crackers. In terms of sweet preparation, I made some traditional sweets using coconut flour, date syrup and soya milk and the relatives were spell bounded to have it.
Shreeporna Majumder.
---
I hope these diary entry examples on Diwali celebration was helpful, do let me know if you have any doubts or query by leaving a quick comment just below the article.