Diary entry writing is one of the most common writing skill tests that come in various kinds of exams nationwide. Moreover, it is one of those good habits of people where one can explore himself at his best. It has been noticed that diary entries on family trips are always a hot topic for diary writing tests in many exams. That's why I have decided to come up with such a diary entry writing to clear every single confusion about diary writing on this very topic.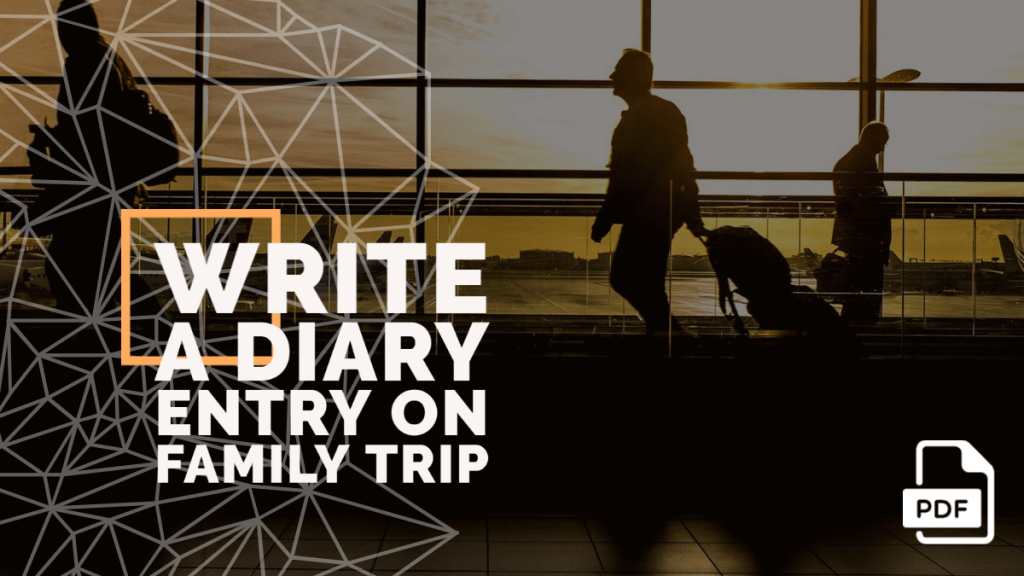 Diary Entry Set 1
Question-1: You have recently visited the zoo with your family. Write a diary entry on the experience you had on this family day trip. Make use of the hints given below.
Hints: Family day trip- First zoo visit- Experience seeing animals- Advice & Realisation- Day's activity
January 15th, 2021,
Tuesday,
Time: 9:30 am.
Dear Diary,
I had a great family day trip yesterday. After so many days we went somewhere together as a whole family. All 9 members of my family went on the day trip. I went to visit the Alipore zoo. It was just an amazing experience.
We saw so many animals altogether. I have never seen anything like this before. But father told me and my sister that the animal should never be kept in cages like this. They are meant to free like us. Still, there we had great fun together. We ate biryani and had ice cream after that. After such an eventful day, we returned home around 6:30 in the evening.
Rakesh
---
Diary Entry Set 2
Question-2: You have recently come back home from a family trip to North Bengal. Write a diary entry about the travel experience you had with your family with the hints provided below.
Hints: Long family vacation- Starting the journey- The first visit of mountains- Roaming around different towns- Activities- Experiencing the essence of local food
February 5th, 2021
Sunday,
Time: 7:30 am.
Dear Diary,
I am very excited and happy today. Because today we came back from a long family vacation spending around 8 days in North Bengal. Our trip was all around the mountains this time. Prior to this, I have never seen mountains in my life. By the end of the last month, I started my journey for north Bengal along with my entire family. At first, we went to Darjeeling from NJP station.
The journey to Darjeeling was so beautiful on its own. Spending 3 days in Darjeeling we went for a trip to Kalimpong. The scenic beauty of Kalimpong was also beautiful but seemed quite different from Darjeeling. There we went for a toy train joy ride as well as a ropeway ride.
The beauty of the mountains from the ropeway was so amazing that I can't explain in words. Moreover, we had local mountain foods like Noodles, Momo, Thukpa, etc. I have really enjoyed the trip with my family.
Pooja
---
Diary Entry Set 3
Question-3: Recently you have visited the India-Bangladesh border with your family. Share your experience about the visit in a diary entry. Use the hints given below.
Hints: Family Trip after many days- Happiness- Visiting International border- Journey- Flowing River
June 7th, 2020
Thursday
Time: 8:10 am.
Dear Diary,
A family trip is always worth great happiness. I have just returned from a family day trip. In this monotonous life, we had a great time together! Just yesterday, we suddenly planned for this trip. Taki: the India and Bangladesh border was the trip destination for today. We started our journey through our family car by 5:30 in the morning.
We reached our destination within 1:30 hours. The place was very beautiful. So many people came there for a picnic. The river Ichamati was flowing at its own pace. The weather was also quite beautiful today. Father told us that just beyond the river there is another country: Bangladesh.
Arijit
---
Diary Entry Set 4
Question-4: Write a diary entry about one of your recent family trips to any sea destination. Make use of the hints provided below.
Hints: Short period family trip- First-time sea experience- Journey- Planning- Lessons and Realisations- Tour of different beaches- Foods.
July 9th, 2020,
Wednesday,
Time: 6:30 am.
Dear Diary,
Today I have just returned from a 3-day family trip to Digha. My experience with this trip was very beautiful. On this trip, I saw the sea for the first time. It was so amazing. A huge place, where only and only white water flows and we couldn't even see the other side of the immense water body. Before a few days, after returning from school, my father suddenly told me about the plan for this trip.
We went to Digha by train and returned home by bus. In Digha, we stayed in a very nearby hotel to the sea beach. We could see and hear the sea right from our room's balcony. I went on a sea beach safari in the Udaipur sea beach.
Moreover, the experience on the Talsari was amazing as well. On this trip, we ate yummy fish fries as well as a curry of ocean crabs. The entire trip was so good that I would want to go there again and again in the future.
Raj
---
That was all about writing diary entries on family trips. I have tried to cover every possible perspective in the session. Moreover, concerning the examinations, the word limit has also been maintained in those writings. Hope you found this session helpful as per your requirement. Let us know your valuable opinion as well as suggestions for this session in the comment section below.
Thank you; see you again very soon.