Diary entry is expressing one's experience by penning them down in a diary. This form of questions appear frequently during examinations and so one must know the correct format to ensure no deduction of marks. So we will introduce the structure of diary entry through 4 sets of examples on the topic, Republic day celebration in your school. This will help you be better prepared to tackle such questions in the future.
Whenever asked to write, these examples can come in very helpful. So, let's start.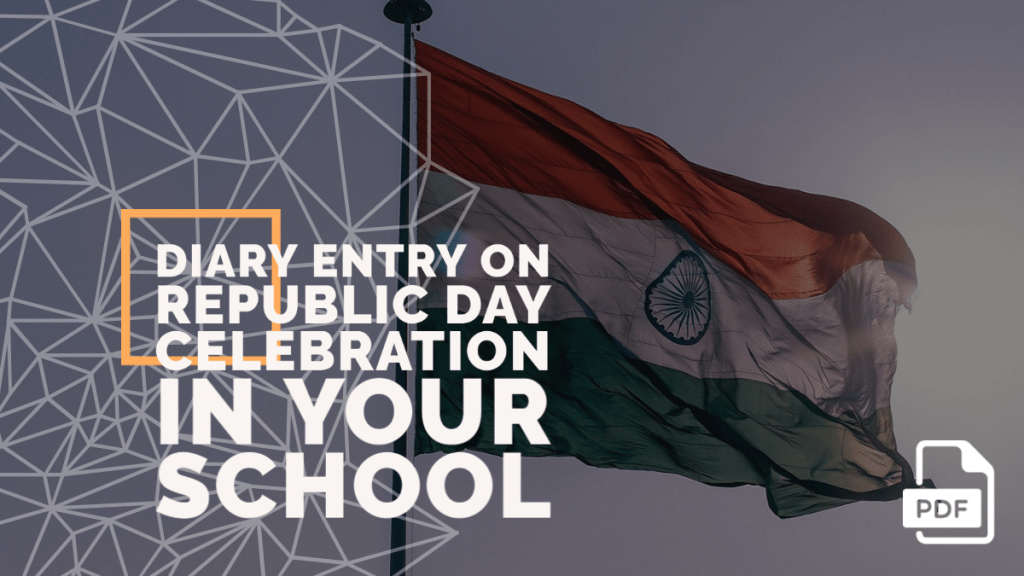 Diary Entry Set 1
Question-1: Write a diary entry, About an incident that happened during Republic day in your school.
Hints: Describe the Republic day preparations- What incident happened in your school?- How did everyone present tackle it.- Lessons you learned.
27th January 2021,
Tuesday,
8:00 pm.
Dear Diary,
Republic Day is a day of great importance and honor. It is observed throughout India and celebrated through parades and cultural events. My school hosts a Republic day parade as well. The school grounds are well decorated and food vendors are allowed to set up stalls. The incident happened while I was waiting for a food order, there was a lot of smoke coming from the waffle stall nearby and a fire followed.
The school authorities rushed to control the situation and calmed the students down. The fire was put out using a fire extinguisher and the crisis was finally over. I was scared due to this sudden outbreak but my friends helped me calm down. The day ended on a good note with all of us having fun but I learned today to always be careful and be prepared for any crisis.
Ankit.
---
Diary Entry Set 2
Question-2: Write a diary entry, About the Republic day celebration in your school.
Hints: Describe the importance of this event in your school- How was the event celebrated?- Describe an event you will specially remember.
27th January 2020,
Monday,
5:00 pm.
Dear Diary,
Celebrating Republic day has been a long-lasting tradition of my school. It is an event where students and the teaching faculty work together to organize this splendid event. The events performed are the flag hoisting, the march past and the cultural event followed by the headmaster's speech. All of us assembled in the ground by 8 am, the national anthem was sung right after followed by the flag hoisting ceremony.
The march past was a formal event and I cheered my friends participating in it. I was the anchor for the cultural show and it was a lot of fun engaging with the crowd and introducing talented participants for their respective events. The headmaster's speech taught me about being diligent and hardworking just like the patriots that helped make the Indian constitution and I hope to make my country proud.
Farukh.
---
Diary Entry Set 3
Question-3: Write a diary entry, About a public figure visiting your school as the chief guest on the Republic day celebration.
Hints: Describe your school's Republic day event- Who and why was this public figure invited?- Describe the events following the public figure as the chief guest.
28th January 2021,
Wednesday,
4:00 pm.
Dear Diary,
I was very excited to know that Mahendra Singh Dhoni has been invited as the chief guest in our Republic Day parade. I am a huge fan of Dhoni and it seemed like a dream come true. The entire school promptly assembled for the flag hoisting ceremony and I could feel how excited everyone was. MS. Dhoni entered the stage amid a huge round of applause and addressed us all.
He talked about the importance of Republic Day and how the Indian cricket team upholds national pride every time they go to play a match. Seeing my idol from afar I promised myself to be diligent and work hard to be of service to my country. The day went on with a march past and a cultural show performed in the honour of our chief guest. It was an amazing parade with lots of good memories to cherish forever.
Ankush.
---
Diary Entry Set 4
Question-4: Write a diary entry, About getting a commendation for a meritorious deed during the Republic ceremony in your school.
Hints: Describe your school's Republic day event- Why did you receive a commendation?- Describe the events that happened during the award ceremony..
29th January 2021,
Thursday,
9:00 pm.
Dear Diary,
I was very glad to know there will be an award ceremony to award all members who participated in the charity event of teaching underprivileged children. I was a member and had great fun in teaching these small kids. The ceremony started at 9 am with all of us assembling in the field and singing the national anthem.
The march past was a sight to watch and the performances during the cultural event were amazing to experience. The award ceremony began right after where the chief guest presented awards to all the members of the charity event. I remember how glad I felt when he acknowledged our efforts to make a better life for these kids and it has inspired me to do more good in life and make my country proud.
Ankit.
---
These sets hopefully have helped you understand the format of a diary entry. They cover different scenarios so you can refer to them while practicing it. The topic explains how you can tackle the topic- Republic day celebration in your school. Hope you found this session to be helpful. Let us know your valuable opinion as well as suggest anything you want to bring to our notice in the comment section below. Thank you, hope to see you again soon.