"Paper has more patience than people"- Do you remember this line from Anne Frank's 'Diary of a Little Girl"
Diary can be your best friend. It is always there to listen to you when others have turned their back. Diary writing has also been introduced in your syllabus to nourish your creative side. Following a certain pattern, diary writing can be really fun.
Study the examples below to ace the game of writing a diary.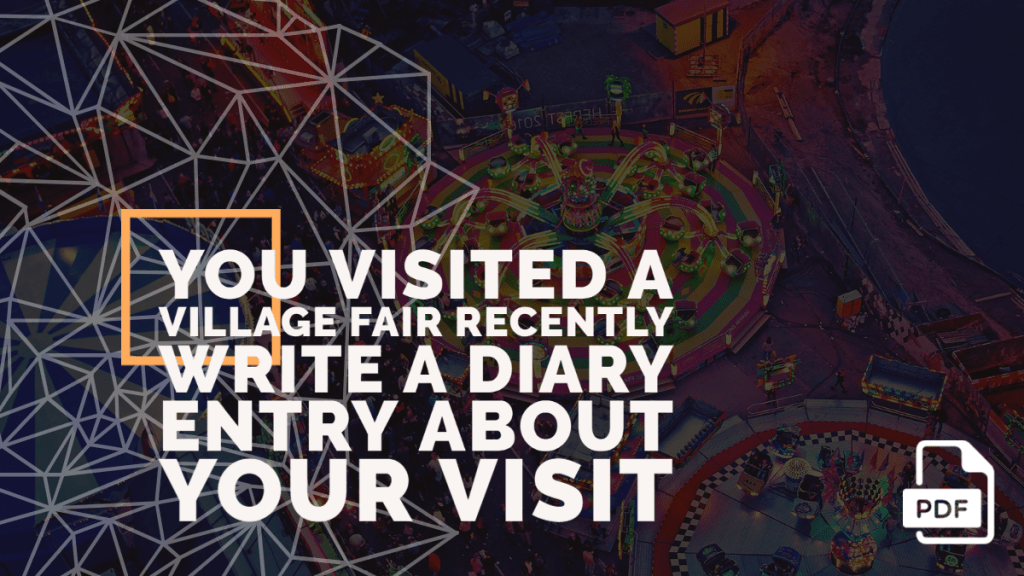 Set 1
Question-1: You have visited a village fair recently. Make a diary entry about your visit.
Hints: The fair you have visited- With whom you have visited-speciality of the fair-What you did in the fair-Why the fair attracts you
Santiniketan
December 22, 2021
Sunday, 6.00 PM
Dear Diary,
Currently, I am on a holiday with my parents and sister in Santiniketan. Do you know, the reason behind our visit to Santiniketan? It is to attend the very popular Poush – Mela. Poush Mela held every year in late December to mark the harvest season. The fair has a different charm altogether. No matter how many time I visit, it has never missed a chance to mesmerise me with its rustic beauty. Taking an auto we all reached the fairground called Purbapalli at 4.00 PM. The fair exhibits the Bengali cultural heritage.
As soon as I stepped on the ground my heart skipped to the beats of Bengali folk music. Baul, the Bengali folk singers, played live at the music, and several folk dancers were dancing to the beats. Diya excitedly joined them for a little dance while I took their lovely photographs. Later we explored different stalls offering exquisite traditional handicrafts and fabrics. How can someone miss the lip-smacking food and delicacies of Bengal? From art, culture to food, Poush Mela is the perfect amalgamation of tradition that attracts visitors worldwide.
Anisha
---
Set 2
Question-2: You are at your grandparent's house. Your grandfather has taken you to a village fair. Make a diary entry about your visit to the fair.
Hints: You are at your grandparents' house- Village fair occurred- Your grandfather took you- Do you like the fair- what is the thing you liked most- How you enjoyed with your grandfather
Deulti
January 15, 2021
Saturday, 8.00 PM
Dear Diary,
My exams are over and I have come to my grandparents' house located in Deulti, a small village in West Bengal. Visit to grandparents' are always exciting and fun. Yesterday my grandfather took me to a fair held at a ground close to their house. Being a city dweller, I have never imagined a fair, in a small village could have so much energy and life. The annual fair is the only source of entertainment for these villagers. While there was a large queue of children near the counters of rides, women were busy buying colourful bangles and nail paints of their choice. I had the best time riding the toy train with my grandparents and listening to various stories about the fair and the villagers.
My grandpa told me that sweets are one of the attractions of the fair and I must try them. Grandpa is always right, one can never expect sweets of such great taste from the countryside fair. We bought little sweets for grandmother On the way back home grandpa handed over a packet and asked me to open it. My tears rolled down to find a pair of earring, which he had bought for me. I wish I can visit the fair for many more years with my grandpa.
Tintin
---
Set 3
Question-3: You are on a trip to Kerala and came across a local fair. Make a diary entry about your visit to the fair.
Hints: Name the fair- How you came to know about the fair- Where it takes place- What is the speciality of the fair- your activities at the fair- Share your experience.
Kolkata
January 28, 2021
Monday, 10.00 PM
Dear Diary,
Visiting Kerala has been on my bucket list for a long time and thanks to my parents who have fulfilled my wish. Kerala has surprised me with the Kerala Village Fair or ' Gramam'. Our guide told us that we have come to Kovalam at the best time as the people of Kovalam were celebrating the famous Gramam. The fair transported me back to the times when lives were simple and we were closer to nature.
The fair displayed handicrafts, ethnic clothes, folk music and dance and traditional delicacies. The fair at the Kovalam beach filled the air with an enthusiastic vibe. My father had collected few artefacts and I with my mother had stuffed our bags with traditional jewellery. You must be thinking, being a foodie how I have missed trying their dishes? From banana chips to Idiyappam, I have eaten everything, Visiting a local fair in a new state is a learning experience. I learnt about their age-old traditions and also about the lifestyle and culture of these people.
Sumedha
---
Set 4
Question-4: You visited a native fair during your trip to Sundarban. Make a diary entry about your visit
Hints: Name of the fair- When it take place- What makes the fair special- With whom you have visited- Activities in the fair- What you learnt and experience.
Sundarban,
January 27, 2021
Thursday, 3.00 PM
Dear Diary,
We have arranged this trip to Sundarban to attain the Bonobibi Festival and Fair. Do you know, people Bono Bibi is regarded as the mother of Human and Tigers. Our guide told us that they celebrate the festival every year during this time of the year. His face gleamed to know that we are interested to attain the festival and the fair. He took us to Ramrudrapur where the fair took place. The cultural programme soon commenced. Local artists from different parts of the state geared up in the tents set up in the different corner of the fair.
I had the opportunity to witness 'jatra' where the local artists enact scenes from mythology. Every soul in the fair seemed to be filled with energy and a sense of contentment. I spotted Rajan, our friend gulping down rasgollas was chatting with the shopkeeper. From the shopkeepers and the visitor, I learnt the fair is the soul and life of the village. It is was an enchanting visit and everyone must visit Sundarban during the Bonobibi festival.
Abir.
---
Readers, have you noticed you not only learnt about how to write a diary but also about a few famous fairs of different states. Which fair do you wish to visit? Let us know in the comment section below.