In this article, I'm going to show you how to write a conversation between two friends about Covid 19.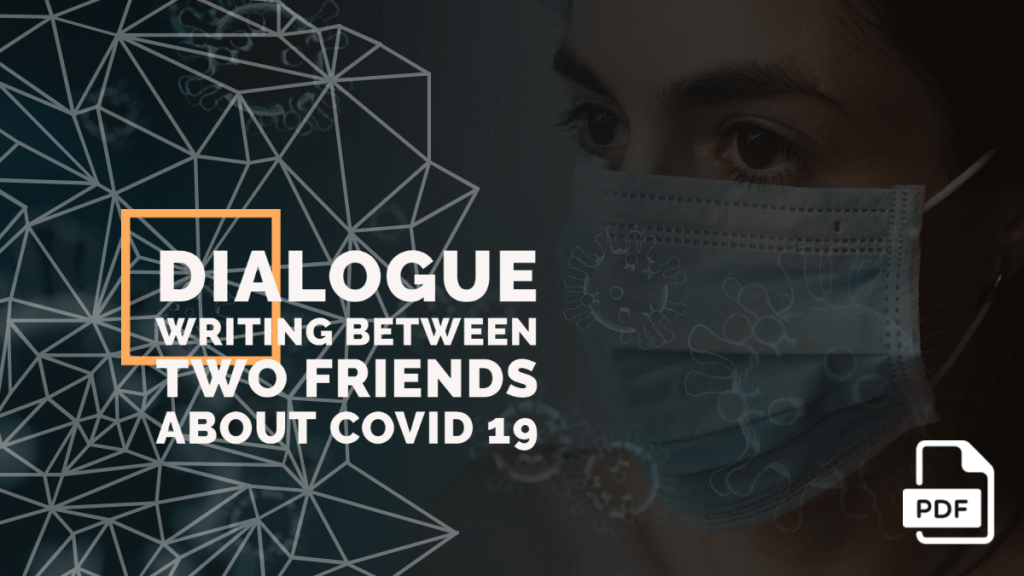 Sample Conversation 1
Nitin: Hello Chaman.
Chaman: Hello Nitin. How are you today?
Nitin: I am fine. How are you?
Chaman: I am also fine. What are you doing?
Nitin: I just came back from the hospital.
Chaman: Hospital?
Nitin: Yes my cousin got the coronavirus.
Chaman: Oh my god! Is he okay?
Nitin: Yes he is fine now. But this corona thing has escalated a lot. I am so scared to step out of the house everytime
Chaman: Yes I understand. Even I feel it is so risky to step out of the house.
Nitin: Yes. And people don't even understand about the proper precautions and how to follow them.
Chaman: Oh yes that is so true. Due to this reason only the cases are increasing at a fast rate.
Nitin: Yes. I hope this all settles down soon.
Chaman: Yes.
---
Sample Conversation 2
Trisha: Hi Mily
Mily: Hi Trisha. Are you attending the online lecture today?
Trisha: No I am so tired and my eyes hurt so much.
Mily: Yes me too.
Trisha: Due to this coronavirus the colleges are shut and we have to attend online lectures. The online really affect our health.
Mily: That is true. Till now we don't have any update on the vaccine also. I am really worried about this situation
Trisha: Yes, me too. I just hope we all stay safe. You also take reactions whenever you need to go out.
Mily: Yes I am doing that. Okay I will talk to you later.
---
Sample Conversation 3
Aditya: Hey did you see that Deepak got married?
Risabh: What? And during this escalated situation of covid-19?
Aditya: Yes even I am shocked. The cases are rising at such a large number and no one was even wearing mask in the photograph.
Risabh: That is so risky. He is a well-educated man. At least he should have taken proper precautions.
Aditya: Yes that is what I was thinking. I hope he and his family are safe.
Risabh: Yes me too. We will call him tomorrow and ask about this.
Aditya: Okay that is a good idea.
---
Sample Conversation 4
Chavi: Hey Sunakshi
Sunakshi: Hi Chavi. Your father is doctor?
Chavi: Yes he works in the SMS hospital.
Sunakshi: Does go to work every day even in the covid situation?
Chavi: Yes he has to. He is working the covid ward. I am really scared for him and our family as we don't when the virus can enter our body.
Sunakshi: That is true. I think your father is really brave doing this. With the increasing number of cases we really need good doctors to help the patients.
Chavi: Yes that is true.
Sunakshi: Can you give me your father's number? Actually one of friends was experiencing some symptoms and he wanted to contact a doctor.
Chavi: Oh yes sure.
Conclusion
I hope this conversation writing between two friends about Covid 19 is helpful. Do let me know if you have any queries related to this writing by leaving a comment below the article. I'll get back to you within 24 hours.