This article helps you to understand how to write a conversation between two friends on the importance of reading the newspaper. So let's get started.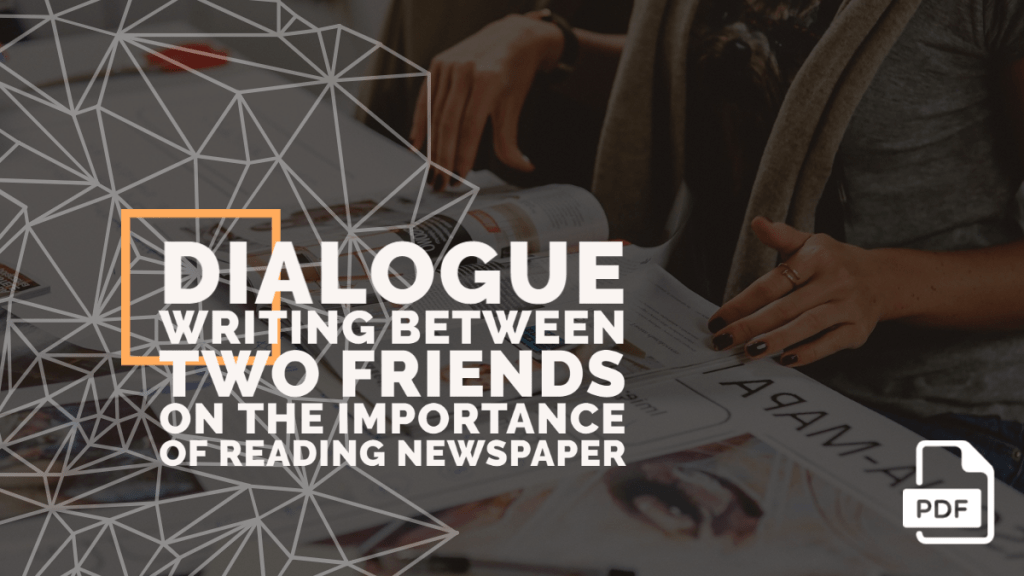 Sample Conversation 1
Raghav: Hey!! Suraj what are you doing?
Suraj: Hi!! I was just going to pick up a newspaper for my father.
Raghav: Do you go there daily?
Suraj: Yes I do. My father reads the newspaper daily with his morning tea. He even encourages me to read it.
Raghav: I think it is a very good habit. Even though I enjoy reading the newspaper, I am not that regular.
Suraj: Yes. Newspapers absolutely help us in every kind by providing information about important stuff.
Raghav: Yes that is true. For such a long time, even after the invention of television, people read newspapers daily because of how important they are in our lives.
Suraj: Yes I totally agree with you. Okay now i have to go.
Raghav: Bye!
---
Sample Conversation 2
Deepika: Hello Ragini. How are you doing?
Ragini: I am great. How are you?
Deepika: I am also fine. What are you doing these days?
Ragini: Oh I am preparing for the law entrance exam.
Deepika: That is so great! How's it going?
Ragini: It is going okay. I am just worried about general knowledge questions.
Deepika: Oh yes they can be confused but I should suggest you read the newspaper daily. It will help you a lot.
Ragini: Oh really?
Deepika: Yes it will provide you with day to day events and news which will help you in exams and in daily life also. I have a habit of reading the newspaper daily.
Ragini: That is so great! Thank you so much for the advice.
---
Sample Conversation 3
Rahul: Hey Rishab. Have you heard about the new Citizenship amendment act?
Rishab: Hey Rahul. I have not heard about it. Is that something related to the protests?
Rahul: Yes that only. It's all over the newspapers. Don't you read it?
Rishab: No not daily.
Rahul: Oh. I just think everyone should read newspapers daily to keep themselves updated about the world and whatever is happening around them.
Rishab: Yes you are right.
Rahul: Yes because otherwise you will miss the important things.
Rishab: Yes I understand your point. I will try to read the newspaper daily.
Rahul: Okay that is great.
---
Sample Conversation 4
Soumya:Hello Kirti! How are you?
Kirti: I am fine. How are you?
Soumya: I am also fine. Thank you. Where are you going?
Kirti: I am going to buy a newspaper.
Soumya: Do you read the newspaper regularly?
Kirti: Of course. Don't you?
Soumya: Certainly. You know a newspaper is called the storehouse of knowledge.
Kirti: You are right. Without reading newspapers we can't know about the world.
Soumya: They who don't read newspapers remain unaware about the current affairs of the country and world.
Kirti: At the same time newspapers contain articles related to our study. They are very helpful.
Soumya:Which section of newspaper do you like most?
Kirti: Certainly the study page. And you?
Soumya: I like the general knowledge section and literary articles.
Kirti: That's very good. I have to go now.
Soumya: Ok. See you later. Bye.
Kirti: Bye.
I'd Love to Hear from You
There you have it: Dialogue Writing between Two Friends on the Importance of Reading Newspaper.
I hope you find this article helpful.
Do you have any question regarding it?
If yes, then feel free to comment down below, also if you have any topic suggestions also let me know in the comment section. I read and reply to each and every comment within 24 hours.