In this article, you are going to learn how to write a conversation between a father and a son about a cricket match. So let's see.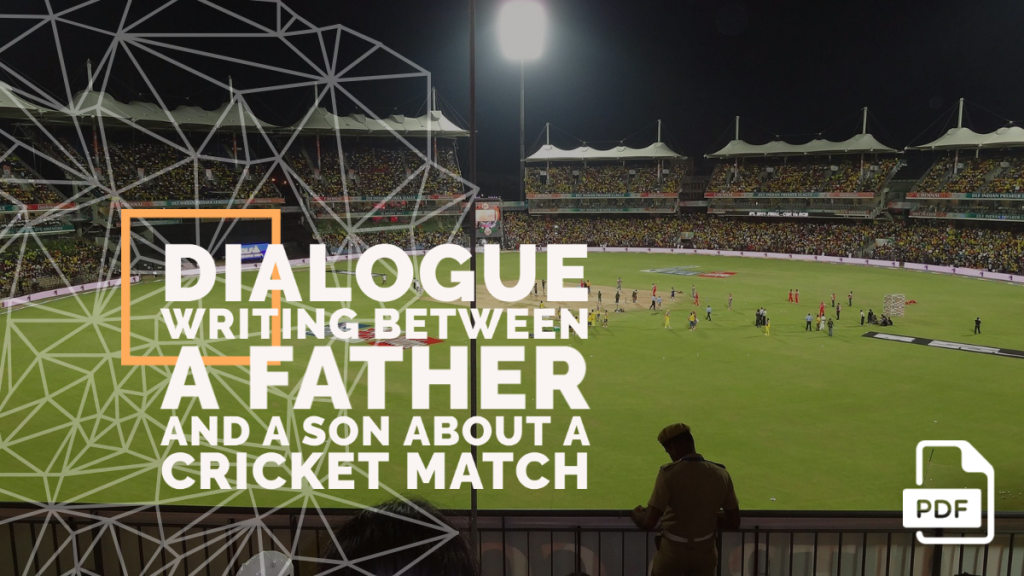 Sample Conversation 1
Father: Good morning son! How are you up so early in the morning?
Son: Good Morning Papa! Actually I was going to play cricket with my friends.
Father: Oh I see. It seems like you like cricket a lot.
Son: Yes papa. I wish to play cricket professionally.
Father: That is great! Which player is your favorite?
Son: My favorite is Dhoni Papa. He is the best.
Father: Oh I agree. Even I like him.
Son: Yes. His batting style is amazing. You must remember the 2011 world cup. I just fell in love with him.
Father: Oh Yes I remember. That was one hell of a match. The tension was real. But sadly he is now retired.
Son: Yes. Okay I have to go Papa.
Father: Bye son!
---
Sample Conversation 2
Son: Papa come fast the match has started!!
Father: Coming!
Son: It is so exciting. The first match for the world cup is India vs. Pakistan. I bet the whole India will be in front of the Television Right now.
Father: I agree. Hey what do you think of the new player named Burma?
Son: Oh he is an amazing bowler right?
Father: Yes I hope he plays today because Pakistan's team's batsmen are good.
Son: Yes. See He just hit a six.
Father: Oh!!!
(After the match)
Son: That was a good match. I am so happy That India won.
Father: Yes the bowling by the Indian team was amazing. I hope they keep on playing like this.
---
Sample Conversation 3
Father: Hey son! What do you think of yesterday's match?
Son: It was fine papa. Our team could have played better.
Father: Yes I agree. Their feeling was so slow.
Son: Yes true. Even their batting was good. But due to their slow fielding the other team scored more.
Father: that is correct.
Son: I hope that I play better in the next match.
Father: Yes.
---
Sample Conversation 4
Father: Hey Son! Are you interested in cricket?
Son: Yes father. Why are you asking that today?
Father: I have tickets to tomorrow's IPL final happening here in our city.
Son: Oh my god Papa! That is so exciting.
Father: Tomorrow is Rajasthan royals vs. Chennai super kings, right?
Son: Yes and you know I love the betting style of Chennai super kings and how Dhoni is an amazing captain.
Father: In the last match they played so well. Their fielding was amazing and the catch by dhoni on one shot was mesmerizing.
Son: Oh yes I remember.
Father: Tomorrow will be fun.
Son: Yes papa.
I'd Love to Hear from You
There you have it: Dialogue Writing between a Father and a Son about a Cricket Match.
Now I'd like to ask if this article helps you or not, do you have any specific queries about this writing?
Either way, do let me know by leaving a comment just below the article.