In this article, I will cover how to write a dialogue writing between a teacher and a student who has not done his homework or assignment.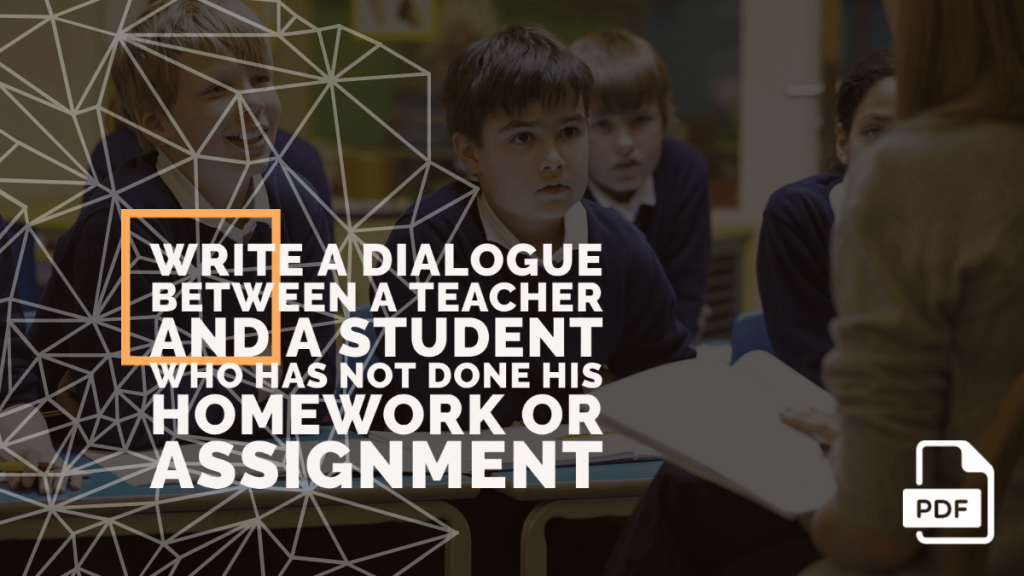 Sample Conversation 1
Teacher: Good morning All!. Please submit yesterday's homework.
Students: Good morning sir!
Teacher: Please submit your homework! All those who have not completed the homework please stand up.
(Rahul stands up)
Teacher: Rahul! Tell me.Why did you not complete your homework yesterday?
Rahul: Sir actually I was not able to do my homework as I was busy the whole day.
Teacher: But why Rahul? This is the fourth time this week that your homework is incomplete.
Rahul:  I know sir I am really sorry. Actually, My father is very sick and he is in the hospital due to which I did not get enough time to do my homework.
Teacher: Oh, I see. That is very bad. It's okay Rahul. You can complete your homework when your father is better. I hope he gets better soon.
Rahul: Thank you sir.
---
Sample Conversation 2
(Two students are conversing in the classroom where the teacher overhears their conversation)
Student1: I hate it when Ms Banerjee gives us homework! It's so unnecessary. 
Student2: I know! It is so annoying.
Teacher: I think you kids have misunderstood the purpose of homework.
Students: Oh, we didn't see your teacher.
Teacher: You see homework teaches you responsibility. It is meant to inculcate small values in your life. Kittu, have you watched all the marvel films?
Student1: I've watched them so many times that I can narrate the dialogues to you.
Teacher: Exactly! Repeated revision of your favourite movies means that you know them as well as the back of your hand.  Repeated learning of difficult topics helps you understand them better.
Students: I didn't realize how beneficial homework actually could be! Thank you, teacher. We will never think of homework as a burden.
---
Sample Conversation 3
Student: Let me tell you what happened to my assignment.
Teacher: OK, go ahead- what is the excuse this time?
Student: Actually, I did it, but then it got lost.
Teacher: Could you have gotten it done at another time?
Student: Yes, I could.
Teacher: This is nothing new. Why don't you do your assignment? These are so important for your understanding.
Student: I try so hard to finish them on time but I always end up taking more time than estimated. I never finish assignments on time.
Teacher: I know it's hard to juggle classes, assignments and social life. But these assignments are the first step toward achieving a work-life balance. Keep trying! Don't give up.
Student: I'll make it up early next week.
Teacher: Don't let it happen again.
Student: I'll try.
Teacher: That will solve it then. Let's work hard to not let it happen again.
---
Sample Conversation 4
Teacher: Where is your homework, Gunu?
Gunu: I had some doubts about the assignment. I didn't understand some of the questions.
Teacher: Why didn't you clarify your doubts with me then?
Gunu: Sorry Madam.
Teacher: Gunu, I am tired of these constant excuses. I cannot entertain your reasons every day.
Gunu: Sorry Madam! This will not happen again.
Teacher: Well, next time you have any doubts come and meet me in the staff room so that we can work on them. You'll only waste time if you don't ask your doubts.
Gunu: Thank you, ma'am. I will clear all my doubts before submission.
Teacher: I'll need you to solve the assignment on my desk tomorrow then. Meet me after class with your doubts.
Gunu: Thank you so much.
Conclusion
There you have it: Dialogue writing between a teacher and a student who has not done his homework or assignment.
I hope these examples are cleared your doubts.
Do let me know if you have any doubts or topic suggestions for me by leaving a quick comment below.
How to Write a Conversation or Dialogue In-depth Video: