In this era, we all have a smartphone, it is our daily needs. In this assessment, we will see an autobiography of a smartphone. So let's dive in.
This Autobiograohy is Formatted For Class 8 | Class 9 | Class 10 | Class 11 | Class 12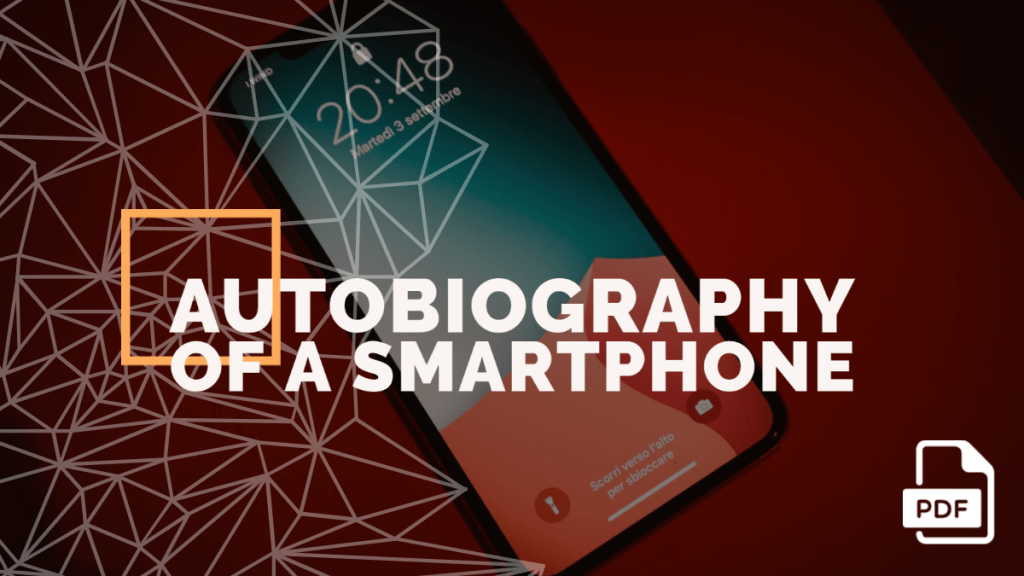 I am a Smartphone. Surprised! That how can I talk? I do have a speaker friend which has helped me talking. Don't be surprised by the device that lets you talk over cross countries can also talk.
The company and other specifications are secondary am really happy to see the fact that I am born. I am very delighted to narrate my own autobiography.
I am a really sleek, hot, and dazzling phone, one who carries me needs to carry me with a sense of attitude as he is having a pleasure to have me.
My name is A50. My father's name is Samsung and my mother's name is Galaxy. Hence my full name is Samsung Galaxy A50. I am a pearl white shiny phone with a notch display. I have a really slim physique just like Deepika Padukone. Oops! My friend, Google just corrected me it's Deepika Padukone Singh.
I have a lot of features in me that I can zoom up to your faces for 25 megapixels. My eyes work really nicely and hence I can get you a clear view of everything present near me.
It is also crucial to note that I can capture pictures with my three eyes. They help me to add HDR quality to my visuals. So I have one lens of 25 MP another two of 8 and 5MP respectively.
I am so strong just like Tony Stark in Iron man that my shield is protected with Corning Gorilla Glass 3. So you can't break me easily. My heart resides in my battery and that gives you a life of 4000 mAh.
It will help you last longer than ever. The best part of me is that I am born recently. I remember that I was assembled all together in a complete set and that it has helped me come to you.
This is my first interaction and sees how intelligent I am. I really love my endurance and working that I can survive more than any ordinary phone. Though I am white but still I am liked by every gender irrespective of the fact that they will make me filthy.
I even remember a blemish where I was born there were several clones of me but I have to admit that I attracted you and hence I am here.
As you know that I am a recent version and all my fathers and grandfathers have gone old. Hence I am put forth with some new technology and means I will perform really well in today's gen. Another best feature about me is that I really capture great in night mode and I have my own flash in my system.
If you are lost somewhere use my eyes as in the flash to find your path. I have been with my owner for a long time and he has used me with utmost care and responsibility. He was 18 when he got me and today he is 20.
I really love the way he takes care of me. And I also love it when he used to smile at me and capture such memorable moments, I have captured them in my head. I am really delighted to be part of his everyday job. Till the time I have worked and functioned, I did it with full loyalty and sincerity.
But now some updated lads have come into the market but that doesn't mean I have lost my charm, no! It's just my memory that is full and loaded with so many files and applications.
That it takes time to remind all of it. Hence he worked with me for 2 years. Now I am old and want a retirement. But let me tell you more about myself I have been worked so much by my partner that he never let me feel bored.
When I entered into his life I came in a box and when first time light touched my face and saw my partner's face I was really glad as I now got a forever companion. I have been hurt as by mistake he could just flip me and I fell but then he sees me and wipes me and carefully put me up in his pockets.
I do have a sweet friend with me she is the earphones we have been together almost all the time as he would keep us together. She helps him to hear some good music from me as you know I am a great singer too.
I can take out the voice of any famous artist from myself. So what do you think am I not very talented? No, I am really lightweight just as thin as any lea model.
I am really glamorous and I am proud of my own self. I do have several applications running in me that keep me and my companion happy all day. We watch movies listen to songs, he also has a secret folder of his problems in me.
So I am his forever partner with whom he shares everything. Even I share my secrets with him and tell him that my body needs nutrition and he puts me up on update so that I work smoothly again.
His happiness has become the sole reason for my functions. But I am really happy that he shared such a big life span with me. I am really privileged to be his partner.
He has kept my secret name and calls my "phoney". I really love this cute nickname. He also takes me to all the favourite places and the time he studies keep me aside and I feel for him that he is really a great person.
I also have the feature of recording and I have several recordings of him, his friend, and his family. I also am having platforms to socialize, work, play, and do anything he wants.
I have also heard that he will keep me even if I am old and not functioning properly as for him old is gold and also that I have some really precious moments of his life in me.
I have the feature of telling you ways from anywhere to the desired destinations. You think I am small but my radiations go up to the telephonic tower which reaches the satellite and then gives you the benefit to talk to anyone.
Also, the fact that I do all the calculations so fast and accurate that you don't have to check them. Even several people check their calculations from me. I know I am a genius. Starting from an alphabet to the world's biggest name I can help you provide information about anything.
I have so many features that nobody can resist. It is this quality of me that I am liked by so many people that in my recent days everybody saw me checked me and clicked a photograph so as to check my vision.
I have really spent a great time in this family and am really happy to be part of this. I have worked for so many years that now I really need a break. I have spent all my big and small moments with him.
We have seen all ups and downs of our life together. His achievements of being selected as an IITian, his 19th birthday, and his girlfriend's pictures. I have kept them all together with the utmost care.
Not only this we have spent horrible times too when he has lost me once and then after crying and missing me a lot he got me after three hours. He finally got me at his friend's house where he left me in the garden.
That separation of him was really killing me. But when he got me rejoiced. I still love being cherished with all those moments in my library of photos. I will enjoy all these when I will be kept for retirement.
And those days are near as I am really tired and need a break. I totally agree that my journey has been the best till now. I too have a little scar on my face because of a small accident.
He got me fixed of that too. The care for me by him is really lovely. I will miss his touch a lot and his smiling face too. I think I am drained out of battery and I will soon be switching off.
But lastly would say that I have enjoyed the entire thick and thins of my life with the best smile and have always enjoyed my companion's love.
---
So how was this autobiography on a smartphone? Do let me know by commenting below!