Education helps in the creation of a better nation. We cannot compromise with it at any cost. My lovely readers, I have provided you with four sample letters to your younger brother scolding him for neglecting his studies. So next time it becomes easy for you to write if you find anyone evading their studies.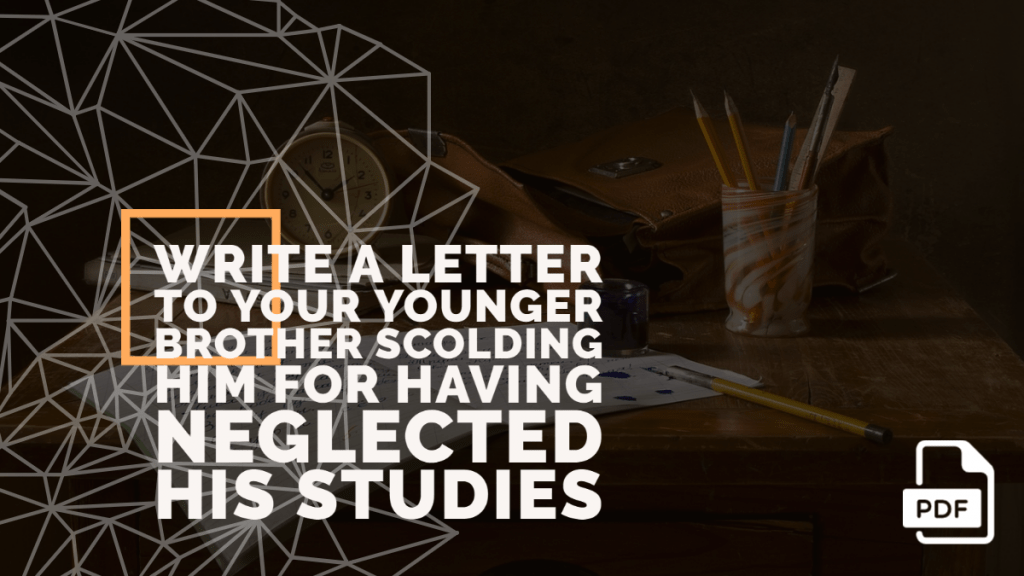 Set 1
Question-1: The Principal of your brother's school has informed you about his poor academic performance. Write a letter to your younger brother scolding him for having neglected his studies.
Hints: How you felt after knowing about his poor performance- Reason behind such performance- Advice as an elder sister- Encourage to work hard.
5/A Gulab Estate,
Mumbai- 400072,
June 15, 2021.
Dear Brother,
I hope you are doing well. We have received your report card yesterday and we are pained to know that you have fared badly in the Half-Yearly Examination.
We have been informed by the school Principal that you seemed to be more interested in practising cricket than studying. I know you enjoy cricket and there is no harm in practising it but nothing should be done at cost of studies. Our parents are deeply saddened to know about your academic performance. Being an elder sister I am advising you to balance between your studies and your hobby. Have a strict time to practise cricket and add more time and effort to your academics. Your annual examination is near at hand. I am confident you can do fairly well in the final examination with consistent effort and hard work.
Take care of yourself. I am warning you time and again not to waste any more time and devote attention to your subjects. Love from mother and father.
Your loving sister
Preeti
---
Set 2
Question-2: Your brother has fared poorly in Physics. He was ignorant of his studies for a long. Write a letter to your younger brother scolding him for having neglected his studies.
Hints: How it felt to know about his performance- Highlight the key reason for lagging behind- Give some golden tips- Encourage to do better- Shoe your support in highs and lows.
15 S.W. Boulevard,
Puducherry – 605001,
June 14, 2021.
Dear Brother,
I hope the letter finds you in the best of your health. With an aching heart, I must say I am disappointed with your educational performance.
I know you are weak in Physics but neglecting the subject will make you weaker. I have informed you are not attending your class regularly and wasting your time indulging with your friends. Wasting time will lead to the destruction of your career. Time is precious, so you should utilise it wisely. No one will support you for long. So, devote your time to studies wholeheartedly lest you should fail. Try to add physics to your study time table every day. Do everything it takes until you become better at it. Always remember your success will not only make you happy but all of us.
Let me know if you need any assistance. I am there for you always to support you to achieve success and health. Besides, studies look after yourself. My warmest love to you.
Your elder sister,
Neetu
---
Set 3
Question-3: Your brother has fared poorly in his academics despite your regular advice and warnings. Write a letter to your younger brother calling him for having neglected his studies.
Hints: Show your disappointment at his poor result- You are hurt for not working on your advice- Call him out- share a few warning and advice
VI/A Pathiputtur,
Andhra Pradesh -517715,
July 14, 2021.
Dear Brother,
I am in receipt of your bi-monthly progress report. I am wholly disappointed to see absolutely no progress even after guiding you thoroughly with your academics.
Your report card is a clear indication that you are not bothered to take my advice. I am convinced, your over-enthusiasm in games has brought you such degraded result. Now, there is no point in crying over split milk. Dedicate yourselves fully to the studies. I am not asking you to isolate yourself from games and entertainment but you should learn where to draw the lines.
Firmly ask your friend not to include you in every tournament as you need to focus on your studies for the time being. I am hopeful your friends will understand. Start your day with the subject you find the most difficult. Do not hesitate to clear your doubts from the respective subject teacher. Attend your classes regularly.
Let me know if you want any coaching, I will ask father to arrange a tutor. I pray for your success and good health.
Yours affectionately,
Rubi
---
Set 4
Question-4: You are extremely saddened to know about your brother's academic progress. Write a letter to your younger brother reprimanding him for having neglected his studies.
Hints: Call him out for poor performance- Share your parent's feeling on his low progress- Share your advice- encourage him to do better.
19 Ballygunge Place,
Kolkata- 700019,
September 07, 2021.
Dear Brother,
I hope you must be doing well there. Sorry to say, we are deeply pained to see your progress report. It seemed extremely discouraging.
You must be well aware of our parents' sacrifices to get us into good schools. Thus I believe giving them their dues are our duties. Your class teacher has not only pointed out your derogatory academic performance but also threw light on your behaviour. She complained of you, being not attentive in classes. We also come to know you are not regular with your homework. Take heart and work wholeheartedly on your weakness to show better result next time. I do not want to give up on you so fast and believe you will put your time and effort to get better. Be attentive in your classes and it will clear your half of the doubts. Do the homework regularly and consult your teacher when required.
Putting time and energy into learning is an investment that pays you for a lifetime. Utilise your time and opportunities wisely. We believe you will fare well in the coming days.
Yours loving sister,
Tina
---
Are you neglecting your studies? I know our readers don't do that. They are extremely serious about their studies. Do you know anyone who is skipping their studies? If 'YES' is your answer then write a letter to them quickly telling them not to do so. Don't shy away from being a little stern after you care for them. Do let us know how you are enjoying our everyday lesson. Your words are our motivation.