Picnics are always fun-filled especially when it is with your friends and family. There were several times when the friend you expected couldn't join owing to several issues. In today's lesson, I have shown you such 4 letters. Next time when you will be asked to compose a letter on the same topic these will come in handy.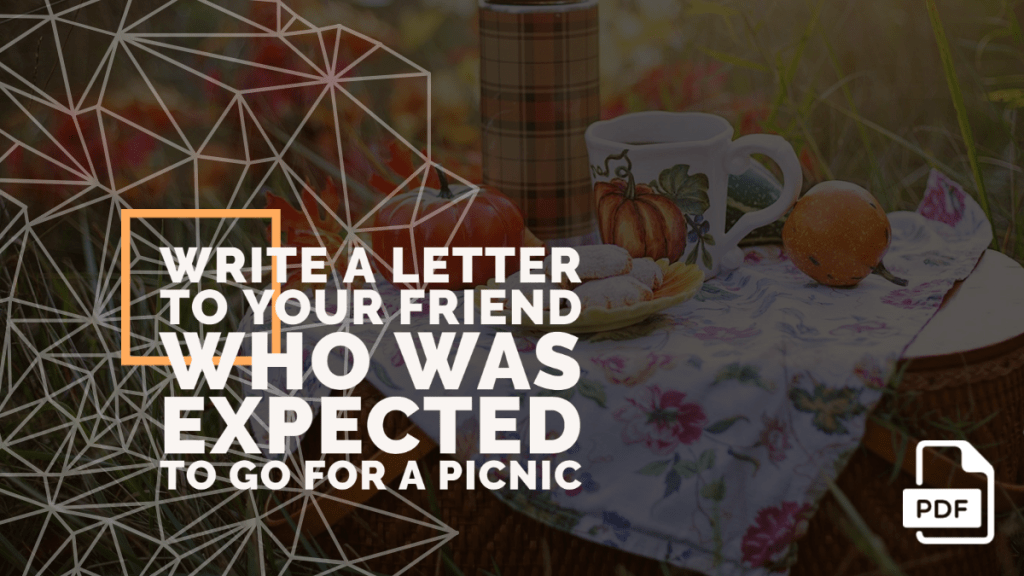 Example Letter Writing 1
Question-1: You had visited Sunderban for one day picnic. Write a letter to your friend who was expected to join you.
Hints: Name of the place – How you reached their- Who accompanied you- Share your experience
47 Golpark,
Kolkata 700019,
22, December 2021.
Dear Ritu,
Your letter is in my hand. I am relieved to know aunty has regained her health. I hope this is the right time to share with you a few memories of the picnic that you couldn't attain owing to your mother's sudden illness.
The one day picnic to Sunderban was wonderful. We took the train at 5.00 am and reached Canning within 1.45 mins. We then boarded in a boat for a spectacular ride through the dense forest and island. Life here is governed by rise and fall in tides. The beauty of the mangrove island is indescribable.
We had a guide on board who took us to Sajnekhali Watchtower and Mangrove Interpretation Centre. We were taken to wildlife centres where we spotted boar, crocodiles and deer. Unfortunately, we were not lucky to see a Royal Bengal Tiger in its own land. On our way back we spotted a few birds like Grey Heron and Kingfisher.
One thing we missed on the journey was your presence. Next time we will together go on a picnic. Rest is fine. Convey my regards to Uncle and Aunt
Yours lovingly,
Soham
---
Example Letter Writing 2
Question-2: You had visited a waterpark recently with your cousins for a one-day picnic. Write a letter to your friend who was expected to join you on the picnic.
Hints: Where you went for the picnic – Who were your companions- Write about the activities- Share your experience- tell you missed him
18, Connaught place,
Delhi – 110001,
June 19, 2021.
Dear Rahul,
How are you? Hope you are doing well. I thought to write about the picnic which you couldn't attain as your grandparents had visited you.
My cousins and I went to the waterpark to beat the scorching heat of summer. Reaching there we changed into our bathing suits and rushed towards the wave pool. We were jumping and splashing water at each other. We also did water zorbing, which was a new experience for us. After coming out of the pool we had our lunch inside a restaurant in the park.
Later my cousin forced me to ride the roller coaster. Though I was very nervous in the beginning, once it was started we all began shouting and hooting. It came to an end, I was feeling dizzy but enjoyed it also. We had clicked many pictures. Soon it was growing dark and we had to return. We reached home safely at 6 in the evening.
Please let me know how you spend days with your grandparents. We missed you on the journey. Take my love. My regards to everyone n the family.
Yours lovingly,
Oishik
---
Example Letter Writing 3
Question-3: Write a letter to your friend in 150 words about a newly found place in the city where you have visited with your family for a one day picnic.
Hints: Ask about his exam- Share the place of visit- Describe the place,- Write about the activities and your experience
E 71 Jodhpur Park,
Kolkata 700061,
December 12, 2021.
Dear Rishi,
I hope this letter finds you in a good health and spirit. I was so disheartened that you couldn't join us at the picnic for your last minute's exam. I thought to share with you a glimpse of our last picnic.
We went to Jungle Tent which is an eco-adventure nature camp that is not far from our busy city life. Widespread greenery amidst the busy city and a large water body surrounded by tents is the centre of attraction. The place is good for a night stay. One can indulge in various activities. We had opted for Bonfire and barbeque at night. We also had played group games. The foods served were fresh and delicious. We thoroughly enjoyed our first visit.
I hope we will be together on our next trip. Take my love and convey my regards to your parents.
Yours lovingly,
Rahul
---
Example Letter Writing 4
Question-4: You and your friends had decided to go on a one day picnic. Unfortunately one of your friends cannot join. Write a letter to him telling him about your visit to a valley of flowers.
Hints: Enquire about his health- Mention the place- Elaborate your experience- Express your wish to visit the place again
42 Deer Park,
Ranchi 831001,
January 4, 2021.
Dear Raina,
How are you? I hope the fever has gone down. You might have missed the picnic but I can share a few glimpses of the picnic to cheer up your mood.
We started my journey to Khirai early in the morning. The weather was surprisingly amazing and the train was not over boarded so I easily found a seat beside the window. Khirai is a valley of flowers on the bank of the river Kansai. The flowers tossing their head in the mild breeze greeted me with adoration. As it is winter, flowers are in full bloom. I bow to our farmers for cultivating the best flowers like Chrysanthemum and Karen.
The vibrant colours and essence of the flowers filled my heart with serenity. After leisurely wandering from one field to another the sun was sat horizon, and it was my time to return. I may have returned but a piece of my heart is still lingering in the vibrant valley of spectacular flowers.
Get well soon. I want to visit the valley again with you. My regards to uncle and aunty
Yours lovingly
Priyanshi
---
Did you go to a picnic recently where your friend couldn't join at the last moment? Take an idea from the above examples and write a letter to your friend. You can share it with us also in the comment section. If you have a topic that you want me to write let me know in the comment section. We will be glad to write a letter for you. Keep learning!