Wise men say that books are one of the true friends of human beings. The practice of book reading is very much necessary and essential to acquire knowledge and understand the world around us. The utmost importance of this habit makes it an important topic for English comprehension tests.
Due to such relevance in students' life, many educational institutions use this context as a topic for testing their students' English comprehension skills. So, today in this article I am going to teach you how you can write letters to your friend to share your experience of reading a book which you have recently finished.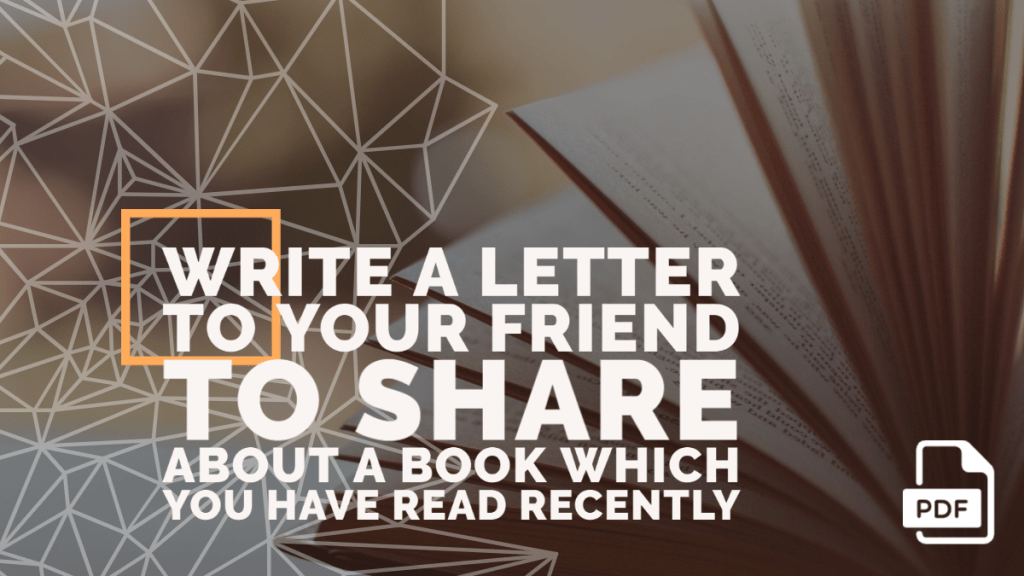 Example 1
Question: You have recently finished reading the entire history book of your syllabus. Write a letter to your friend explaining your experience of the entire journey of reading the history book. 
Hints: Finished book- Summer vacation- Stories of different times- Not boring- Your field of interest- Benefits- Conclusion
PC Bose Road, Rajendra Nagar
Kolkata: 700013
May 22, 2021
Dear Suranjan,
It has been a long time since I haven't received a letter from you. How are you doing nowadays? How is your study going?
You know, recently I have finished reading the entire history book of our syllabus. During the summer vacation, I felt utterly bored and picked up my history book. I am always a history enthusiast. I love reading and knowing about the past. Basically, the book seemed like stories of different eras to me. I would like to suggest you read this book. You will never feel bored if you read it like a storybook. The ancient history period was the most interesting part for me of the entire book. The stories of people who evolved from apes to humans, human beings' gradual approach to building modern civilization totally mesmerised me.
I think reading the entire book in one go will benefit me in two ways. On one hand, I have covered the entire syllabus and on the other, it has inspired me to read more about humans' past.
Your dear friend,
Pritam
---
Example 2
Question: You have recently finished reading all the stories from the English textbook of your syllabus. Write a letter to one of your close friends explaining about the book and your realisation after finishing reading it.
Hints: In-house vacation- Heat outside- Bored- Started reading the book- Finished all stories- Interesting stories- Your favourite one- Textbooks are more interesting as storybooks- Conclusion
2/61 Baruipur
South 24 Parganas, West Bengal
June 13, 2021
Dear Jayanta,
I just have finished the last letter you wrote to me. In that letter, you asked what I have done in the leisure time of the last summer vacation. This letter I am writing to you in order to talk regarding that.
During the last summer vacation, I mostly stayed inside the house. The scorching heat outside was almost intolerable. Naturally, after a few days, I started getting bored with the monotonous daily routine. Then I picked up my English textbook and started reading the stories. I used to think of the book as a bunch of boring academic stories. But to my surprise, the stories were quite interesting. One by one I have finished reading all the stories from the book. Among all the stories, the story of two beggars was my most favourite one.
After finishing the book, I have realised that if we start reading our textbook as some storybooks, the books seem quite interesting. What have you done during your vacation? Let me know in your next letter.
Your loving friend
Ashit
---
Example 3
Question: You have just read a book written by the great author Rabindranath Tagore for the first time. Write a letter to your best friend telling him about your experience of reading Rabindranath Tagore for the first time. 
Hints: Read Gora- Confusions before starting- Afraid- Words washed away confusion- Live in and feel the plot- Feelings of fulfilment after finishing- Not novel, but epic- conclusion
11 Ajoy Borua Sarani, Paschimpally
Nadia
February 18, 2021
Dear Roman,
In the last letter you wrote, you wanted to know about the last book I have read. Recently, I just finished reading Gora by the great author Rabindranath Tagore. In this letter, I am writing to tell you about this book.
This is probably one of the best books I have ever read. Before starting this book, I have heard numerous stories about this book. Even many of my teachers said that 'Gora' will be too hard for me to understand. To be honest, I was quite afraid of my capability before starting this book. But believe me, after beginning the novel, the words of Tagore completely washed away all my confusion with the mesmerising flow of words. The entire storyline took me into some other world. I used to live in the environment where the story was framed, I could even feel it while reading. And finishing the book, my entire mind became calm with the peace of ultimate fulfilment.
So, I would like to suggest you start reading 'Gora' immediately if possible. In my opinion, 'Gora' is not a mere novel, but it's an epic that everybody on the earth should read once.
Your best friend,
Sabina Khatun
---
Example 4
Question: Recently you have finished reading a storybook based on science fiction. Write a letter to one of your friends explaining how this book has influenced you in real-time. Make use of the hints provided below for reference. 
Hints: Read science fiction book- Got as a gift- Excited- Mesmerising stories- your experience- Imagination- Yesterday's fiction is today's truth- Influence of the book
88/7, East Station Road,
Belgharia
Kolkata: 700110
December 11, 2020
Dear Pritam,
It's been a long time since I didn't hear from you. How are you doing? You know, recently I have read a book based on science fiction. I am writing this letter today to share my amazing experience with you.
This is a famous book named 'Shanku Samagra' written by renowned author and director Satyajit Ray. You have probably heard of this book. On my last birthday, my father gifted me this book. I also heard many times of this book but never have seen it. After getting this as a gift I was excited and started reading it. You can't believe the experience I had while reading the stories. The most beautiful part was the language and the imagination of Satyajit Ray. Things he imagined a few decades back have turned into reality now. If you ask me to choose I single favourite story from this book, I will not be able to do so. Each story is unique in its own way.
I am so moved and influenced by this book that I have decided to study applied physics after completing my school education and become an inventor like Professor Shanku.
Best wishes and regards,
Badal Kumar Ghosh
---
That was all about our presentation on writing letters to your friend to share about a book which you have read recently. In this session above, I have tried to discuss the topic from four different aspects through different examples. Hopefully, after going through this session, all your doubts regarding this topic have been resolved and you will be able to write such letters.
Never forget to add your own unique points to the letter you write. If you want me to cover any specific topic of English comprehension, let me know through the comment section below. To read more such sessions of English comprehension, take a tour of our website. 
Thanks for being with us. See you again, soon.