Personal letters used to be the only mode of communication even a few decades back. After the emergence of digital technologies, the relevance of personal letters has significantly decreased. Personal letters are the type of letters that are generally written for informal purposes specifically to fulfil the need for personal level communication.
Many educational institutions still use personal letters as a topic to test their students' English comprehension skills. That's why it is still relevant from an examination point of view. In today's session, you will learn how to write a personal letter to your friend to say sorry. So, without further introduction, let's get started.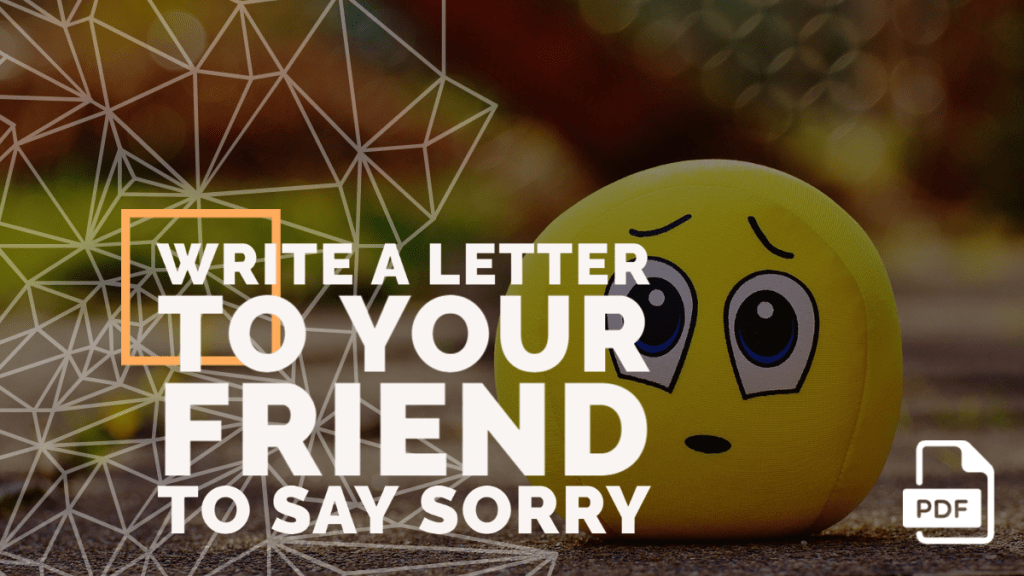 Example 1
Question: You had a fight with one of your friends from your school. Write a letter to him saying sorry for the fight.
Hints: Small issue- Fight in tiffin period- Never desirable- Apology- Good friend- Mutually resolve the misunderstanding- Conclusion
AJC Bose Sarani, Rabindra Nagar
Kolkata: 700012
July 15, 2021
Dear Sudhir,
I am writing you this letter to apologize for the fight we had in our school. Please don't be angry at me. Kindly read the entire letter and try to understand my words.
Yesterday morning, the flight we had in the tiffin period was a very unfortunate incident. And it should have never happened. Such a fight was never desirable between us. We are good friends. Yes, I admit that I made mistakes, rather we both did. But I never meant to hit you. I am so sorry for this incident. I can't afford to lose such a good friend like you over just a fight. How are you now?
I hope you will accept my apology. Let's sit together and solve all the misunderstandings between us mutually. Please don't be mad at me anymore. I really miss you in school and will be looking forward to talking with you again. See you in school; take care.
Your dear friend,
Pratap Ghosh
---
Example 2
Question: Recently your friends' grandfather has deceased in the covid-19 pandemic. Write a letter to that friend expressing your grief of hearing about this incident.
Hints: Grandfather died in covid- Memories with him- Personal loss- Will be missing- Compassion- Presence in the funeral ceremony- conclusion
2/61 Santoshpur
South 24 Parganas, West Bengal
June 23, 2021
Dear Vidya,
I have just finished reading the last letter you wrote to me. There you informed me about the unfortunate death of your dear grandfather.
I am so sorry to hear the news. The Covid-19 pandemic is snatching away so many lives from us. Recently, I also have lost one of my close relatives in the pandemic. I still remember the last time I met your grandfather. He used to be such a charming person. I remember him inspiring us, telling us so many interesting stories. I will be missing your grandfather as much as you. To me, it is like my personal loss. The place of respect he used to have in our friends' group that can never be replaced. I really want to express my compassion to you.
In the letter, you asked me to come to his funeral ceremony. Don't worry. I will positively come to attend the event. Please take care of yourself and your parents.
Your loving friend
Ashit Agarwal
---
Example 3
Question: You've hurt your best friend with inappropriate words during a fight in the coaching. Write a letter to your friend saying sorry and apologize for this incident.
Hints: Fight last month- Misunderstanding- Silly issue- Used inappropriate words- Heartily apology- Best friends- Friendship shouldn't be compromised- A chance to friendship- Conclusion
11 Ajoy Borua Sarani, Paschimpally
Nadia
February 18, 2021
Dear Ratul,
Last month while returning from the coaching I have really hurt you with quite inappropriate words. I am writing this letter to say sorry regarding that incident.
The fight we had yesterday was just a mere misunderstanding over a silly issue. I am so sorry that I lost my temper and hit you with those inappropriate words. I want to apologize to you with all my heart. Please forgive me and forget the incident. It was totally my mistake and I know that I should never have spoken such words. I know words can never be taken back but I don't want to compromise our friendship just over a flight and a silly mistake. You are my best friend and I will make sure that such an incident will never take place again.
So, please accept my apology and don't be angry at me anymore. I miss those times we used to spend together. What do you think of it? Can we give a chance to our friendship? Please let me know in your next letter. I will be looking forward to your reply. Take care.
Your best friend,
Sabina Khatun
---
Example 4
Question: One of your friends has become unable to clear an admission test to a reputed institution. Write a letter to him saying that you're sorry to hear this and inspire him for his future attempts.
Hints: Unable to clear the exam- Last letter expressing regrets- Compassion- One failure can't define worthiness- Failure lays the foundation for success- Will appear next year- Be prepared- Brave spirit- Conclusion
88/7, East Station Road,
Belgharia
Kolkata: 700110
December 11, 2020
Dear Supratim,
In the last letter, you have written to me that you were unable to clear the exam of JEE advanced. I am writing this letter to you to express my compassion and stick up for you.
In your letter, all the words were expressing your regret. I can totally understand the situation you are dealing with. I am also very sorry to hear the news myself. But still, I want to tell you that your one failed attempt to clear any exam doesn't mean that you are worthless. Your life hasn't ended here. Wise men say that failure lays the foundation of success in the world. So, don't be disheartened with just one failure. In the letter, you mentioned that you will again appear in the exam next year. That's like a brave person. I love your spirit. It really inspires us a lot. So, just gear up and prepare yourself for next year.
Through this letter, I want to say that whatever happens, I will always be with you. Don't ever think that you're good for nothing. Now you need to relax for a few days and take care of yourself. I will visit your home soon.
Best wishes and regards,
Badal Kumar Ghosh
---
That was all about our presentation on writing letters to your friend to say sorry. In the session above, I have tried to present a holistic overview of the topic through four different examples. Hopefully, all your doubts regarding this topic have already been resolved after going through the entire session.
If you still have any doubts regarding this, post them in the comment section below, MOreover, if you want me to cover any specific topic of English comprehension for you, don't forget to mention that too. Let us know your valuable opinion about this initiative through some quick comments. If you want to read more such sessions of English comprehension, browse more on our website.
Thanks for being with us. See you again, soon.