Learning new skills is always a good value add-on in our lives. With this learning, if we also learn to share our knowledge, our skills eventually improve. Sharing of knowledge leads to enriching the knowledge.
Keeping this fundamental ethic in mind, many institutions nowadays are fond of using this context as the topic for their English comprehension tests. In today's session, you will learn how to write personal letters to your friend regarding your initial attempts at learning a skill. Hopefully, it will help in your next exam. So, let's get started.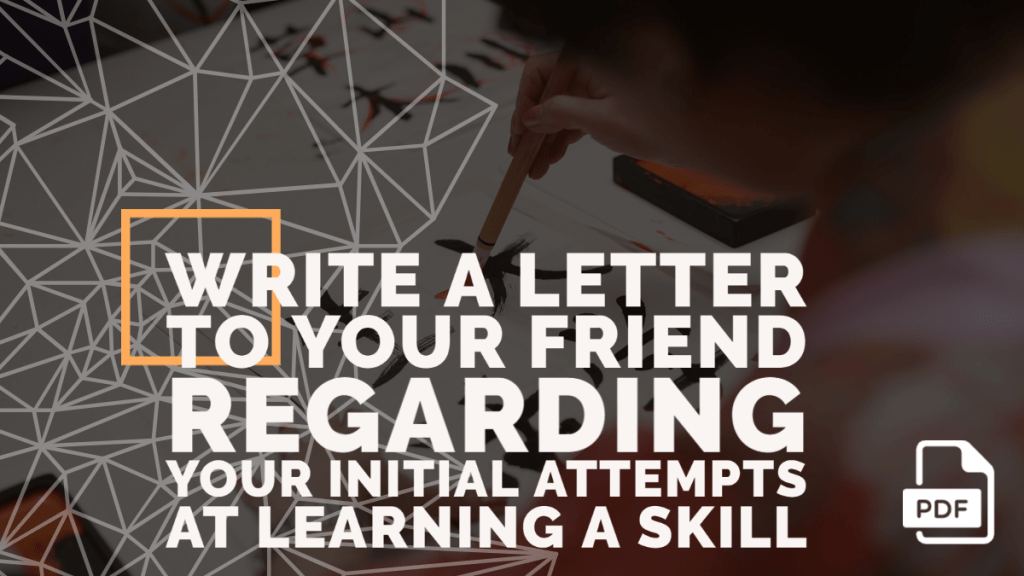 Example 1
Question: You have recently started learning spoken English skills. Write a letter to one of your friends about this recent attempt to learn this new skill. 
Hints: Fluency in English is important- Non-native speaker- Started learning online- Didn't suit- Switched to offline- Hard to cope up- Thoughts of quitting- Survived- Conclusion
AJC Bose Sarani, Rabindra Nagar
Kolkata: 700012
June 12, 2021
Dear Ranjan,
It's been a long time I haven't heard from you. How are you doing nowadays? How is your study going? You know, I have recently started learning spoken English. I am writing you this letter to tell you about my initial attempts to learn this skill.
Around a few months back, I felt that it is very necessary to learn to speak the English language fluently. But being a non-native, I was hardly able to speak English. That's when I decided to start learning it. I first tried to learn through some online portals, but within a few weeks, I realised that online learning is not suitable for me. Then I switched to offline classes in the British Council. During the initial days, it was quite hard to cope up with the environment of the BCL. I felt that speaking fluently in English is quite hard and will never be my thing. Even, I thought of quitting it several times.
But with time, my skill improved. Now I can speak in English, like an amateur for sure, but I can. What do you think of it? Let me know in your next letter.
Your dear friend,
Amit
---
Example 2
Question: You have recently got admission to a swimming training academy. Write a letter to your friend describing your experience with the initial days of your training. 
Hints: Essential skill- Fear of water- Started learning in an academy- Hard trainer- Thought of quitting- Became fun after some days- Fear went away
2/61 Santoshpur
South 24 Parganas, West Bengal
June 23, 2021
Dear Vidya,
I just received the last letter you wrote to me. There you wanted to know about my experience of the initial days in the swimming academy.
You know that I used to be quite afraid of water. But the lesson of swimming is very necessary to sustain human life. That's why baba decided to get me admitted to some swimming academy. Within a month, I started to learn to swim in a local swimming training centre. But my initial days was quite miserable. To be honest, my extreme fear of water didn't just go away after I started learning to swim. In the beginning, my trainer was quite hard on me. Though he was never rude to me, he used to push me in the water, didn't let me go out of the pool. Many times, I thought of quitting the training. But after a certain time, swimming became fun for me. Now I love to swim and all my fear went away.
Don't worry about your fear before starting to learn anything. If you are also thinking to learn to swim, just go for it.
Your loving friend
Ashit
---
Example 3
Question: You have recently started learning the skill of making handicrafts. Write a letter to your friend about this and explain why this skill has attracted you. 
Hints: Loved making handicrafts from childhood- Fascinating to see papers and clothes taking shapes- Initial learning- Tough than seems- Failure and struggle- Became an amateur- Conclusion
11 Ajoy Borua Sarani, Paschimpally
Nadia
February 18, 2021
Dear Binoy,
In your last letter, you have written to me that you like my handicraft items and want to learn this skill too. In this letter, I want to highlight why this handicraft making has attracted me and the challenges I faced in my initial days.
From my childhood, I used to love making many handicrafts just with paper. At that time, I didn't even know that it was called origami. After some time maa used to teach me this skill. It was quite fascinating for me to see how just some pieces of paper or clothes are taking the shape of different objects. Recently, I have started learning it for my career. But during my initial days, I realised that handicrafts making is quite tough that it seems in videos. I failed many times during my initial attempts. I used to get frustrated with my inability. But with time, my skill developed and I became a true amateur at least.
So, if you also want to learn it, go for it. But always be ready for initial failures and frustration of initial struggles.
Your best friend,
Moumita
---
Example 4
Question: Write a letter to your best friend explaining the struggle of the initial days when you've started learning yoga. Also, mention what you have learned from the initial attempt. 
Hints: Improve mental and physical health- Influenced- Hard to learn than to see- Hard practice and trainer- Hurt muscles- Freshness after every session- Long-term benefits- Conclusion
88/7, East Station Road,
Belgharia
Kolkata: 700110
December 11, 2020
Dear Supratim,
In the last letter, you have written to me that you want to start learning yoga to improve your health. In this letter, I want to let you know about my initial days when I started learning yoga.
Yoga is a very effective skill to improve our mental and physical health. My parents always used to practice yoga. Seeing them, I also developed an interest in yoga since my childhood. But when I started learning yoga from a professional, I felt it is quite harder to learn than to see someone performing it. The practice was quite hard, so was my trainer. It even used to hurt my muscles sometimes. But every day, after finishing the yoga session, I used to carry a freshness with me.
So, if you are also thinking of learning yoga, always go for it. If you can tolerate the initial days' struggle, the skill will eventually benefit you in the long run.
Best wishes and regards,
Koushik
---
That was all about our presentation on writing personal letters to your friend regarding your initial attempts at learning a skill. In this session above, I have tried to discuss the context through four different aspects.
Hopefully, you got a holistic overview of the topic and will be able to write such letters yourself. Don't forget to maintain the basic pattern and always try to add your own unique points. If you still have any doubts, let me know through the comment section below.
Also, let us know your opinion about our initiative through some quick comments. You can take a tour of our website if you want to go through more such sessions. Also mention, if you want me to cover any specific topic of English comprehension.
Thanks for being with us. See you again, soon.