Today, in this article I am going to teach you how to write a letter to your friend describing a football match in your school. You can just refer to the following examples if you are asked to compose such letters. Let's dive into the article right away.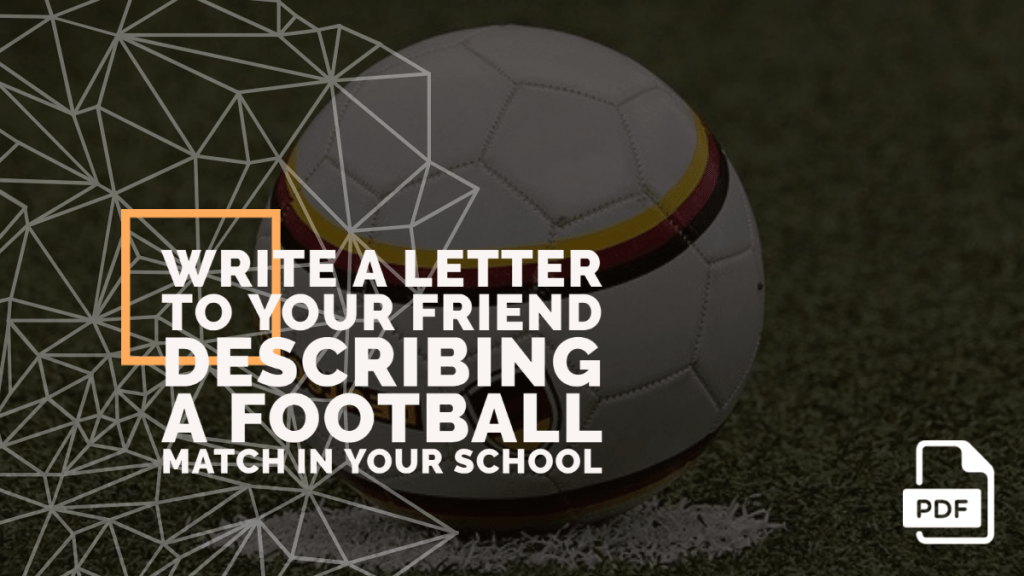 Example Letter Writing 1
Question-1: There was a football match in your school against your neighboring school during the sports ceremony. Your friend could not attend the match due to health issues. Write a letter to your friend describing a football match in your school.
Hints: Details of the match- When it started- How did they win and against which team- Appreciation for the players and coach- How much you missed her
23, Shivajinagar,
Delhi 110009,
March 18, 2021.
Dear Priya,
I missed you a lot at the sports ceremony at our school. I hope you are in better condition now. I wish you could witness the exciting football game by our awesome female footballers.
Our school's team "The Power Rangers" has qualified for the state championship. They played very well and defeated the team from our neighbouring school to 3 goals. The match started at 11 a.m in our school playground. This was the last event in the whole sports ceremony. We were very excited about the match and cheered up our team from the beginning. It was thirty minutes long match.
The captain of our school's team scored the first goal within five minutes of the match starting. All other players also put forward their best game in that match. The team could reach such a stage only because of our excellent football coach Miss Reshmi Chadda. The whole school was overjoyed with their victory. Now we are all waiting for the state championship.
I hope you will be able to attend the final match. Looking forward to hearing from you soon. Take care.
Yours lovingly,
Prachi.
---
Example Letter Writing 2
Question-2: You have a friend from another school with whom you share many things. Write a letter to your friend describing a football match in your school and ask him about his school too.
Hints: Football tournament organized by the school- How many teams participated- Description of the match- Your interest to play football
SH 2, Inner Ring Road,
Chennai 600012,
March 19, 2021.
Dear Suraj,
How are you and how are your studies going? Our school recently had an intraschool football tournament and it was very successful.
It was for the first time that our school organized a football match for its students. We were very happy about the match. It was a one-day tournament. Four teams were chosen. My brother who is in class XII of the same school participated in the game.
The final match was very interesting. Both of the teams were on the same score so a penalty shootout had to be arranged. All of us were very nervous as the result was totally unpredictable. Finally, team Blue won the match scoring five goals. With the great success of the tournament, our school has decided to have a football tournament every year. I am also planning to take up football lessons so that I can take part too.
Let me know what exciting thing is going on in your school. I will be waiting for your reply. Take care.
Yours affectionately,
Imran.
---
Example Letter Writing 3
Question-3: Your friend lives in another city. You have been taking training for football for some time. Write a letter to your friend describing a football match in your school and your experience for the first time.
Hints: Your keen interest in football- How did you and your team play to win- Your scores- Final achievement of the trophy
12, FC Road,
Pune 411005,
March 22, 2021.
Dear Ekta,
It has been a long since we spoke to each other. I hope you and your family are in good health and spirit. I am very excited to tell you that I participated in my school's football match.
It was a very endearing experience. I have been playing football for the past two years on my school team and finally this year I was selected for the competition. The name of my team was
"Fly High". I was playing with all the experienced players from our school. We played very well and I was fortunate enough to score a goal as well. The goalkeeper was almost about to save my ball but still, it managed to enter the goal post. Initially, our team was struggling to stand against the opponent team. For the first fifteen minutes, we could not score any goal. But with great team effort, we won the match eventually. I was thrilled to hold the winning trophy in my hand.
I hope you will like my experience. Please write to me soon. I miss you and take care.
Yours lovingly,
Sejal.
---
Example Letter Writing 4
Question-4: Your friend went to see his ageing grandparents and a football match took place during that time. Write a letter to your friend describing the football match in your school.
Hints: Football match in honor of sports teacher- Which team won- Efforts by the team and goalkeeper- How everyone enjoyed
3A, Park Avenue,
Kochi 682012,
March 15, 2021.
Dear Raj,
How was your vacation to Shimla? You must be very happy to see your grandparents after so long. You missed a very exciting football match organized by our school when you were away.
Last week, our senior classes requested to have a football match as our sports teacher is going to retire this month. Principal Sir agreed and the match was held on Monday in our playground. It was a friendly match and everyone was enjoying themselves. Mr. Sharma, our sports teacher was ecstatic to witness the match in honor of him. The match was for forty minutes and it followed all the rules of an actual match.
Team A won the match scoring three goals against team B. The goalkeeper of team A was appreciated a lot for his amazing skills. From the beginning of the match, team A was playing in a brilliant manner. They did not let loose a single chance to their opponent. All in all, it was a very interesting match to see and everyone loved it.
I wish you also see the match. Come back soon. I cannot wait to meet you in person.
Yours affectionately,
Indra.
---
In this article, I showed you how to write a letter to your friend describing a football match in your school. I hope you loved the session and found it helpful. Leave your thoughts in the comment section below. We love hearing them. We have many more interesting topics on our website. So do not forget to check our website out.
Until next time, goodbye.