In the journey of our life, many incidents happen to all of us. Some of them are very casual and we often forget them. But some are so significant that those eventually become memories. From that storage of our numerous memories, we keep recalling many incidents throughout our life and share them with our family and friends mostly with whom we created those memories.
Many educational institutions use this context to frame a topic to test their students' English comprehension skills and verbal expressing ability. In this session, you will learn how to write letters to your friend sharing the incident you recall. So, without further delay, let's get started.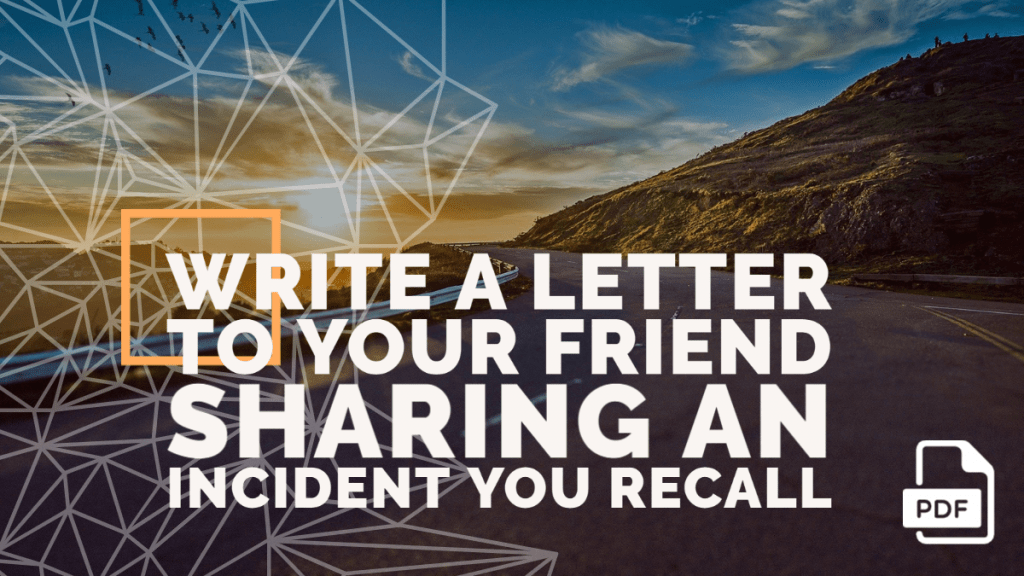 Example 1
Question: You recently recalled the day when you first came to the school. Write a letter to one of your friends explaining that day and your feelings after recalling the day.
Hints: First day in school- Afraid- Not talking- First friend- Shared tiffin- Did other activities- Your experience of recalling that day- Conclusion
Hiralal Sarkar Road, Nazrul Nagar
Kolkata: 700012
July 22, 2020
Dear Tristan,
Yesterday, I suddenly recalled the day when I first came to our school. I am writing this letter to you to share my experience regarding that.
Nobody ever forgets the day when they first come to their school. I also didn't. But yesterday, I suddenly recalled that I first met you at the school and all the activities we did on our very first day. Remember, you were my first friend in the unknown building. I was afraid and not talking with anybody. You came and introduced yourself, and I told you that I am afraid of making new friends. That's how our friendship began. That day, we first shared our tiffin and that tradition is still continuing after years. I even recalled that we drew a picture on the bench that day, and made fun of other students.
It's such an amazing experience you know! It's like I am witnessing that day again in front of me like a movie. It is fantastic. Do you still remember that day? Let me know in your next letter.
Your dear friend,
Aakash
---
Example 2
Question: Your friend has wanted to know about one of your travelling experiences to some hill stations. Write a reply to him recalling your travel experience to Darjeeling. Make use of the following hints given below.
Hints: Trip to Darjeeling- Journey began- Beautiful roads- Hilly terrain- Wonderful city- Green hills- Experience of ropeway and toy train- Tea estates- Sunrise from Tiger Hill- Conclusion
2/61 Petulia
North 24 Parganas, West Bengal
June 23, 2021
Dear Kamal,
I have just finished the last letter you wrote to me. There you wanted to know about one of my travel experiences to a hill station. While reading your letter, I recalled my trip to the Queen of hills, Darjeeling, two years back. Here, I am writing to you about that amazing trip.
I have been to many hill stations before Darjeeling. But believe me, Darjeeling was an amazing experience. I still remember that day when we started our journey from NJP to Darjeeling. When our car was entering the hilly terrain of the Darjeeling district, I was so excited. I can still feel that excitement inside. Darjeeling city was so beautiful. All the hills were full of greenery. We went to visit a few tea estates. And for the first time, I experienced riding a ropeway and toy train. But my favourite one in Darjeeling was the sunrise from Tiger hill. It was simply amazing.
What about your experience of travelling to hill stations? Let me know in your next letter.
Your loving friend
Tridiv
---
Example 3
Question: You have recently recalled a fight with your best friend you had 3 years back. Write a letter to him/her recalling that fight and express your current feelings about that incident.
Hints: Recalled fight- Passing by the same place- Fought over a silly issue- Didn't talk for months- Came back together as friends- Remained best friends- Funny to recall- Your current feelings- Conclusion
12. C KC Paul Bauri, Paschimpally
Birbhum
February 18, 2021
Dear Amal,
Yesterday while going to school, I suddenly recalled the fight that we had 3 years back. I am writing this letter to you today to share my feelings regarding that fight.
Basically, I was passing by the same place where we fought over just a book. Do you remember the incident? We used to be good friends before the fight. But after that day, we didn't talk to each other for months. But, I do admit that I made a mistake. I hit you first. No matter how bitter the experience was, I really enjoyed recalling the incident. After a few months of that fight, we came back together as best friends again and our friendship continued.
Yesterday, when I was recalling the incident, it seemed so funny that we fought over such a silly issue. But then I started admiring our friendship that despite the bitter fight, we remained best friends till now. Let me know your thoughts on that incident. Take care.
Your best friend,
Arup
---
Example 4
Question: Write a letter to your best friend recalling the last puja vacation that you two spent together.
Hints: Recalled last year's puja vacation- Visited with family- Visited pandals- Went for dinners- Firecracker show on Dussehra- Played Badminton- Conclusion
44/B East Beckbagan
Titagarh
Kolkata: 700178
December 11, 2020
Dear Taniya,
It's been a long time I haven't heard from you. This year's puja vacation is going to come soon. How are you doing? I was just recalling our last year's puja vacation that we spent together.
Last year was so much fun. You came to my house along with your family. We went for dinner together, visited puja pandals, and spent the Dashera together. Do you remember the firecracker show we attended? Aah, I can forget that experience. Thousands of firecrackers were lighting the entire dark sky. It was amazing. Everyday afternoon we used to play badminton together. After yesterday, I'm literally missing last year's vacation.
So I was thinking, why don't we make the same plant for this year too! We can spend it together and have fun. Let me know your thoughts on this in your next letter. Take care.
Best wishes and regards,
Santosh Sahu
---
That was all about our presentation on writing letters to your friend sharing the incident you recall. In this session above, I have tried to discuss the context through four different examples to present a holistic overview. Hopefully, after going through this session, all your doubts regarding this topic have been resolved and you will be able to write such letters on your own.
Never forget to add more unique points to your write-ups for further value addition. If you still have any doubts regarding this session, let me know through the comment section below. Besides, to read more such sessions on English comprehension, take a tour of the website and find whatever you need on English comprehension following specific categories. 
Thanks for being with us. See you again, soon.