In this article, I will show you how to write a letter to your friend inviting him/her to your birthday party with suitable examples.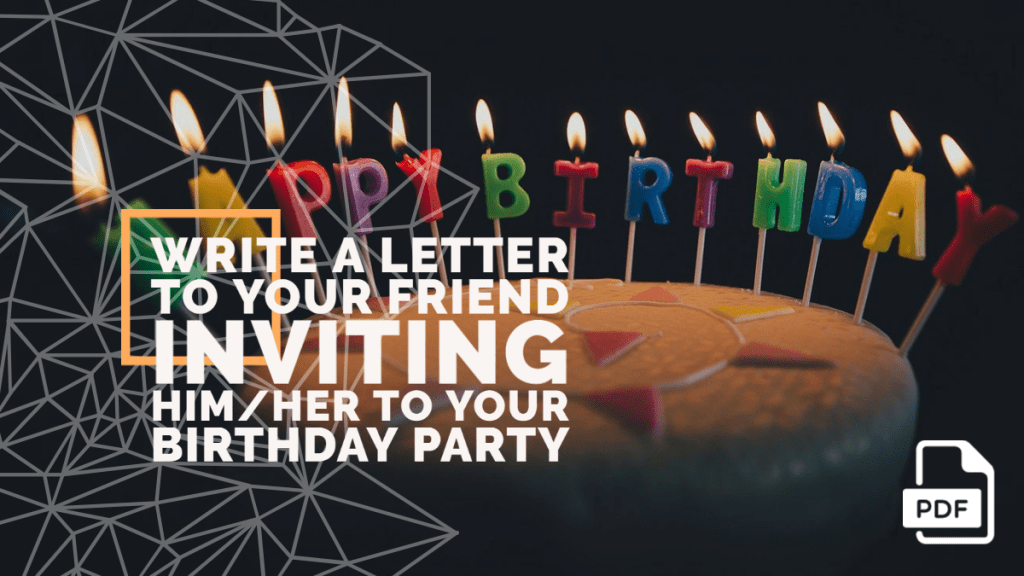 Example Letter Writing 1
14 B- block,
Padampur 335041,
01/02/2021
Dear Kavitha, 
I know we are both busy with assignments and tests. I have missed you for a long time now.
I am celebrating my 13th birthday at Pearl Ocean with a few friends and relatives. The celebration will be on the 18th of this month and my parents want me to invite all my close friends too.
You are my best friend even though we stay in different cities now. My parents are trying their best to make it a memorable experience for me. There will be loads of chocolates, food and games for us. Please be present with uncle and aunty. Do inform them that I will be very disappointed if they miss the party.
Hope you won't make me sad. Please send a letter with your confirmation.
Love and best wishes.
Yours, 
Deepika
---
Example Letter Writing 2
1166, Rama Colony,
Faridabad,
Haryana,
01/02/2021
My dear Neha,
Today, I have some free time and thought I should write to you.I hope you know what is special this month. My Brithday! 
My parents are organizing a birthday party on the 15th of this month. I want you to be there too. It will be a small event with some friends and relatives. We plan to start by 5pm at home.
Rahul and Sonia will also be present. I would love to celebrate my birthday with you dear ones. We are also planning a musical and dance performance for all. My younger sister is planning the games. My dad's magician friend will perform for all of us. 
Waiting eagerly for your confirmation message.
Your loving,
Anavi
---
Example Letter Writing 3
116B, Resham Colony,
Belgharia,
Kolkata,
23/01/2021
Dear Rita,
I am sure you know what is special this month. It is my birthday on 19th November. We are planning a grand party at home on that day.
Renu, Anita, Manju and Jaya will also be there for the party. I have also invited some friends from my dance class. They are all planning a special dance performance for all of us.
We can go to the movies at night. On the next day, I will show you around Faridabad.You can visit the Badkal lake and many industrial plants.
Trust me, you will enjoy your visit here. I am looking forward to meeting you.
Yours truly,
Sandhya Singh
---
Example Letter Writing 4
44, Gandhi Park
Krishna Temple Road,
Jaipur,
10 May 2020
Dear Rohit,
 I hope you are fine and in good health. This is my birthday month. My birthday is on the 25th of March.
My parents are having a small party at home. There will be a DJ at the party and a dance floor for all of us to have fun. We will have dinner, cake and games for the evening. My mom will be preparing her famous rasmalai for all of us. I have also invited Sheetal, Waggy, Janu, Laila, Manu, Pammy, Deena, Joan, and Pooja. 
I hope you can also join the party at 6:30 pm. Convey my love to aunty and uncle.
Convey my regards and love to Chinu, uncle and aunty.
Yours,
Manjeet Gill
I'd Love to Know Your Thoughts
There you have it: Write a Letter to Your Friend Inviting Him/Her to Your Birthday Party.
I hope you found this article helpful. Do let me know if you have any doubts regarding this letter by leaving a comment below.